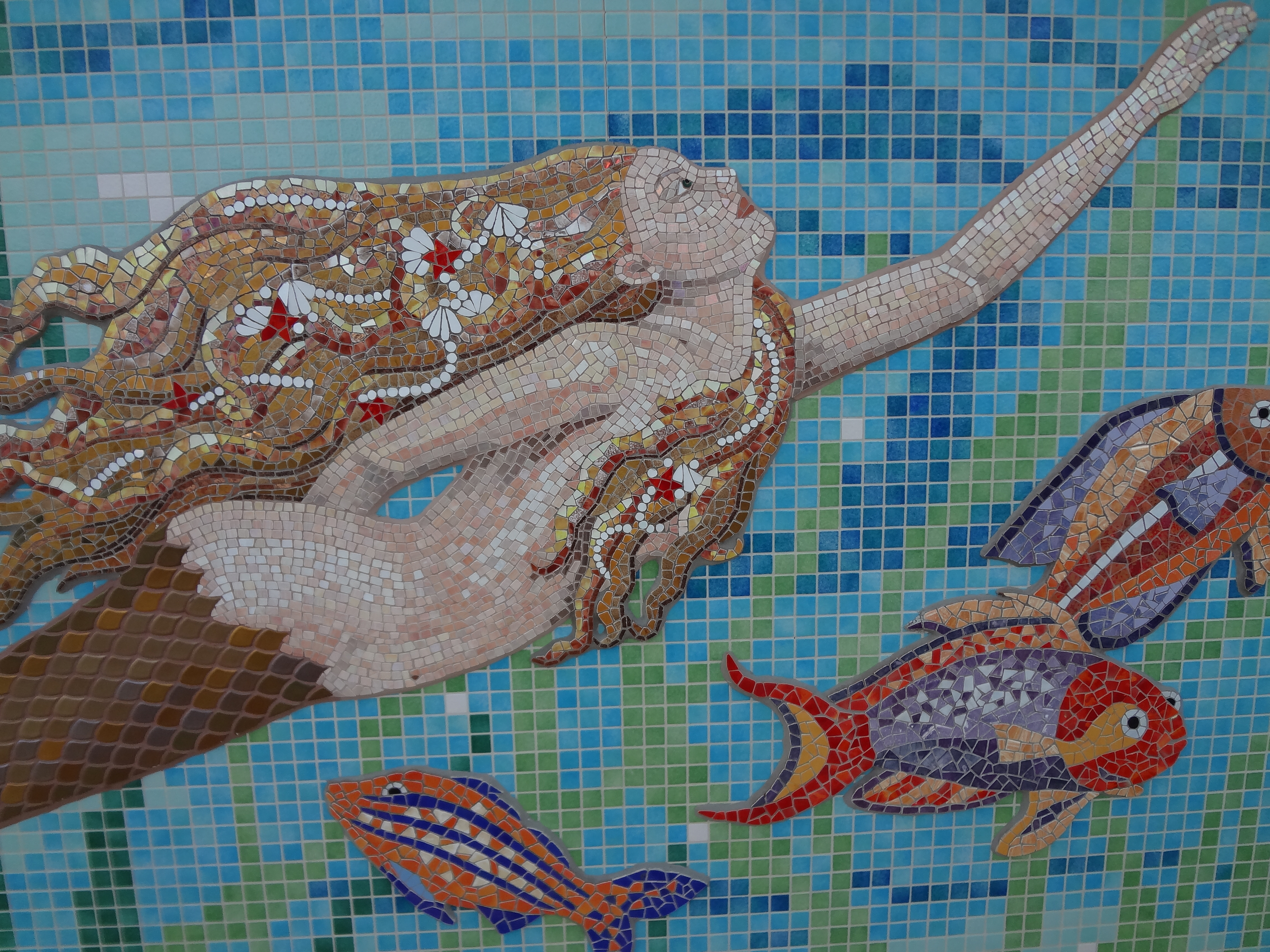 Now that we've gone over all the ports of call on the Princess Southern Caribbean cruise (Princess Cays, Curacao, Aruba, and Ft. Lauderdale), it's time to conclude this series of posts. Let's talk about the days at sea, our overall impression of the cruise, and make some comments about cruising in general.
Days At Sea & Life On The Ship
The boat itself, was of course, quite huge. More than a dozen decks that were open to the public. There are five swimming pools, a huge theater, a fitness center, a wedding chapel, a nightclub, a three-story piazza, and more dining rooms, bars, and lounges than I care to try to recall. Everything was wallpapered, carpeted, trimmed, tiled, gilded, etc. Very well-appointed.
The carpet was actually color-coded – in the elevator lobbies, the carpeting is the same design but with different colors in the forward and aft sections. In the hallways on the port and starboard sides, there were different colored trim. So in any part of the ship that isn't a bar, lounge, etc., you can navigate just by looking at the carpeting.
Every day, we received a detailed schedule of events for the many activities offered on the ship that day. There were a variety of activities available, both paid and free… everything from dancing lessons to introductions to blackjack, 5-card stud, roulette, and craps; from bingo to yoga; from wine-tasting to concerts, plays, and musicals.
Our room was small, but not cramped. Our steward cleaned it upwards of three or four times a day. All the staff was extremely polite, and professional, except the ones that were supposed to be a bit risque (the crew running the bingo, trivia, etc. were more rowdy and raunchy, but all in good fun), haha.
There were three days at sea on this cruise, one going and two coming back. The hubs and I played a lot of bingo (it's fun, dammit, don't judge me), hung out in the casino a bit, lounged on the deck with out Nintendo DSs went to trivia, and played Taboo with some little old ladies. We also attended both formal nights, where the dining rooms have a stricter dress code, and there are a lot of professional photographers hanging around.
All in all, it was pretty nice. The time on the ship didn't have to be boring, and though we kept it pretty low-key, we did catch a musical about road trip culture in the US – it was okay. We also went to a spectacular concert by Tom Franek, a very talented pianist and performer. He was very high-energy, and put on one helluva show. We also took in a surprisingly funny cooking demonstration and kitchen tour that were both very entertaining.
Speaking of the kitchen, the food on this cruise was absolutely amazing. I can't even begin to describe how varied and delicious the food was. There were theme nights for food from different cultures. Princess makes a point of making the food from the cultures of all the staff members, so they can always have a taste of home on the ship and share their culinary heritage with passengers. I thought that was super neat. I especially enjoyed the german food night – we don't really have german restaurants in the Georgia, so I really appreciated the opportunity to eat some. I definitely ate myself sick a few times during the cruise, haha.
The Downsides of This Particular Princess Southern Caribbean Cruise
Aside from the first night, the motion of the ocean was not too distracting. That first night, though, whew! Everything not tied down was rolling around, vibrating, and general making noise. The dresser drawers would roll open and slam against the stops when the ship pitched too much. It was kind of crazy, and Adam and I both wondered what on earth we'd gotten ourselves into. But it was better after that, though we did go noticeably faster at night, causing a pitch more tossing than was otherwise experienced during the day. We didn't get a video of it, but the pools did all sorts of awesome sloshing about at night. It was really wild. You would totally get brained against the side if you were stupid enough to try to swim in there. But anyway, it wasn't a big deal, and everyone seemed to get their sea-legs pretty quickly.

I definitely noticed, however, that the motion of the ocean did interfere with my ability to eat and drink to excess, haha. I had to watch my step a bit… all the delicious buffets and flowing alcohol did not mix well with the higher speeds at night. Later on in the cruise, I definitely had to take some Dramamine. I'm not sure why this happened later in the ship, rather than the first night, when things were wild.
As far as the ports were concerned, we continually felt like the time at port was too short and the ability to punch through the tourist traps and get to some of the real sights and culture of a place to be challenging. Knowing this, I suppose you could compensate by having independent travel planned for each stop – locating a local rental company or guide that is trustworthy. The number of people standing around, trying to convince you to go on their tour or get in their anonymous-looking, somewhat battered minivan is a little overwhelming, and there is no way to look up these companies or individuals on the fly.
Also, as I mentioned earlier, we apparently had such a tight schedule that an hour's delay in Princess Cays directly resulted in a lost hour in Curacao, and the cancellation of a hiking excursion that we were very much looking forward to. That was probably the sharpest disappointment of the entire experience.
Another issue we had with the cruise – and I don't know if this is a Princess thing, a Caribbean cruise thing, or just a cruising in general thing, but it was surprisingly sales-y. After paying what I thought was an exceptionally large amount of money (even with the deal we got) for an all-inclusive experience, I was both shocked and disappointed with how much Princess tried to push up-sells on us, mostly the overpriced tourist crap in the stores in the Piazza. For Adam, it wasn't that they kept hammering us with the sales (he's probably less naive than I), but that it was always with the continued insistence that these were exceptional deals that could not be gotten elsewhere, and from what we can tell, this was simply not true.
Also, while there were a lot of professional photographers hanging around, the photos they took were around $30 per sheet! If you wanted a digital file, the price was $50. Fifty bucks! For something that is basically free, aside form the photographer's wages. I know this is a business and not a charity, but damn. I feel like the digital sales should absolutely have been cheaper than the printed photos. I even went to the little sales deck as people were disembarking and offered them a chance to make a discounted sale, and they wouldn't deal. Well, no professional shots for us. We stuck to our goofy-but-in-our-opinion-endearing selfies.
Cruising In General
While we had a nice enough time on our Princess Southern Caribbean Cruise, and we can see the appeal of cruising, neither Adam nor I think we'll be up for it again anytime soon. Basically, the all-inclusiveness is pretty darn nice, and it's definitely relaxing, but I think we are still adventurous and active enough that we crave a bit more action. We definitely did not fit in with the largest demographic groups onboard, the seniors and middle-aged folks. And now I see why. I think I would rather independently travel as long as I can, and start cruising when my body starts complaining.
I definitely wouldn't try to dissuade anyone from cruising for the first time if they wanted to try it, since I think trying new and different things is pretty much the purpose of being alive, but I definitely am of the mind that you can do and see more for less money by avoiding the cruiseships.
emily
Nerd. Foodie. Gamer. Homecook. Perpetual planner. Gardener. Aspiring homesteader. Direct response graphic designer. I use too many damn commas.