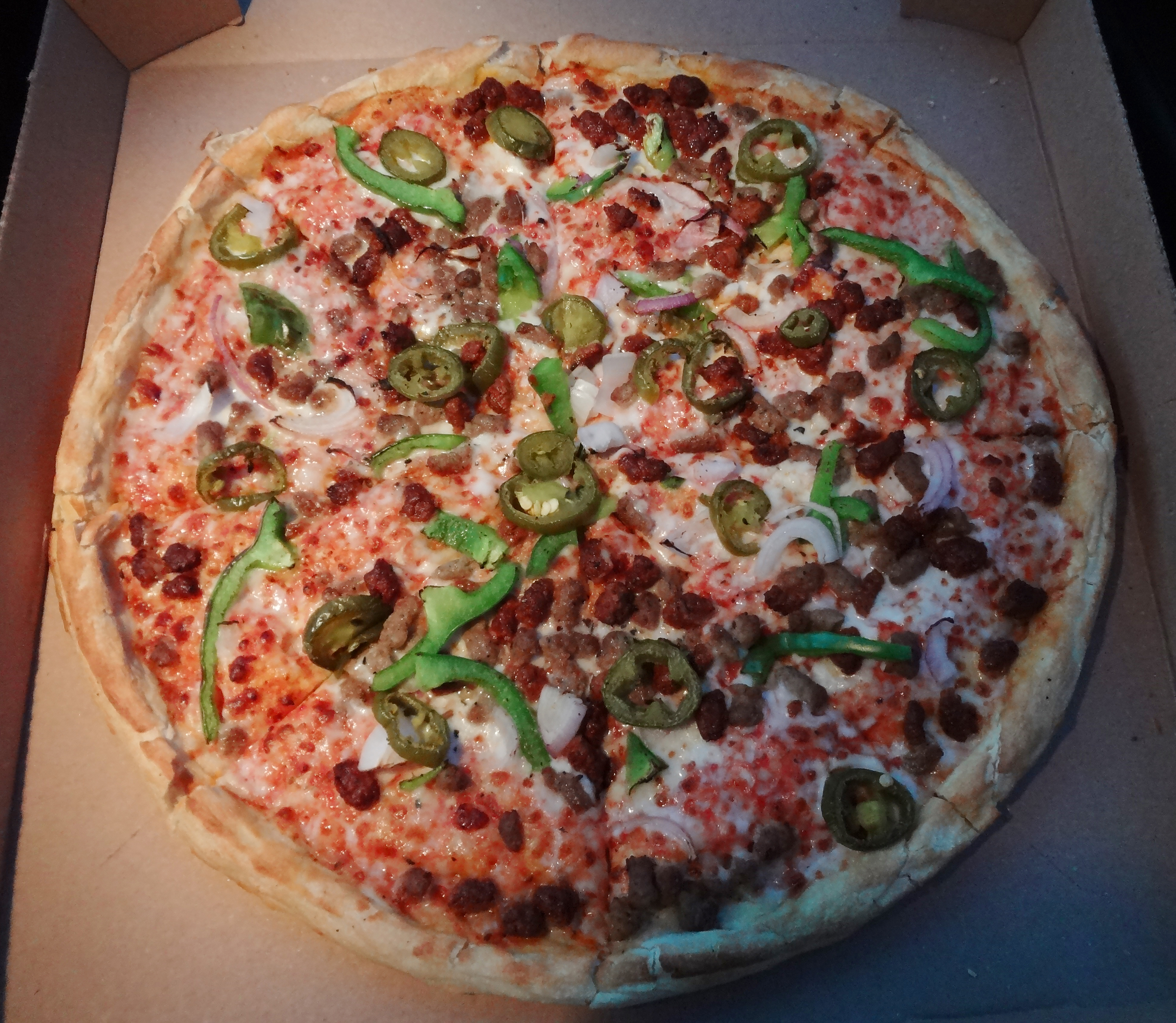 By early 2015, Pizza Patron closed and was replaced by Mi Pizza.
Pizza Patron is a Texas-based "Latin Life" pizza company, founded in 1986. There are less than 150 locations in eight states. The one on Buford Highway is the only one in Georgia, so it doesn't fit our definition of a fully-saturated chain. So in we went!
By the way, according to Wikipedia, the founder of Pizza Patron is of lebanese and italian descent, which I find quite amusing.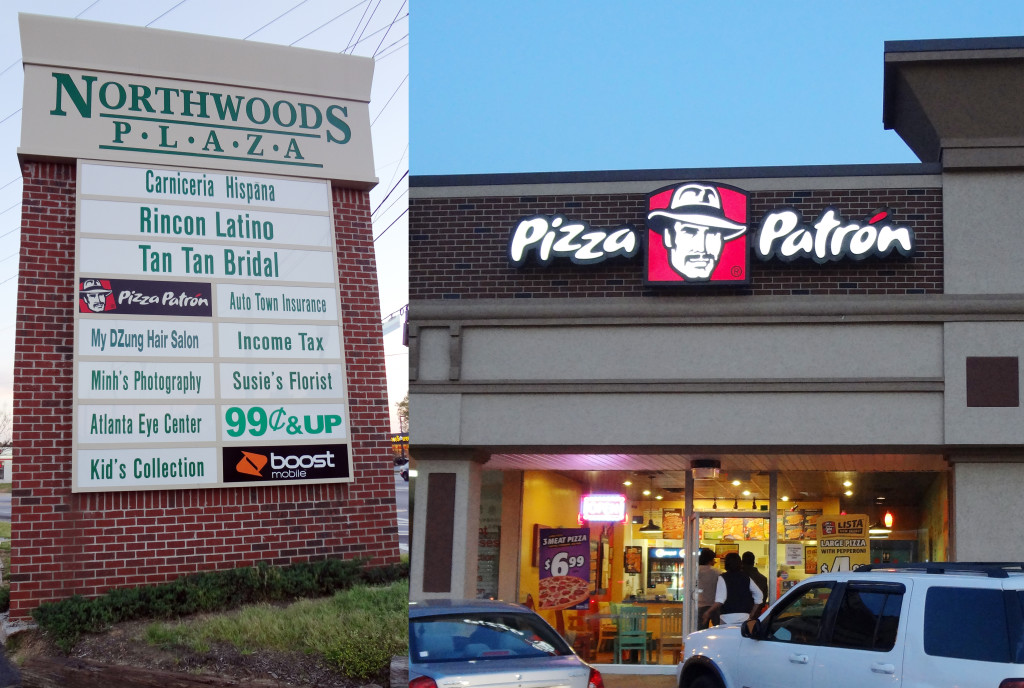 Everything about the Pizza Patron logo screams "Ya know, that KFC logo is pretty bitchin'– we need a logo like that. But younger, and more latin. Sexier. Add a fedora. Perfecto!" to me. But it is a pretty sweet logo.
When we arrived, there were three people dining in with their pizzas and/or wings. We sidled up to the counter to choose our pizza and though La Patrona was my first inclination, since it's named after the chain (or vice versa – you think about that), it really didn't seem to be very special. Or very latin. So we went for La Mexicana, because jalapeno were involved.
"Yes, but what size La Mexicana did you order?" you may ask. Large of course, because Pizza Patron has made your life simple by only offering one size of pizza. Take that, indecisive consumers!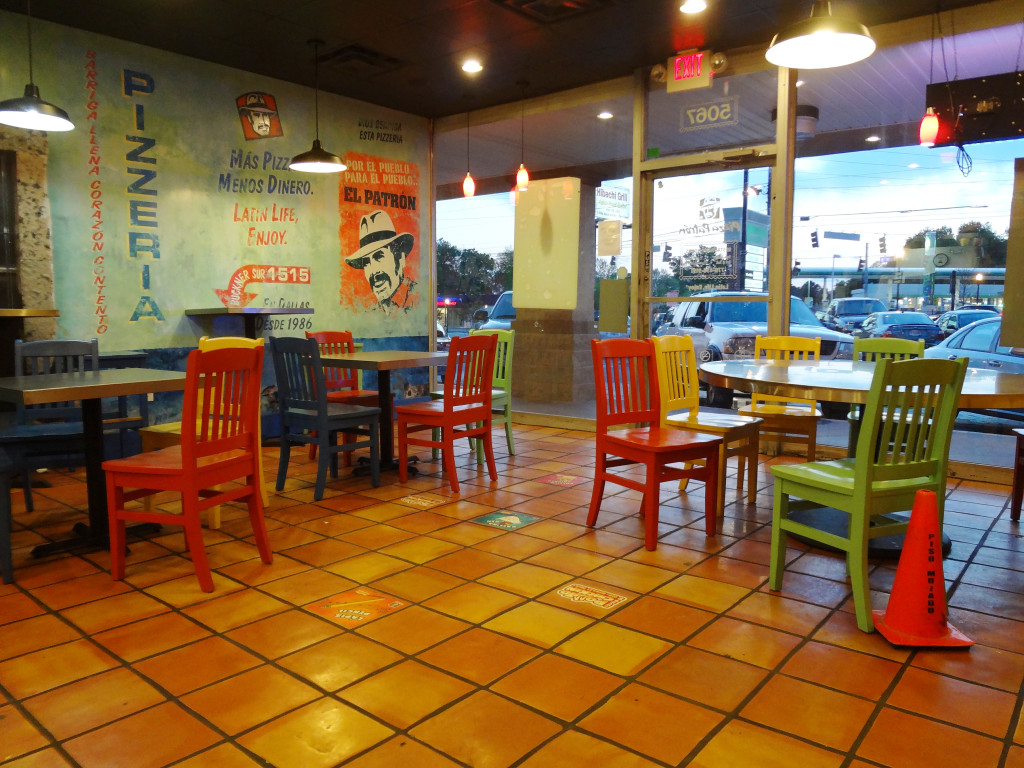 The inside was nice (certainly nicer than the non-existent dining area and warehouse feel at CheeZies), and there were little stickers on the floor to teach you pizza-related terms, like pen (pluma) and pencil (lapiz). (I'll have a large la escuela pizza, light on las plumas, please.)
The pizza arrived in a surprisingly custom cardboard box. Maybe it's just the fedora, but the branding and design for Pizza Patron really stands out in comparison to its low-cost fast food brethren. Color me impressed.
Anyway, our large La Mexicana in its custom box came to a whopping $6.99, which is a pretty good deal. If we had wanted to go cheaper, we could have gotten a large (duh) pepperoni for a mere $4.99. Not a shabby price-point, to be sure.
But when we got our sultry box and pizza home, we devoured a pizza that could only be described as average. The pizza was good, and I enjoyed eating it, it was just not a stand-out experience. There's nothing negative in particular I can say about it. If you eat plainly, then perhaps you would be wowed by the use of jalapeno on a pizza, but in a way that is reminiscent of my bacon apple pie, the sum of the parts failed transcend to another level of culinary delight. It was a cheese pizza topped with onion, bell pepper, jalapeno, beef and the least chorizo-y chorizo I have ever consumed.
The value is great, and the food is satisfactory for the price – as much as $10 cheaper than other pizza chains in the area. If I lived very nearby, it'd probably be the go-to pizza joint for my annual loss-of-sanity-resulting-in-delivery-pizza. 3 stars, because Pizza Patron is what it is. With a fedora.
Pizza Patron
5067 Buford Highway
Doraville, GA 30340
emily
Nerd. Foodie. Gamer. Homecook. Perpetual planner. Gardener. Aspiring homesteader. Direct response graphic designer. I use too many damn commas.