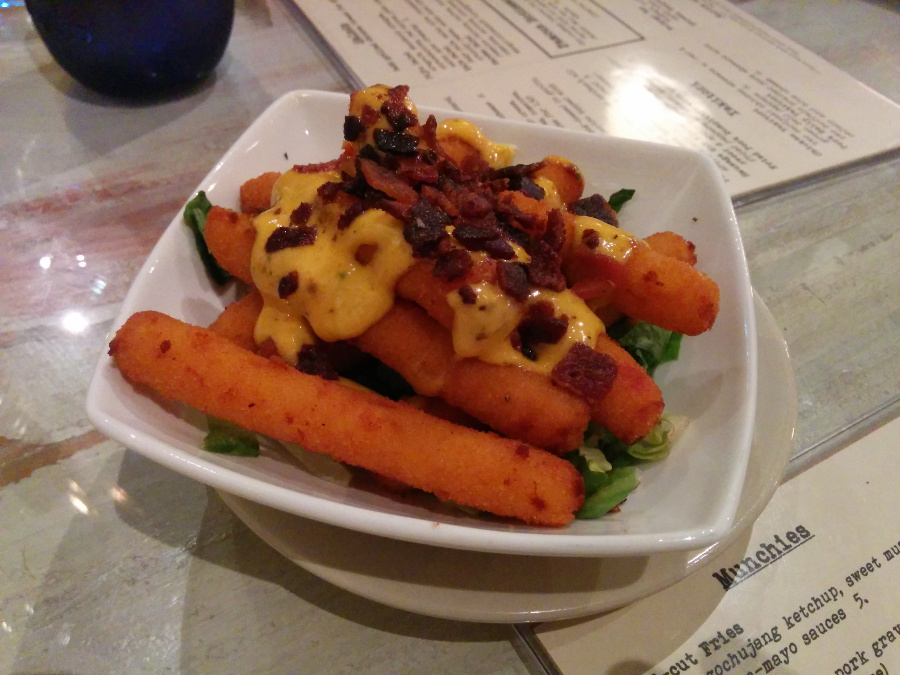 I was excited to check out Pijiu Belly last week with the Association of Food Bloggers, especially because it was right in the middle of where I used to live back in college. I actually tried to remember what used to be in its exact spot (since it only opened up just last fall), but couldn't quite remember. Surely it wasn't as interesting as this new little restaurant!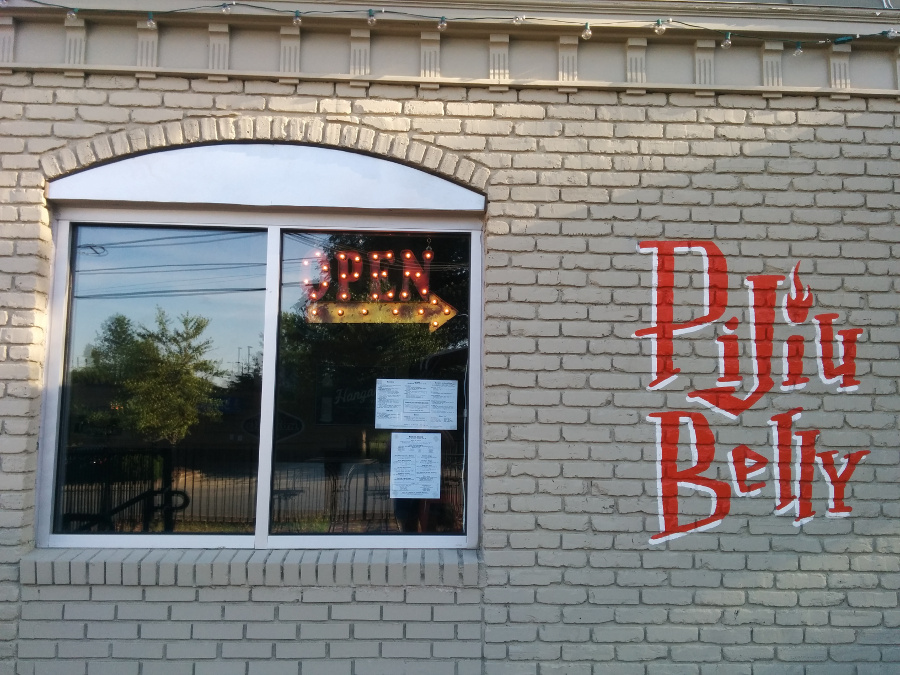 Pijiu Belly is an american-asian fusion restaurant – their menu contains their own versions of bahn mi, kimchi, bulgogi, and yakitori. The evening started out great, as I was able to easily get a parking spot in their small side-lot (though had it been a late Friday or Saturday night it might have been a different story), and continued as I stepped from the warm air into their cool, clean interior.
And when I say "clean" I don't mean cold and sterile, but rather smoothly uncluttered. With fun art on the walls, and wood-on-metal theme, Pijiu is a little modern and a little down-home at the same time – mason jars of water included!
After being greeted, the first thing I wanted to do was check out their drink selection. With all the local breweries in Georgia these days, I'm finding myself a stickler for restaurants' beer selections. I was gratified to see that Pijiu has a full list of locals, from 3 Taverns, to Jekyll, to Orpheus. I started with a nice Le Peche Mode as I perused the menu options.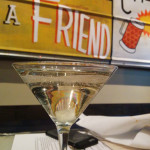 They also have some fun cocktails, one of which I tried later in the evening. The Summer Moon Cocktail contains honeysuckle vodka, which is the whole reason I ordered it, as well as fizzy cube of sugar (among other ingredients). Sweet, but tasty, if you're into that sort of thing.
Once more of our group arrived we ordered a handful of different appetizers. They have a lot of options, all reasonably priced, so I'm glad we didn't bother limiting ourselves!
My opinions on the appetizers are fairly polarizing. The poutine and tater tots didn't particularly impress me – I wouldn't give them an adjective other than a mild "good" – but the Grit Stix, Hot Sausage Plate, and dumplings I thought acquitted themselves very well. The Grit Stix were easily the best appetizer on the table, in my opinion, both because they were something I'd never seen before and because the were just flat out good. Like a classed-up version of fried mozzarella sticks (if such a thing can actually be classed-up).
When it came to selecting an entree, the choice was a tough one. Their Rotisserie Chicken (rotisseried for 3 hours, then flash-fried) is their house-special and came highly recommended, though I couldn't tear my eyes away from the sound of their Roast Pork Belly Sandwich. I'm a sucker for sweet barbecue, and the "house sweet peach-hoisin sauce" made me order it on the spot with a side of brussels sprouts.
We had been casually warned the pork belly is hard to get right (crispy on the outside, soft on the inside), but since it was exactly what I wanted I took the plunge anyway. In the end it wasn't at all bad (there was ample meat on the sandwich and the peach sauce was, in fact, delicious), but it was, unfortunately, a little dry. And when it comes to a sandwich that's basically bread and meat (and a couple pickles), the meat is going to stand out. I was a little disappointed, but I suppose I had been warned.
The side I chose, the brussels sprouts, were very good, if a touch over-done. They were topped with a savory sauce of some sort – sour cream? yogurt? – that gave them a very pleasant additional tang!
The table's meal selections were highly varied, though, and everyone seemed to enjoy what they'd eaten.

One meal I actually don't have pictured here is their Kale Salad. You know when someone tells you "this is a big salad – you'll want to share it with someone", you internally scoff, and wonder "who can't finish a salad?" Scoff no more – good to their word, this salad was immense, and actually quite tasty-looking.
Finally, to top it all off, they had 3 dessert selections, and those of us remaining at the table simply had to give them all a try. A slice each of the Big A** Chocolate Cake (its actual name), the Salted Caramel Crunch Cake, and the Yuzu-Lime Cheesecake. All 3 decadent, all 3 definitely to be shared with others, all 3 delicious. While ladies I shared the desserts with unanimously agreed that the cheesecake was the best of the bunch, I unsurprisingly opted for the chocolate cake – though the caramel crunch came in a close second.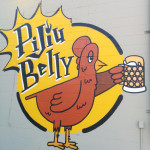 In the end, despite the fact that my pork belly was a little dry, there's no doubt in my mind that I want to go back to Pijiu Belly. Its comfortable and trendy decor, interesting selection of meals, as well as great listing of local beers will definitely have me back to try another entree (probably the signature rotisserie chicken!). Their prices especially make me feel like I could come back for another round without breaking the bank, even with a drink!
Oh, and did I mention that "pijiu" is Mandarin for "beer"? Adorable, right?
If you're looking for a new choice of interesting foods, give Pijiu Belly a try.
Since this was a media event, my food and drink were all complimentary. My experiences and the words shared here are my own.
Pijiu Belly
678 10th St NW
Atlanta, GA 30318
Mary Gezo
Formerly of both n00bcakes and !Blog, the two magically become one on Spatialdrift; expect some lazy baking and serious nerditude. Also, I love semicolons.