Closed in August of 2015.
Meat pies. Pot pies. Pasties. Empanadas. Calzones. Xian bing. Sfihas. Kreatopitas. Worldwide, just about everybody loves portable meaty foods in some sort of pastry covering. That common heritage drew Ron Wolf to get into the pie business. After several years of research and development, including nine months on the pie crust alone, Ron has opened That Pie Place in Dunwoody.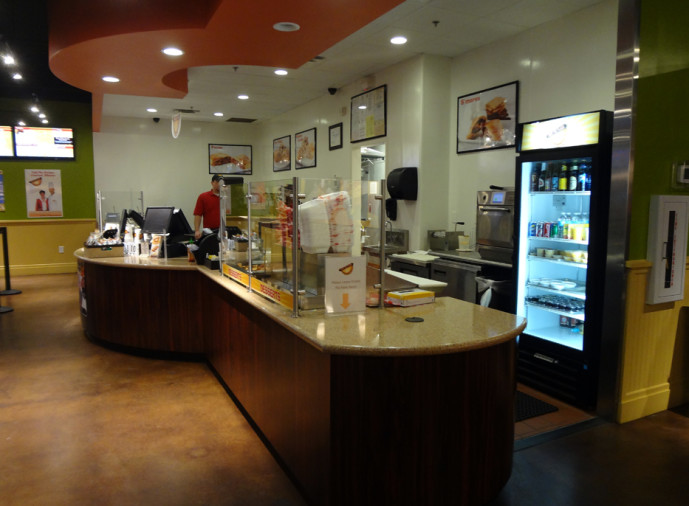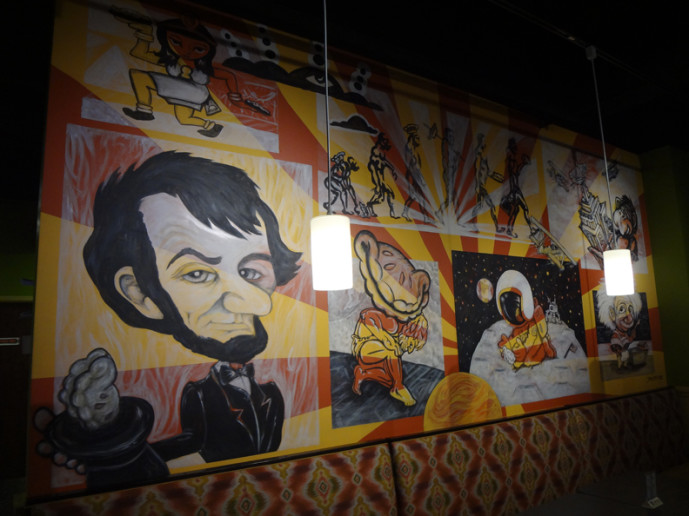 Serving a variety of savory and sweet pies with a handful of sides, That Pie Place offers portable, natural food fast. Each pie is made in three minutes stuffed with meats that are all-natural with no hormones or antibiotics, and fresh produce that is locally or regionally grown.
Last week, I jumped at the opportunity to meet Ron and his executive chef Todd Kazenske, and to taste some of what That Pie Place has to offer. The savory pies (in a pasty-like half-pie shape) are single-portion, but if you came with a healthy appetite and a pal you could easily split 2 or 3 pies between you. The dessert pies are a bit smaller, so you can have something sweet without popping any buttons.
After a great talk from Ron and Todd, we got down to the serious business of eating pie. A variety of savory pies were brought out, cut into thirds for sampling.
I got started with the jerk chicken pie, and oh my did I start in the right place. I suppose I expected something like what you get when you order "jerk" at a national chain that is trying to appeal to everyone – something mild and vaguely exotic-tasting. But this thing had real kick and I loved it. I could have easily eaten the remaining two-thirds of the pie I sampled. But for you, dear reader, I pressed on to try other flavors. I hope you appreciate my sacrifice.
Next up was the Philly cheesesteak pie. I've never had an authentic Philly, but I've enjoyed a few of whatever we pass them off as down here in the south over the years. Compared to that standard, this fell a little short. The taste of the various ingredients were more or less there and correct, but the texture as a whole didn't provide that Philly feel I was expecting.
Ron said that the chicken cordon bleu was his favorite – there's another dish I am not sure that I've ever had done "right" by any true connoisseur's standards – so I had to give it a try. Delicious! I do love me some cheese…. A solid choice of pie, should you ever find yourself at That Pie Place.
Next up for me was the Cuban pie. Having just recently swung by Papi's for the first time, I had cuban on my mind. This pie was quite satisfyingly "cuban sandwich" to me. It had the right textures and flavors in all the right places.
Lastly, I had the fall seasonal pie and the meat lovers' pie. The fall seasonal is a turkey dinner in a pie – turkey, stuffing, gravy, mashed potatoes. Confession: I'm not a big fan of the traditional turkey dinner. Another confession, I thought I was picking up a piece of barbecue pie (it was next to the sign). Having said all that, I enjoyed this pie more than a thought I would. It certainly wasn't awful and dry, which is my usual complaint about turkey dinners.
The meat lovers' pie is very much like a calzone version of the meat lovers' pizza you may have subsisted on in college. It was good, but not a standout in the category. This is pie you can comfortably order for the unadventurous dining companion in your life. If they like pizza, they'll be fine.
There were plenty of tasty pies I couldn't get to, including chicken pot pie, barbecue, buffalo chicken, and salmon pies. There were also two sides on the table, asian coleslaw and balsamic beans, but I was in pie-eating contest mode and didn't make it that far.
After all this, it was time for dessert! Recall that the pie were cut in thirds and that I had six pieces. After the equivalent of two savory pies my capacity for dessert was a bit limited, so I only tried two sweet pies, the pecan pie and the s'mores pie.
The pecan pie was good. At first, I was put off by its slight sogginess. It just seemed soupier than pecan pie ought to. This bias may have come about because I've been experimenting and "perfecting" my own personal brand of pecan pie. But, even as these thoughts rolled about in my brain as I munched on the pecan pie, it grew on me. It's like southern pizza and NY pizza – they're slightly different beasts, but you can easily enjoy both.
The s'mores pie was something else. Thick brownie, graham cracker, marshmallow and hot fudge. Honestly it was a bit much for me after so much food, and it was very, very rich. I am more of a fruity dessert kind of person, so I look forward to trying the peach or apple pie, made with Mercier Orchard fruits.
As with the savory pies, there were many dessert pies I couldn't get to like the apple, peach, or cherry, or the Elvis. I so wanted to try the Elvis, but I also don't want to look like Elvis eventually did, so It will have to wait for another time.
I didn't pay for my meal and I cannot find a menu online with pricing, but with a little research it sounds like the savory pies are around $6, and the desserts around $3. This seems reasonable to me.
All in all, I think Ron is on to something here. He's got a compact set-up that can easily churn out quickly-produced, high-quality food that stands out from the burgers-and-fries or tacos-and-chips set of food joints. The location may seem a bit far for diehard ITP folks like myself, but it's definitely an interesting find and one that you may find worth your drive if you're in the mood for something tasty and new! 3.5 stars.
That Pie Place
6355 Peachtree Dunwoody Rd NE
Atlanta, GA 30328
(Being that this was a media event hosted by That Pie Place, I received the food I sampled without charge. Regardless, the thoughts and words in this post are my own. – Emily)
emily
Nerd. Foodie. Gamer. Homecook. Perpetual planner. Gardener. Aspiring homesteader. Direct response graphic designer. I use too many damn commas.