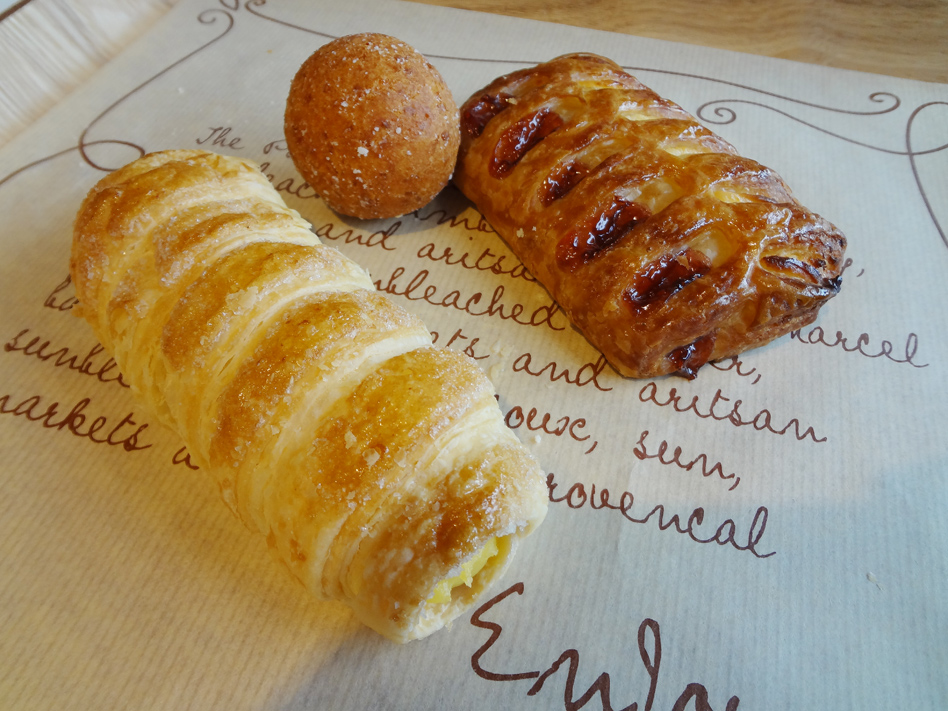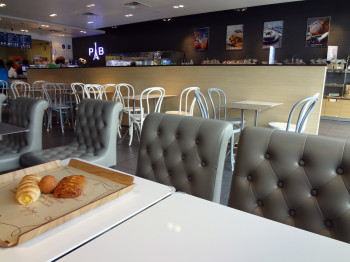 Here's another in our mini-series of recently opened Buford Highway eateries. Paris Baguette, sort of like Quickly is actually a huge international company that started in Asia and is just creeping into the US. Known by some as "the Starbucks of Korea," there seem to be nearly 3,000 locations in Korea alone, and up to another 500 throughout the rest of Asia. Here's a great link about a Paris Baguette in Seoul.
In the States, the company is known as Paris Baguette Cafe. There are a bunch in California, a decent number in New York/New Jersey, and one location each in Pennsylvania and Georgia – well, two now. I think the one in Duluth may have come first, since this one is so new, and the website doesn't yet acknowledge there being two in Georgia.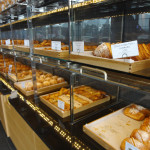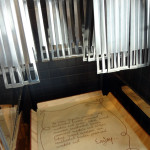 The inside looks pretty nice, just as nice as Sweet Hut or Mozart. Clearly, this chain is a french concept for the commonly seen asian bakery. This must seem pretty exotic in asia, huh? Even here, too, because the aesthetic is carried so far that the employees wear black berets and striped shirts! It's really something, but I don't have a photo for you, because I was too shy to ask if I could take one.
As is typical with the higher-end kind of these kind of joints, we grabbed a tray and tongs, and wandered around, all agog over our variety of choice. Eventually, we settled on a raspberry cream cheese pastry, custard-filled tube thing, and a savory cheese ball thing. Sorry, not everything is listed on their extensive online menu.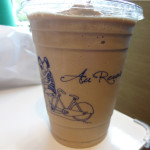 Adam and I each also had a frappe – he got kiwi, I got strawberry. These were good, but they didn't blow us away, and they weren't as cheap as Quickly.
Ash and Steve got an espresso, coffee frappe, and some assorted pastries. Ashley says: "The frappes were about the same as those at Sweet Hut, but the milk teas and other teas were significantly more expensive (around $4.25 at Paris Baguette compared with around $2.50 at Sweet Hut and Quickly). The pastries all seemed to be more in the $2-$2.50 range (with Sweet Hut being more $1.50-$2).
I think they are nice for trying to go for something more sophisticated with their pastry options, unfortunately Stephen and I both observed that our different flavors of pastries overwhelmingly tasted of butter with only a hint of the advertised flavors. They did have some conscience-friendly options with free-range eggs and gluten-free options, but I just don't see it as worth it. I think I would more readily go to Sweet Hut, Quickly, or Milano for my various Asian cafe related needs. Maybe they just tried too hard for my taste. Overall, 3 stars."
There were plenty of other amazing things that we could not try, due to the sheer volume of what was available and our somewhat limited stomachs and wallets. The cakes in particular look super-amazing.
This little niche of the market is super-saturated, so let's see where Paris Baguette Cafe fits in to the scene… Not quite as good as Sweet Hut, but probably the closest so far for vibe and variety of items and – as Ashley pointed out – the prices are not quite as good either. About the same as Mozart in terms of atmosphere and variety of pastries. Overall, certainly a better experience than Honey Bits, Master Bakery, Oriental Bakery, or Kung Fu Tea. So, above average. 3.5 stars.
Paris Baguette
5252 Buford Highway NE
Doraville, GA 30340
emily
Nerd. Foodie. Gamer. Homecook. Perpetual planner. Gardener. Aspiring homesteader. Direct response graphic designer. I use too many damn commas.