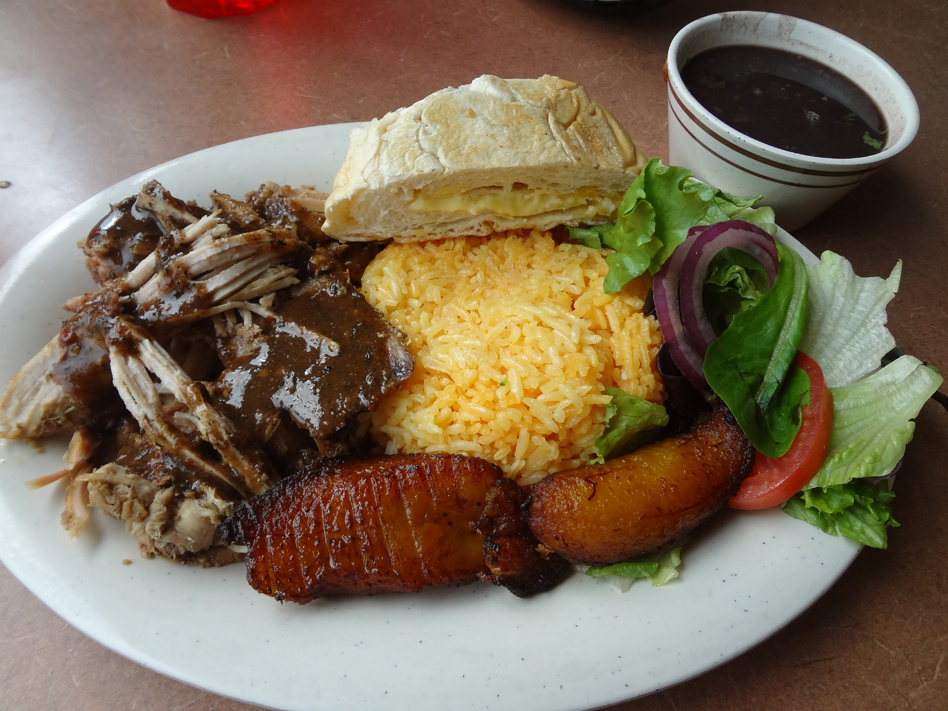 Papi's Cuban and Caribbean Grill is a small Atlanta-based chain of (unsurprisingly) cuban and caribbean restaurants. There are to my knowledge five Papi's locations, and if I had to guess, I'd hazard that this midtown location was the first.
I have driven by this corner countless times over the years, but had never stopped by Papi's to check it out. Last week, I went with a full complement of coworkers to give it a go. After a little wrangling in the parking lot we got situated and ready to chow down.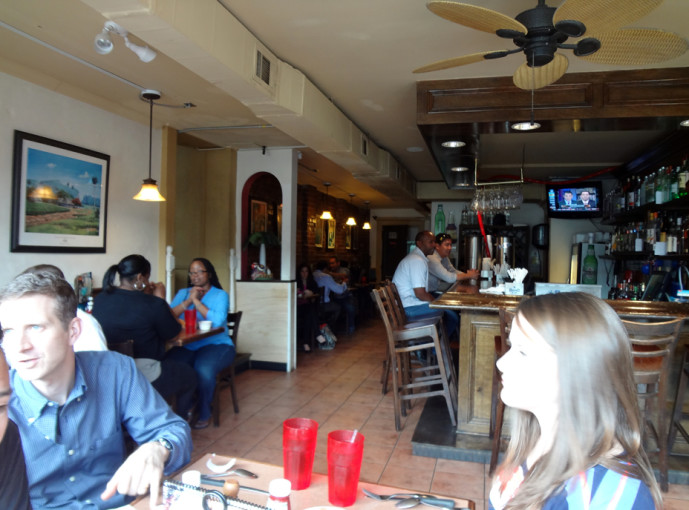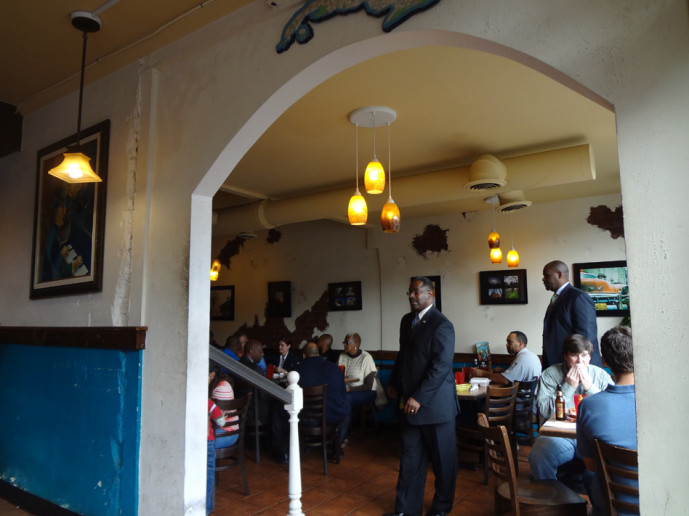 My coworkers kindly got us all started off with come appetizers: yuca fries ($2.99) and maduros ($2.50) – fried plantains. They were both pretty good, but not the pinnacle of my experiences with either dish.
I ordered the jerk pork lunch special with cuban bread, salad, beans and rice ($6.99) and a cuban milkshake ($3.50). Unfortunately, my ordering did not go very well. When I ordered the milkshake, the waitress and I went back and forth several times about the drink. She kept insisting that I choose a flavor, though the menu clearly indicated that the cuban milkshake contained a set blend of juices. It was an awkward and frustrating exchange to have, especially in front of my coworker friends.
The upside was that the food was great and the portions large! The flavor of the jerk chicken was not exactly what I expected – a little more cuban tasting than caribbean tasting, but that makes sense – but it was very good. The beans looked dubious but were also delicious. The cuban bread was cold (served hot when it's a side, apparently) but I could tell it has potential.
Anish got the ropa vieja lunch special, also $6.99, and an extra side order of the cuban bread, mmmm. He had this to say about Papi's: "Papi's gets 4.5 stars from me. To me, it really serves as an ideal lunch spot for anyone in the Midtown area with it being reasonably priced, quick, and of great quality (proteins were very well spiced). Also, cuban bread was great." Anish let me snag a taste of the ropa vieja and it was moist and heavily spiced (in a good way); very nice.
Jaimyn got the Papi's sandwich ($6.75) and a side of fries and sent over an extensive, very Brooklyn review that I think you'll enjoy.
"So I walk up in this sketchy Cuban joint with my dude Anish and immediately I spot zero sexy Latinas in sight. I figured it was gonna be another crappy Atlanta wanna-be-authentic restaurant but I stick it out anyway. Menu's colorful and informative and I order the Papi's Sandwich. Dizzle. Food came pretty quick for a table of 6 which was good and I realize that the fries I got were epic. The rice that came with the meal was straight delicious doe. Good Lord. Beans were ratchet looking like they were chilling in polluted water so I didn't eat them.

But dat sandwich doe – unreal. Best Cuban sandwich I've had since I've been down here.

The atmosphere was decent too and cleaner than most places we go to on Fridays. Certainly better than those nasty restaurants we go to on Buford Highway.

I was gonna rate this restaurant a 25/5 but there were a few things that decreased how amazing it was:
1. Sweet tea tasted like slimey liquid that wasn't even sweet but I drank it anyway because I love sweet tea.
2. Beans were ratchet looking.
3. Waitress was an airhead and couldn't comprehend what Emily was saying.
4. They didn't have root beer. Which is ratchet.

So that brings it down to a 21/5. Oh but I did get dat coffee doe which was at first quite ratchet but then as I kept drinking it I realized that it was actually pretty F-ing good. Muy delicioso foshizzle. So that alone bumps it up to a 22/5.

Parking was adequate too which was a plus. And the price was perfect. $15 before tip for tons of good food."
A couple folks got the cuban sandwich. I probably should have for comparison's sake, but the jerk pork was just too tempting.
I had ample amounts of leftovers – perfect for another lunch!
Collective votes were as follows: one 5 star, one 4.5 star, and three 4 star votes. We average out at 4.5 stars for Papi's Cuban & Caribbean Grill! If you haven't been, drop by some time. I know I'll have to go back to try the cuban sandwich for myself!
Papi's Cuban & Caribbean Grill
216 Ponce De Leon Avenue NE
Atlanta, GA 30308
emily
Nerd. Foodie. Gamer. Homecook. Perpetual planner. Gardener. Aspiring homesteader. Direct response graphic designer. I use too many damn commas.