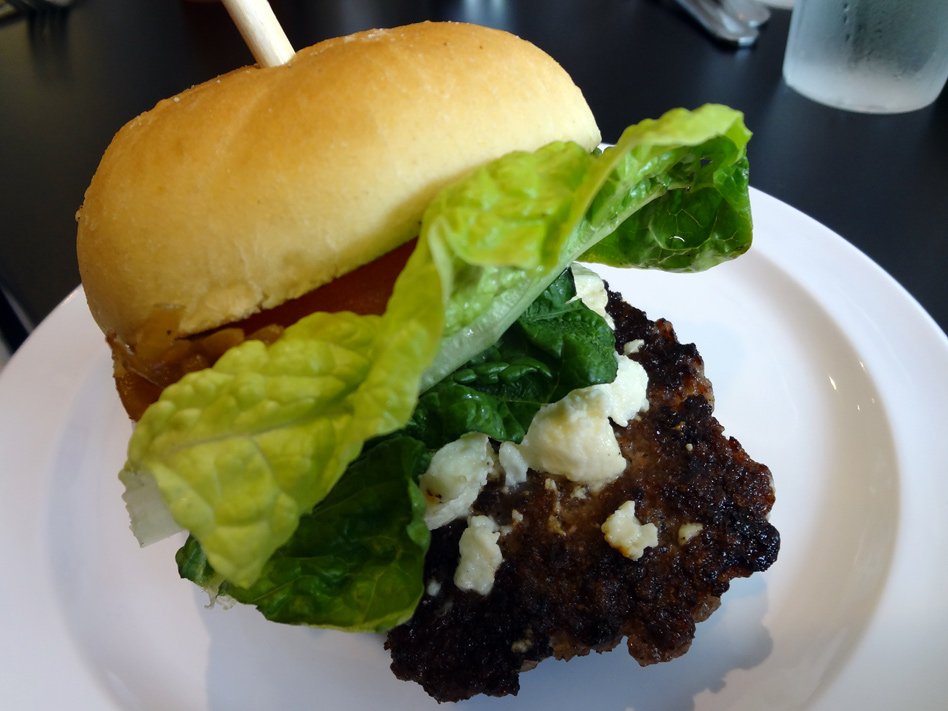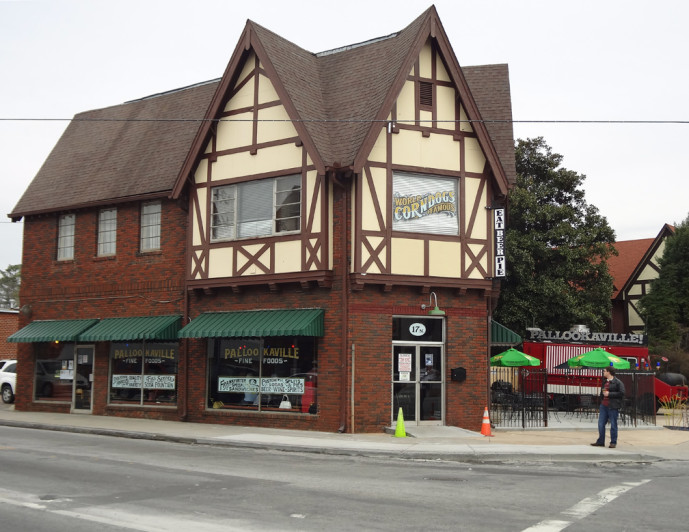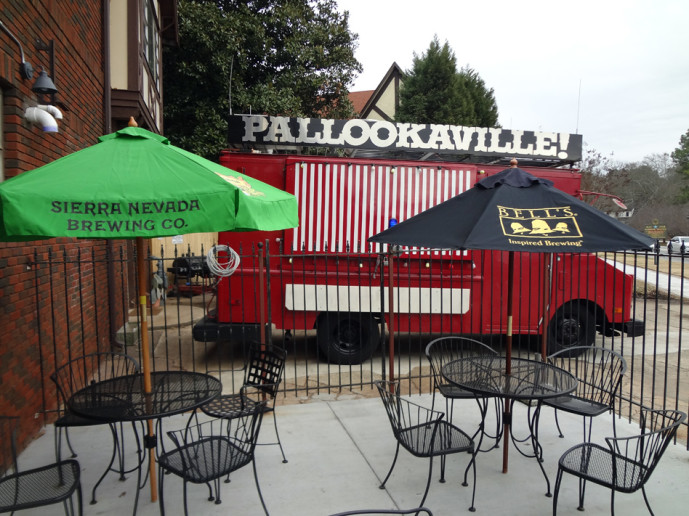 There's been a lot of word going around about the quirky, carnival-themed restaurant Pallookaville Fine Foods that opened late last year in Avondale Estates. Adam and I met up with some friends recently to see what's what.
First and foremost is the abundance of carnival-themed or otherwise off-kilter decor. The interior is an entertaining, eclectic eyeful to be sure.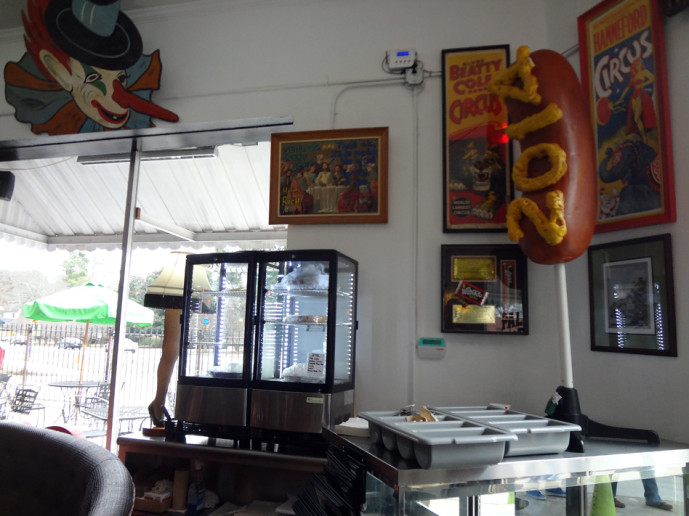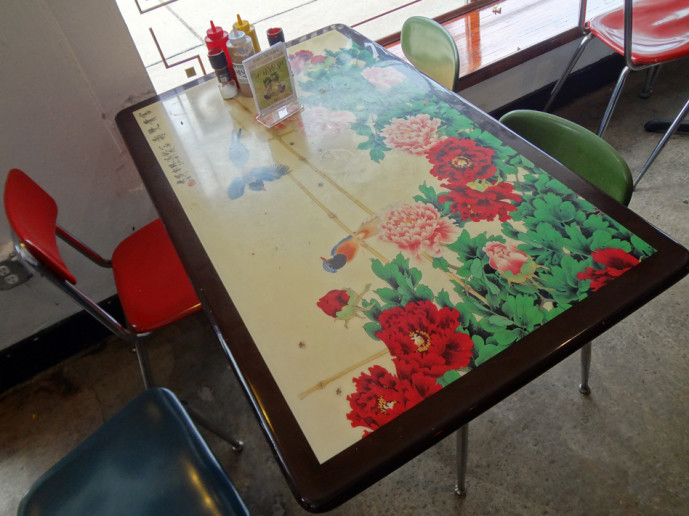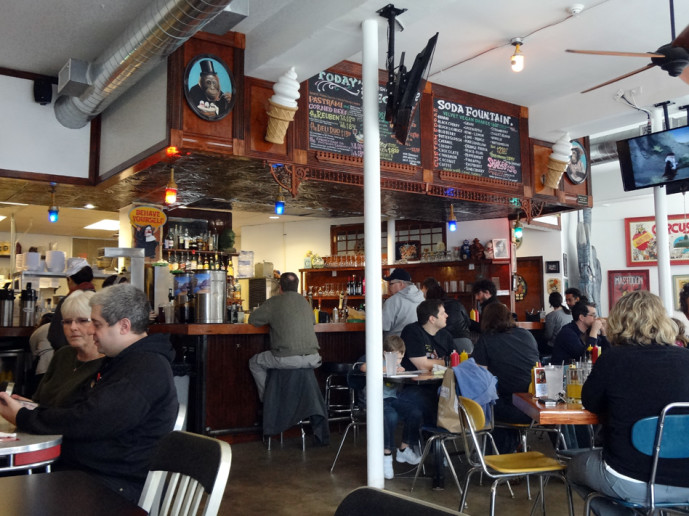 This trip being on a fine Saturday afternoon after a long and stressful week, when Adam and I arrived first we immediately began pursuing the vast menu of adult shakes. I didn't count the number of available combinations, but there are certainly a lot.
When our compatriots arrived, we opted to start with a strawberry shake with limoncello to share, and two orders of half-sours for the table. The shake was tasty, but the flavor of the limoncello was not particularly evident. The half-sours had brined enough to easily fall into the pickle category, but we love pickles anyway.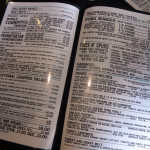 With our dessert already nearly consumed and after munching on the half sours and on fries liberally sprinkled with Pallookaville's Grave Dirt spice mix generously shared by our friends, we got down to the business of ordering.
For our main meal, the hubs and I ordered the Fryinstein corn dog: three partial dogs of their three types (beef frank, polish kielbasa, and italian sausage) assembled as if one dog in the batter of your choice ($6.50). We chose pepper batter.
The Fryinstein corn dog was okay, but it wasn't a novelty that became something more than the sum of its parts. Also, confiscate my italian heritage card, because the italian sausage was my least favorite dog. Too much fennel or something. In the end, it was just a corn dog. Novel, but nothing I'll be craving in the weeks and months to come.
We also ordered a 1/4 lb pork burger with feta ($5.50). That was pretty darn good. The feta was an excellent choice. As with the corn dog, in the end the pork burger was a much like many other burgers, but simply made of pork instead. We liked it! We're just not over the moon for it.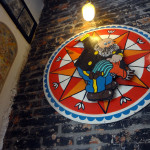 Palookaville Fine Foods is definitely a fun and funky spot to visit. The service was a little off at times (using a weird POS), but I loved the outfits and general counterculture vibe of the staff. As I said earlier, fun decor abounds. This seems like a great place to take kids of most ages, and the adult milkshakes are great for those of age.
Pallookaville offers a fun spin on american fare in a refreshing and novel atmosphere and we should all appreciate it as such, because I don't believe you'll find anything on the menu that's best-in-category. Everything we tried was solid, but really fairly ordinary when you strip away the fun atmosphere and trappings. 3 stars.
Pallookaville Fine Foods
17N Avondale Plaza
Avondale Estates, GA 30002
emily
Nerd. Foodie. Gamer. Homecook. Perpetual planner. Gardener. Aspiring homesteader. Direct response graphic designer. I use too many damn commas.