Osteria Cibo Rustico closed towards the end of 2014.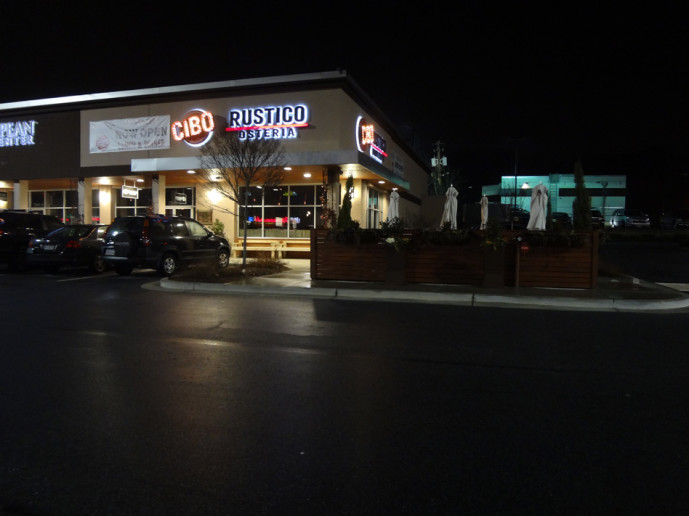 Osteria Cibo Rustico moved into the old Mirko space in the Toco Hills Shopping Center in October '13, and it's taken us until now to pop in and give it a try. I would occasionally go to Mirko with Adam and my parents, as a slightly more expensive and slightly nicer alternative to Figo. When we attempted to repeat this one day, we discovered Mirko was gone and Osteria Cibo Rustico would be open soon.
Due to the similar-style logo exuding a casual atmosphere, Adam and I thought that Cibo Rustico would be more of the same. Even when we saw that there had been extensive changes to the interior design of the place, and had sat down with the menu, it still took a while to sink in that Cibo wasn't a restaurant under the same model.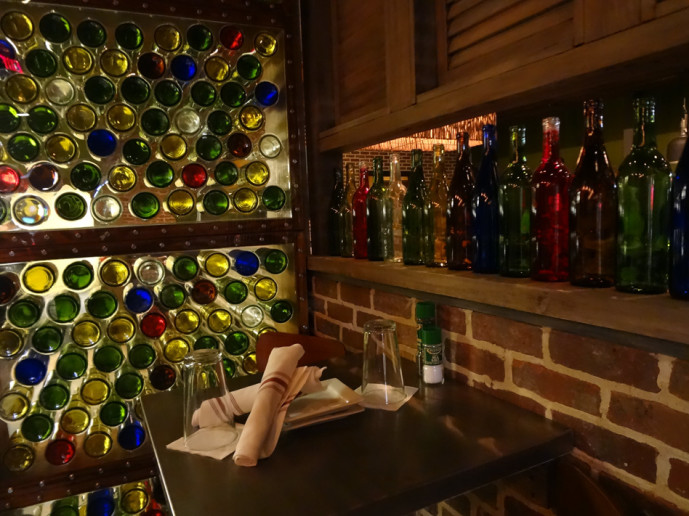 In fact, many of these dishes weren't pasta dishes at all. While that's actually a good thing in my book, the layout of the menu didn't make that exceedingly clear, and we wasted quite a bit of time trying to figure out what we'd get. The prices weren't thrilling us either, based on what we expected to pay. Luckily we had a fun and funny waiter to help explain things to us and get us on track.
We started our meal with a salmon cake special appetizer. The cakes came under a half an artichoke each, surrounded with fried onions and sprinkled with capers. The dipping sauce was very chive-heavy and while was was fine enough for dipping the onion pieces, the salmon cakes actually tasted better without the interference of the sauce.
For my entree (to split of course) I ordered Radiatore Ariano – grilled shrimp, roasted red pepper cream sauce, grilled scallions, and toasted pistachios, for $14.95. I was looking to try some gluten-free pasta, but the only gluten-free option was penne pasta, which is precisely what we get from our local store when we make gluten-free pasta, and so it didn't seem appealing.
I thought the dish was fine but surprisingly plain, bordering on bland. Other than the fancy (and admittedly quite fun) pasta shape, I could easily have made this dish at home. If I had, I would have left off the pistachios and added some mushrooms.
Due to the overly large plates, the portion seemed small but in fact I was quite full by the time Adam and I swapped plates. I took a small bit or two of his dish, experienced extreme buyer's remorse over my dish, and asked for a doggie bag.
Adam ordered the Pesce Piccante Siciliana – spicy Calabrian chilies, toasted garlic, fennel sausage, and a pan sauce over house-made polenta, for $15.95. Now this dish was scrumptious.
I reheated my half of this dish for breakfast (hey, I'm a quarter southern italian, what can I say) and it was quite enjoyable. I enjoyed the spice and garlicky hit and the way it was balanced by the nicely-cooked white fish and earthy polenta. Two thumbs up for this dish.
We weren't very happy campers at Osteria Cibo Rustico, but this was due to the difference between reality and our expectations. If someone is trying to class up Toco Hills Shopping Center, more power to them. But the logo and other branding elements should send a clear signal to would-be customers what kind of price-point you're at. Because we were expecting a cheap mix-and-match pasta meal, we never relaxed enough to enjoy the upscale southern italian dining experience we got instead.
Having said that, we still think the prices are too high, whether this is supposed to be a fancy restaurant or not. Having 2/3 of our dishes being lackluster, the $60 tab stung a bit. After all, what we had was mostly ground up corn or wheat, so we definitely feel like Cibo is lacking in the value department as well as not impressing us gustatorily. The service was great, but that's the least important of the main attributes in our opinion. It's not awful by any means, but just slightly below average in our opinion. 2.5 stars.
Osteria Cibo Rustico
2945 North Druid Hills Road NE
Atlanta, GA 30329
emily
Nerd. Foodie. Gamer. Homecook. Perpetual planner. Gardener. Aspiring homesteader. Direct response graphic designer. I use too many damn commas.