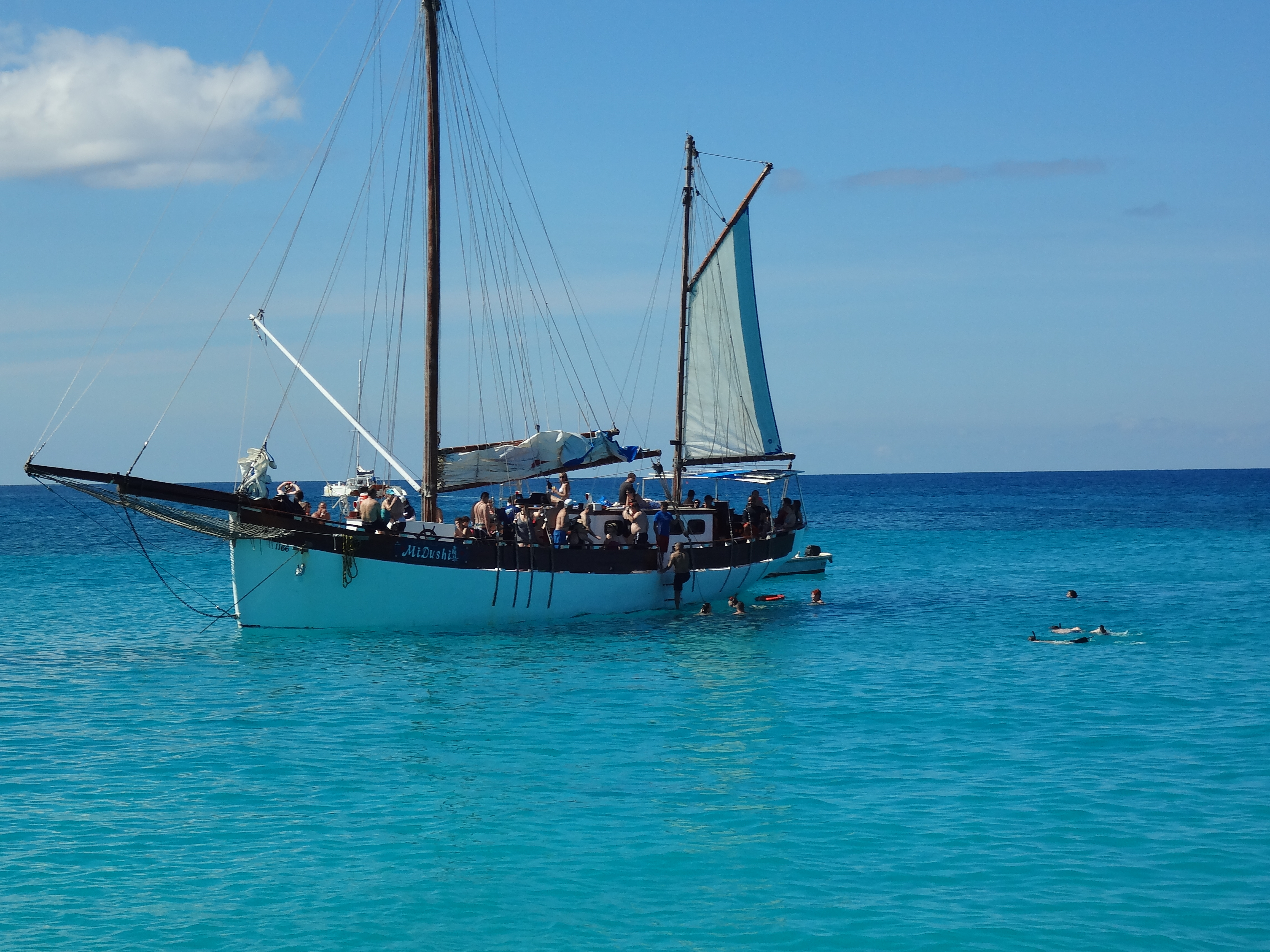 After leaving Willemstad, Curacao, the ship traveled around the northernmost point of Aruba overnight, and we woke up in port at Oranjestad, Aruba.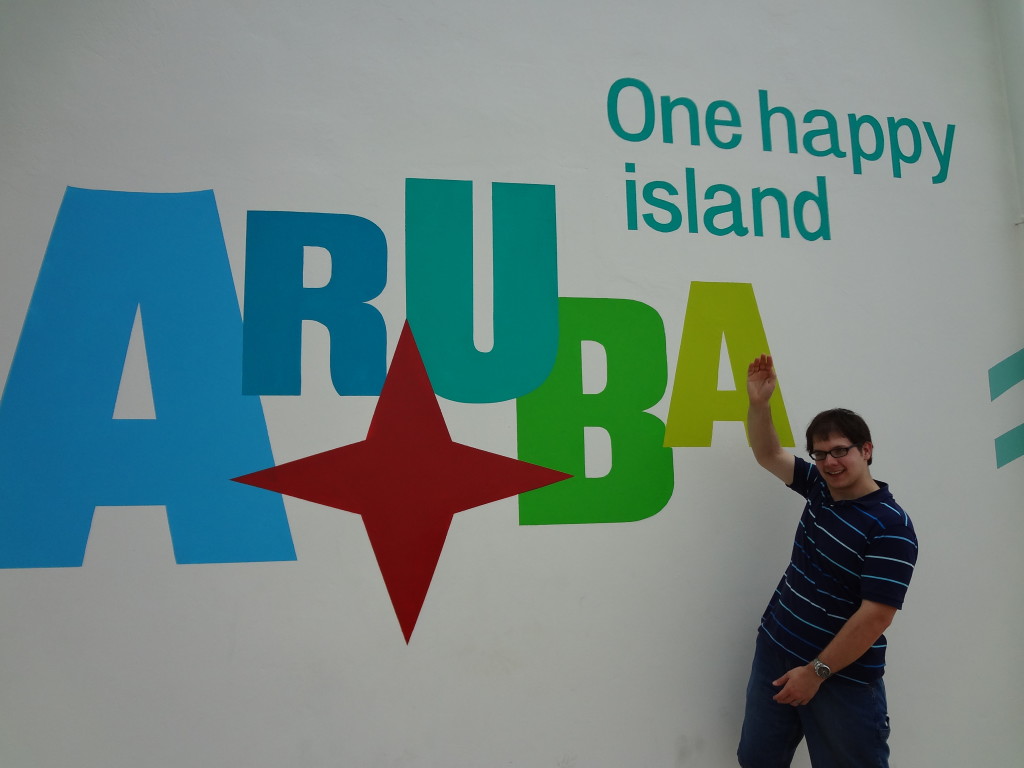 First thing, we hopped on a catamaran with about 80 other people to sail up the coast to snorkel. This shore excursion was also purchased through Princess Cruises. It was one of a variety of snorkeling and/or diving excursions available. Since we have never dived before, and previous snorkeling experience was not required, we opted for the "Snorkeling Cruise & Antilla Shipwreck," which was a decently long cruise with two snorkeling stops.
The first stop was at Boca Catlina. Once I got over my initial terror (I only learned how to swim a few years ago, and I still have some water fear issues), and learned how keep my mask from fogging, I had a really great time. We discovered that we really enjoy snorkeling – I am hoping that this new-found love will lead to future snorkeling. Hopefully with less people around…
There were more than 80 people on our boat, and we came up next to three to four other ships of similar size and capacity. With all these people flailing about in the water, I daresay the amount of wildlife we saw was significantly less than it would have been otherwise.
Nevertheless, I still got to see some coral and fish – the first time I've ever seen them outside of a documentary or aquarium. It was pretty neat.
Our second snorkel site was at the site of the shipwrecked Antilla. As described by the Princess website: "A remnant of World War II, the Antilla was scuttled by its own captain, to prevent it from being captured by the Dutch Marines. Today it lies on its side in 60 feet of water. Voted as one of the World's Top 10 Dive and Snorkel sites…"
Apologies for gushing, but this was simply amazing. There were still a ton of people – I got kicked in the head a few times – but this was still a fantastic experience. The ship wreck was quite a sight to see, and the water was teeming with fish because the guys on the boats were feeding them. With my ears in the water water all I could hear was ocean, and thousands of tiny particles of sand tinkling my mask.
Some experienced swimmers/snorkelers would take deep breaths and dive down closer to the wreck. At one point, a guy blew air rings from below me. I'd never seen that before, and the perfection of the rings and the way they progressively not larger as they rose was it was pretty magical.
Since I was unable to capture any myself, I recommend looking up photos and videos of the Antilla wreck dive site… here is one recent video I found by gregcrawf1:

He has several other videos from the area on his channel.
After our two rounds of snorkeling, we took a pleasant cruise back down the coast, with dance music blaring and rum punch flowing. This rum punch was significantly stronger than the punch on the previous excursion. By the end, we were all feeling pretty good. The downside of this was that we were a little bushed when we got back to Aruba. We also didn't have too much time, so we just walked it off a bit, taking in the touristy side of Oranjestad.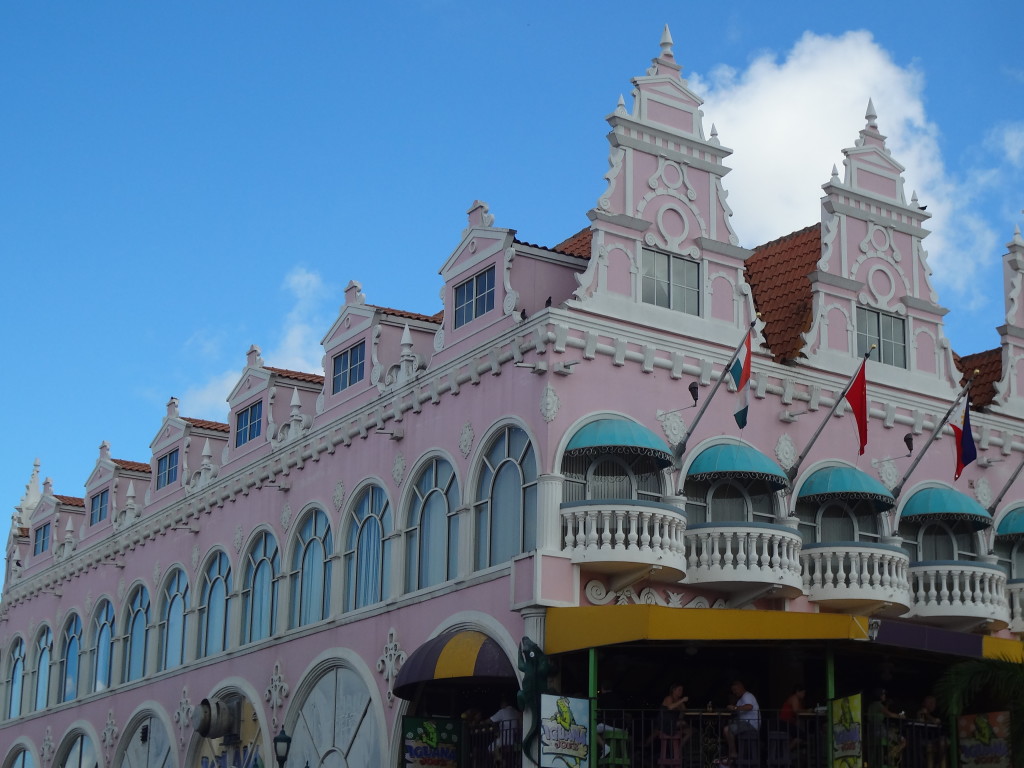 Then it was back to the boat for two days at sea and and a return to Port Everglades.
emily
Nerd. Foodie. Gamer. Homecook. Perpetual planner. Gardener. Aspiring homesteader. Direct response graphic designer. I use too many damn commas.