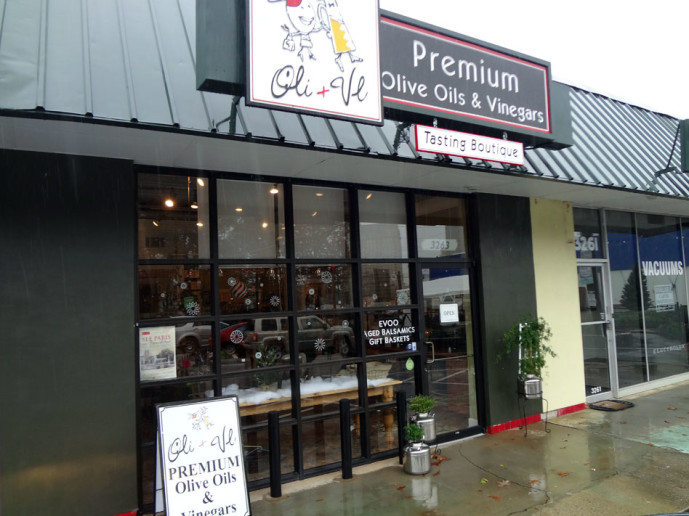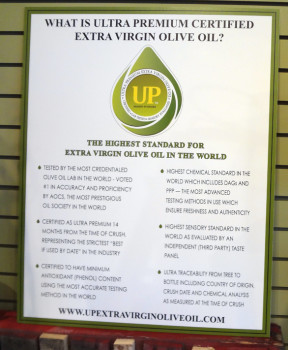 Last week, I had the opportunity to check out Oli+Ve, a premium olive oil and vinegar tasting shop – a unique business offering for our city. There are three metro Atlanta locations, with the first one opening in March 2012. Here's an introduction from their website:
We are purveyors of the finest Extra Virgin Olive Oil (EVOO) from around the world. Our oils are imported from both hemispheres which produce counter to one another. This allows us to offer the freshest olive oil available in the world not once, but twice yearly. We get our oils from countries such as Italy, Chile, Spain, Tunisia, Australia, Argentina, Portugal and California in the USA. In addition to our extra virgin olive oils we carry Aged Balsamic Vinegars from Modena, Italy.

Our oils range from Single Varietal Extra Virgin Olive Oils to fused/infused Flavored Oils and a selection of Gourmet Oils. Our aged Balsamics not only include the traditional but also flavors such as raspberry, espresso, pomegranate, chocolate, fig and cranberry pear among others. We have a large selection of oils and vinegars.
Sounds great, huh? I thought so, too, so I dropped in on the Buckhead location on a rainy afternoon to see what Oli+Ve is all about.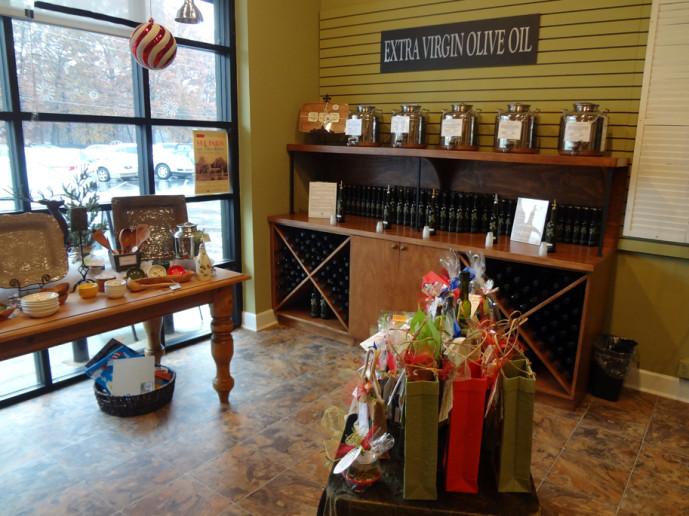 The Buckhead location is surprisingly large, with three main parts. I arrived a little early, so I wandered around taking photos and getting a head start on some tasting in the front section. The front room has the EVOOs (and tasting cups and easy-pour bottles at the ready) so I started there.
I tried two EVOOs, the Empeltre Mild and the Italian Blend, which the signage indicated would be more spicy. I was very surprised at how truly mild the mild is, but I enjoyed the Italian Blend more.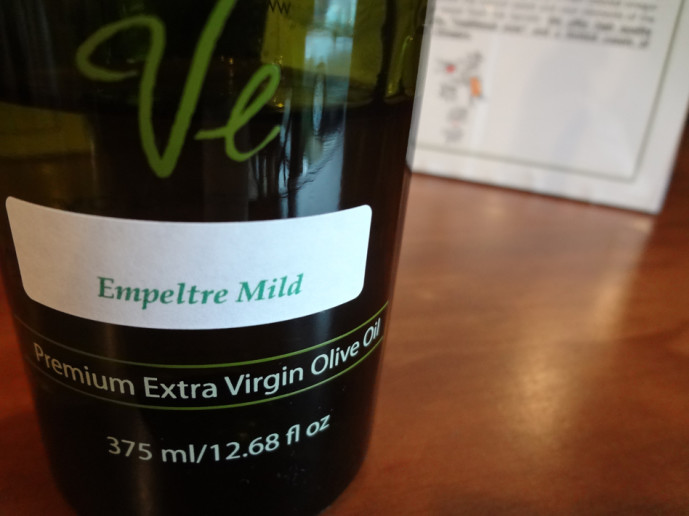 Next – and with some expert guidance – I moved on to the flavored EVOOs and flavored balsamic vinegars. Oli+Ve has a helping list of suggested combinations to try. There are hundreds of possible pairings in this store!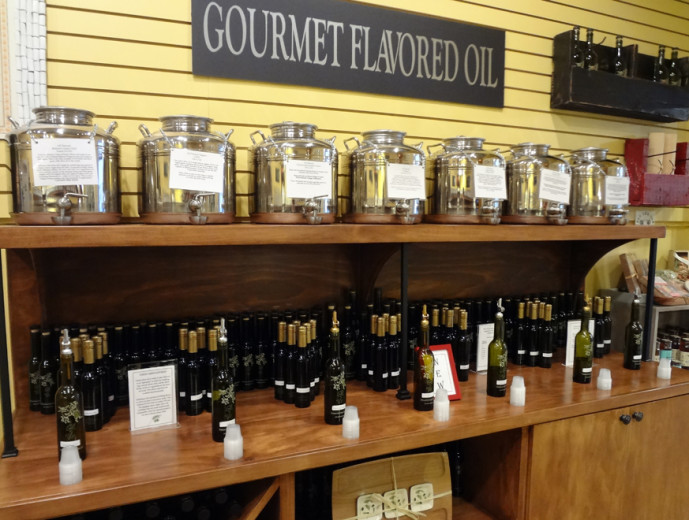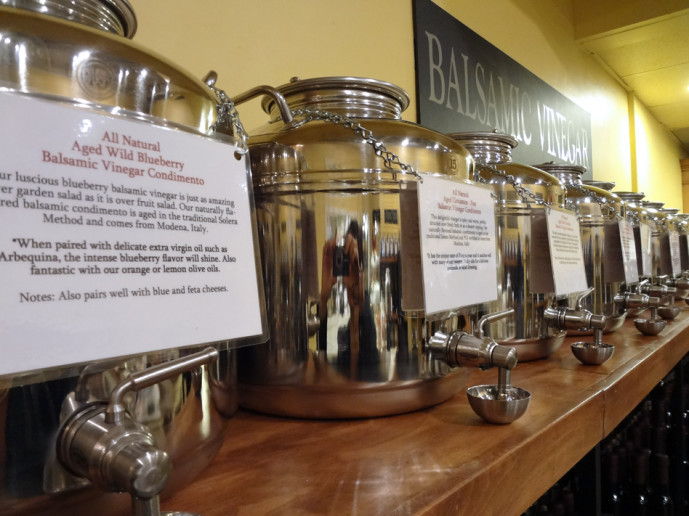 Some of the combinations I tried were basil EVOO and strawberry balsamic, butter & garlic EVOO and Sicilian lemon balsamic, and Herbs de Provence EVOO and Sicilian lemon balsamic. The basil-strawberry was surprising and just BEGS to be poured over a delicious salad with strawberries, walnuts and gorgonzola cheese. The Herbs de Provence and Sicilian lemon made me want to run home and whip up a big pot of linguine and clams.
Each combination was distinct, even pairings with the same EVOO or balsamic as another pairing, because the two condiments condiments always seem to combine into a whole greater than the sum of their parts.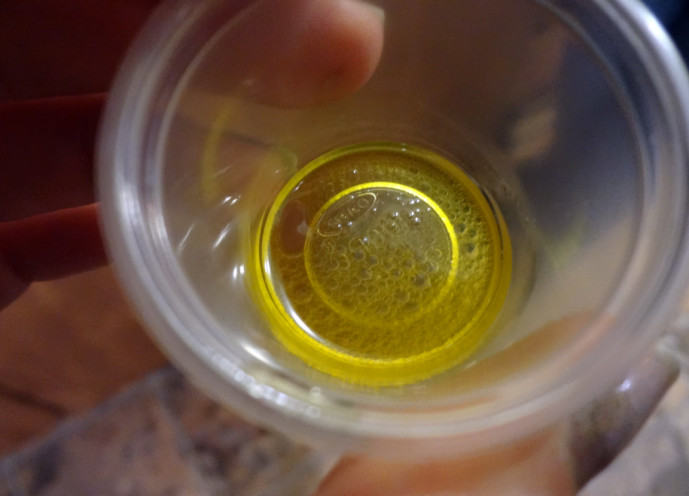 Next, we whipped out some vanilla ice cream to sample some of the fruity and sweet balsamic vinegars in a dessert context! I tried a bunch, including cinnamon pear, raspberry, red apple, and espresso. They were all great, though I think the berry flavors were my favorites of what I tried.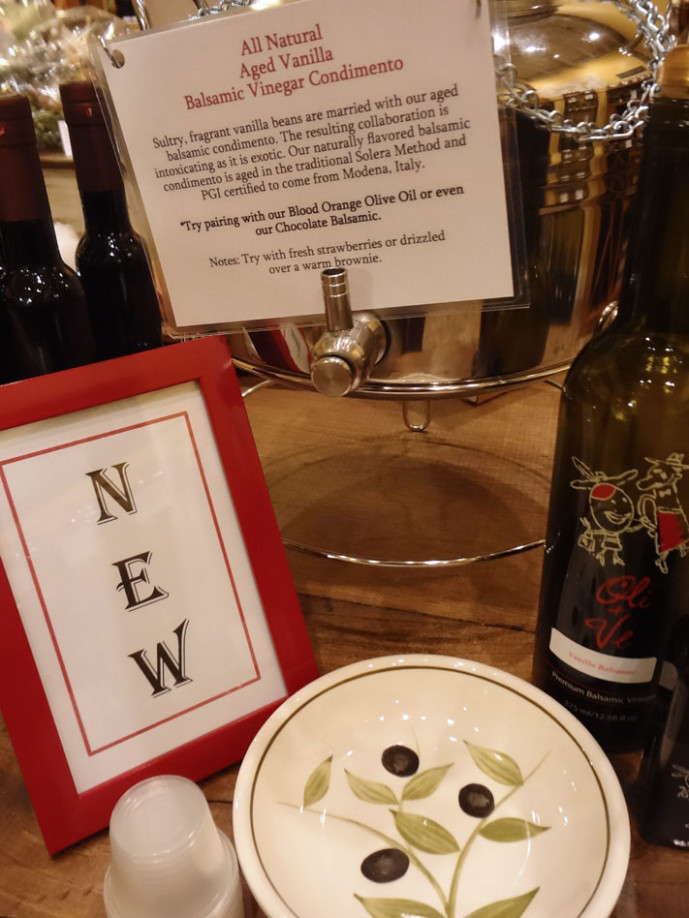 On my guided jaunt through the world of EVOO and BV tasting, I learned that Oli+Ve understands that you may not necessarily be ready to spring for full-size bottles of your favorites based on a tasting, so they have convenient little mix-n-match bottles available for trial runs or as gifts. Handy.
If I wasn't obsessive about buying Christmas gifts so far in advance, this might've been a great small-gift resource. However, I did recently decide to drop salad dressing for my nearly-daily work lunches and go with just olive oil and balsamic vinegar, so this trip couldn't have been better timed for me. As soon as I run though what I initially got from the grocery store, I daresay I'll be back to test drive a fun flavor combination or two.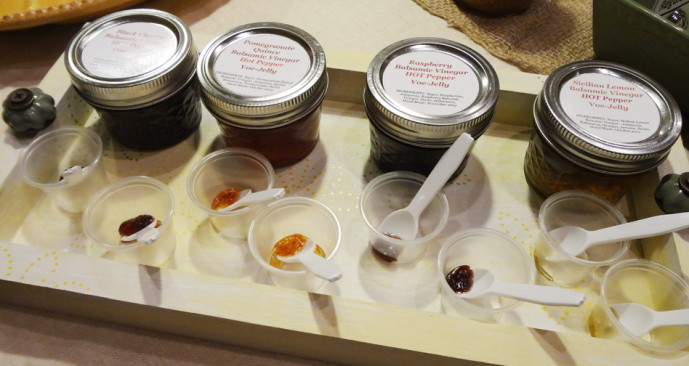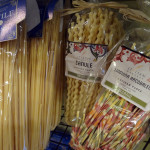 Speaking of gifts, the tasting rooms are also packed with food products from local artisans, many of which use Oli+Ve EVOOs and BV in their products, as well as specialty imported foods, cooking ingredients, and cooking/serving accessories.
I sampled jellies, pestos, almond butters, and even brownies flavored with Oli+Ve EVOOs and BVs. In fact, using a flavored EVOO as a replacement vegetable oil when baking is a great way to dress up a from-the-box baked good. I tried some blood orange brownies in the store and they were just to die for. Rich and moist, with chocolate and just enough blood orange taste. Definitely an avenue worth exploring, in my opinion.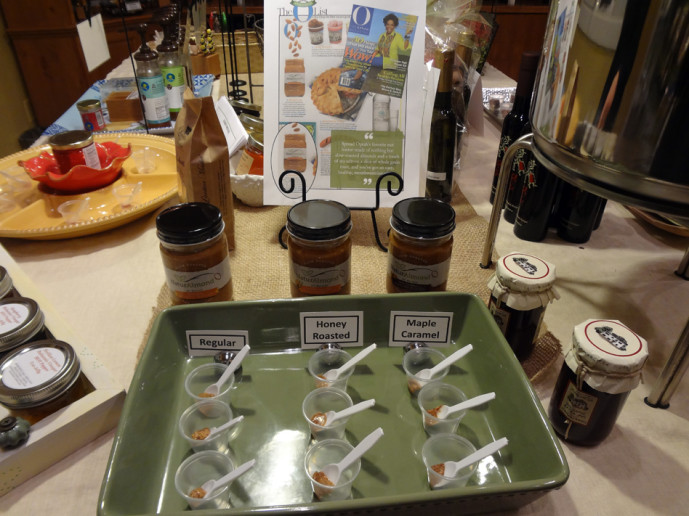 Well, there you have it. My first look at the Oli+Ve Buckhead store. While I am woefully ignorant of the fine points of quality EVOOs and BV, I do believe that a few trips to this tasting boutique could bring me up to speed.
If you'd like to taste some yourself, swing by and check it out. If you are more OTP in a northwesterly direction, do check out the Marie, Let's Eat! post on the Vinings location of Oli+Ve.
Oli+Ve
3263 Roswell Road NE
Atlanta, GA 30305
emily
Nerd. Foodie. Gamer. Homecook. Perpetual planner. Gardener. Aspiring homesteader. Direct response graphic designer. I use too many damn commas.