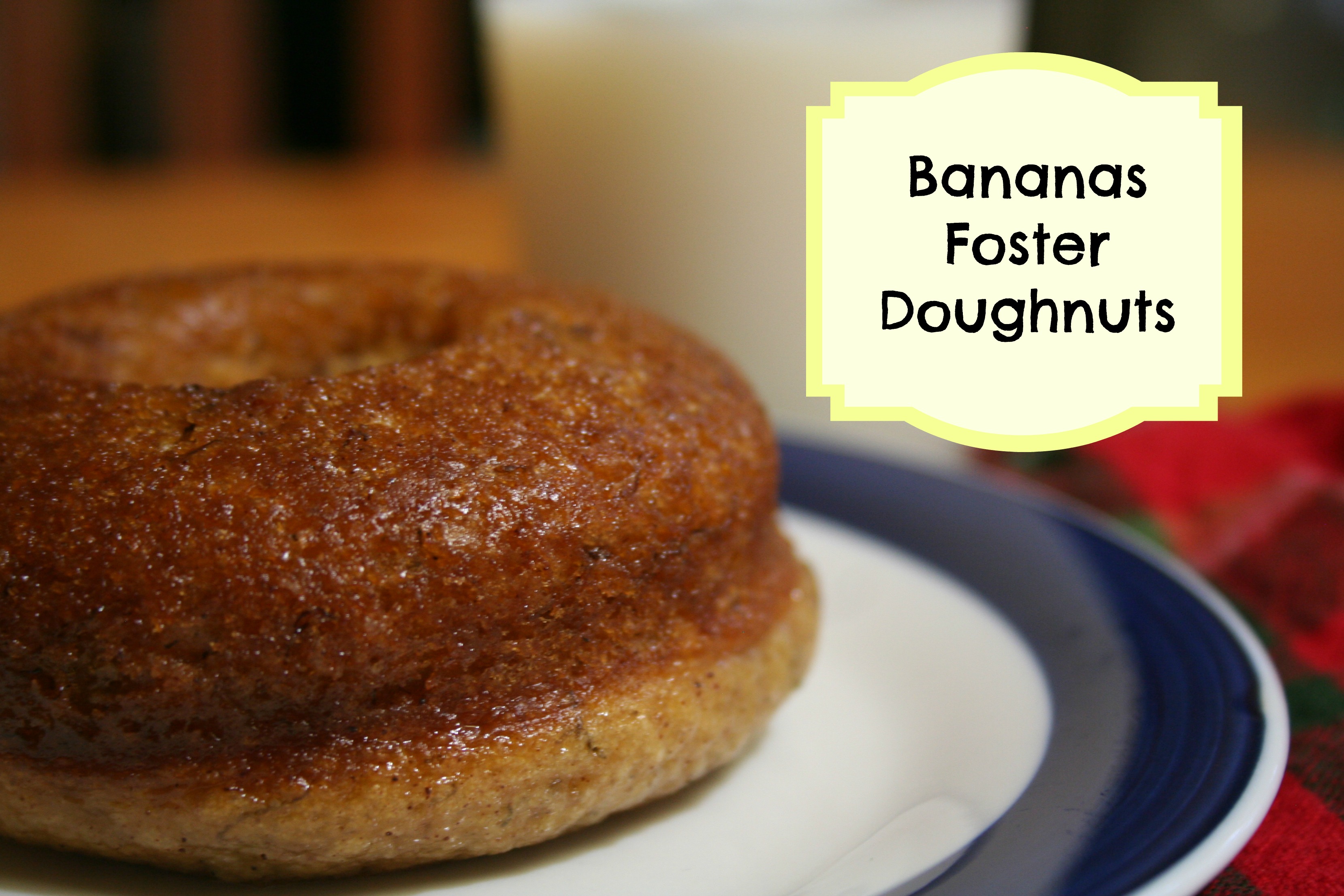 Hey everybody, did you hear?  It's NATIONAL DOUGHNUT DAY.
Yes, this is a thing.
And no, I did not go to buy doughnuts today.  I feel genuine shame in this. -_-
But it's cool!  Instead I tried my hand (again) at baking my own doughnuts!  I present to you, the Bananas Foster Doughnut!
…Kind of lacks a certain "pizzaz", doesn't?
Yeah, it wouldn't be a lie to say that this isn't exactly the flashiest dessert I've baked; indeed, it actually didn't turn out as pretty as I was hoping.  Even so, they did turn out pretty tasty!  This is the type of recipe that calls for some refinement, but certainly wouldn't merit throwing away!
Basically for this doughnut, you have a banana-y base cake doughnut and a glaze for your "fosters" additions: cinnamon, rum, and sugar.  It looks to me like I didn't add enough confectioner's sugar to the glaze in order to get it to solidify; instead it turned out more like a soup that soaked into the doughnuts.  This, however, tasted just fine.
All in all these tasted good; very banana-y, and despite the fact that I used "rum flavoring" instead of actual rum it was certainly smelled rum-like.  If nothing else, this banana base is definitely a great precursor to another type of banana-based recipe.  Anybody have ideas for how I can make this Bananas Foster recipe even more bananas-fostery?
So you?  Did you do anything fun for National Doughnut Day?  Any doughnut-y goodness for you?  I certainly hope so!  And if you're running low on ideas you can always try out the first batch of doughnuts I made that turned out awesome: Frosted Pumpkin Doughnuts!
Bananas Foster Baked Doughnuts
Doughnut base adapted from Heather Christo.
Glaze adapted from Life as a Strawberry.
Makes 8 baked doughnuts.
Doughnut Ingredients:
1 cup all purpose flour

1/2 cup + 1 tbsp sugar
1 tsp baking powder
1/2 tsp salt
1/4 tsp nutmeg
1/4 cup + 1 tbsp buttermilk
1/4 cup (1/2 banana) mashed banana
1 egg
1 tsp vanilla
2 tbsp butter, melted
Doughnut Instructions:
Preheat your oven to 350F & grease the doughnut pan (<3 Pam for Baking).

Mix all dry ingredients in a bowl.

Mix all wet ingredients – except butter – in another bowl.
Add the dry ingredients to the wet and mix thoroughly.
Add the melted butter and mix thoroughly.
Divide the batter into the 8 doughnut rings.
Bake for 8-12 minutes, until the doughnuts lightly spring back to the touch.
Let cool for ~5 minutes, then remove from the pan.
Glaze Ingredients:
1 cup confectioner's sugar
4 tbsp milk
2 tsp rum extract (alternatively, halve the milk and add 2 tbsp real dark rum)
Dash of cinnamon
Glaze Instructions:
Heat the milk, rum, and cinnamon in a small saucepan until slightly steaming.

Mix wet mixture into a bowl with confectioner's sugar.
Roll each doughnut in the mixture & let cool/dry on a baking rack.
Notes:
1 cup confectioner's sugar is approximately what I ended up with after tinkering, and even then it was too liquidy.  I'd suggest slowly adding more until it's a little more viscous.

The only reason I didn't use real rum was because I didn't have time to swing by a liquor store.  Somebody go for it!
CONSUME!
Mary Gezo
Formerly of both n00bcakes and !Blog, the two magically become one on Spatialdrift; expect some lazy baking and serious nerditude. Also, I love semicolons.