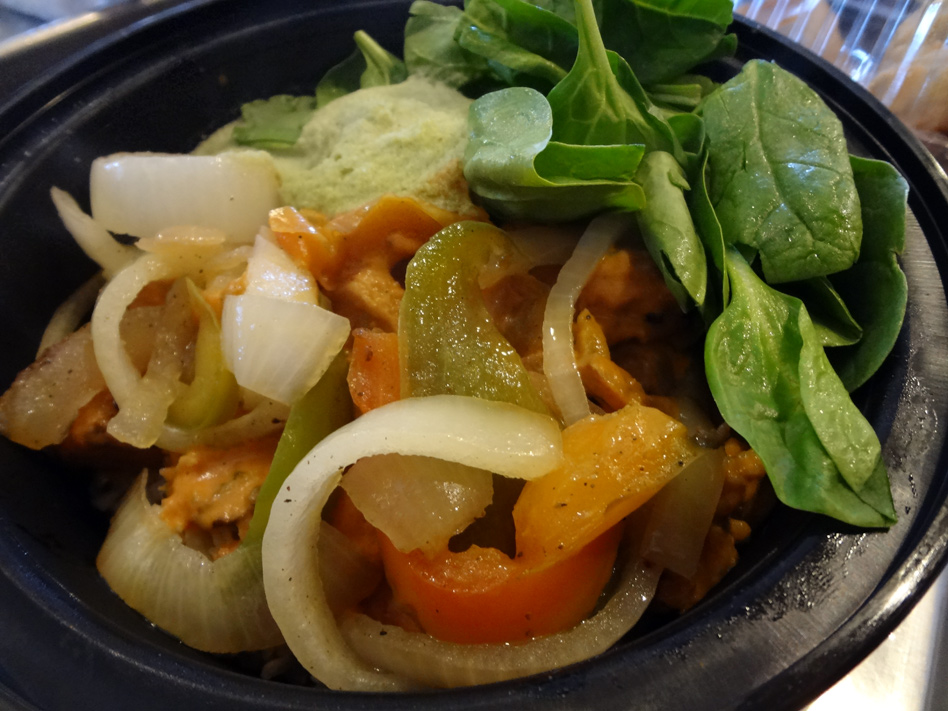 Naanstop started out in 2011 as a food truck in Los Angeles, and became a brick-and-mortar operation in downtown Atlanta in 2012. Now there also is a second location in Buckhead, and that is the location I visited. I've actually visited three times so far, due to the convenience and quality of the food. I've gone twice with friends with the express intent of researching for this post, and each time I brought a completely different set of people and both times everyone seemed surprised and pleased at what NaanStop had to offer.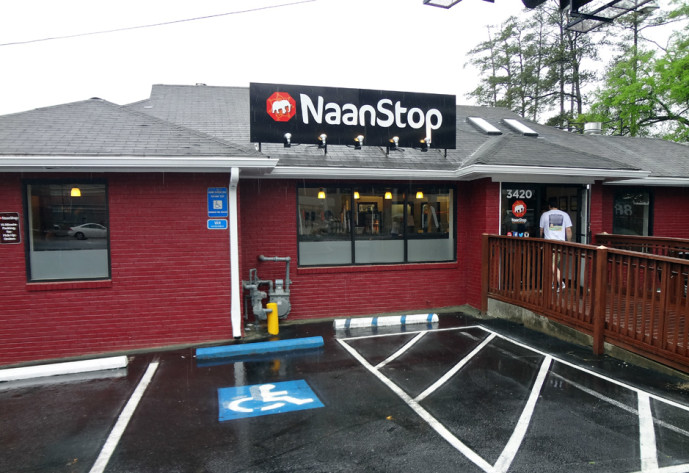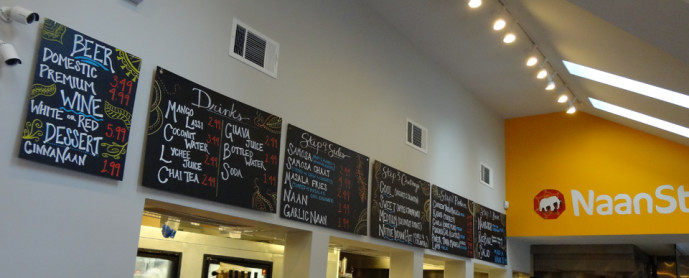 Hopefully the fine folks at NaanStop won't find my description of them offensive at all, but I think the easiest way to explain this concept to a skeptical pal is that it is essentially the Chipotle (or Gusto! without the woodfire) of indian food. There is a limited but customizable line of indian dishes, with vegan and halal options present. A selection of chutney (saucy condiments) ranges from sweet and cool to "native indian hot." There are also a couple of sides and drinks.
Each time I have been, the staff has been very personable and friendly, whether the place is busy or not. You may be asked about garlic naan or masala fries, which cost more, but I haven't found these requests to be overly sneaky or aggressive. Plus, those items are pretty reasonable anyway.
The first time I visited, I got a chicken tikka masala rice bowl and shared it with Mary, who got a chicken tikka masala naanwich. The bowls can be topped with fresh spinach and/or sauteed onions and peppers, as well as one of the chutneys. I went with all three. I also ordered a samosa and a lassi.
The bowl was so good that I nearly powered straight through it without remembering to share with Mary! Naanwiches aren't the easiest to share, by the way, and we managed but I don't recommend it. I enjoyed the bowl more than the naanwich, even when correcting for the unwieldiness of sharing the naanwich. The samosa was enormous, way more than I expected, and stuffed with potatoes and vegetables. Yummy and filling.
A lassi, as you probably know, is a yogurt-based pan-asian drink, and they come in a few varieties, including sweet and salty. In american restaurants, you typically see only sweet lassis, with mango being the most common flavor. This one did not taste like other lassis I have had, however it was extremely accessible, coming off like a mango and vanilla yogurt smoothie. It was quite delicious and also filling – I was completely stuff by the end of this first excursion.
My second trip, I wanted to try a naanwich that hadn't been manhandled first, to immediately discover that there is no easy way to eat this thing. It's a cute concept, but I am too clumsy, sit too far back from tables, and love my clothes too much for this maneuver. This time I tried the lamb and the native hot chutney and I approved of both, though of course I am sure it comes as no surprise to you that I still think the native indian hot chutney has been scaled back for public consumption – which is fine. It just might make someone think they are a total spice badass and then find out they are not at another restaurant or abroad :-P.
Since I had already tried the samosa and the mango lassi, and got a sample of the garlic naan from a friend, I got the masala fries this time. They were delightfully sloppy, doused with masala and chutney. Some parts were soggy as a result, but I found that to be acceptable and rather enjoyed them. In contrast, the masala fries at Musti in Toco Hills take a crispy and dry approach that some may prefer.
On my third visit, I was solo and I considered myself off-duty, but I will mention that I got paneer rice bowl. I was hoping it would be palak but it was tikka masala and I enjoyed it just as much as I had with chicken on my first visit, even if I dropped some on my favorite dress.
On the whole, I think that NaanStop is an excellent way to quickly and efficiently get some indian food into your busy work day, without needing to take a long lunch, have a food coma nap afterward, or or spend an inordinate amount of money. I am sure I will go again soon, and I look forward to trying the chai one of the few menu items I haven;t had yet. A resounding 3.5 stars (it'd be a 3.75 if we quarters). Give it a try if you're near one!
NaanStop
3420 Piedmont Road NE
Atlanta, GA 30305
emily
Nerd. Foodie. Gamer. Homecook. Perpetual planner. Gardener. Aspiring homesteader. Direct response graphic designer. I use too many damn commas.