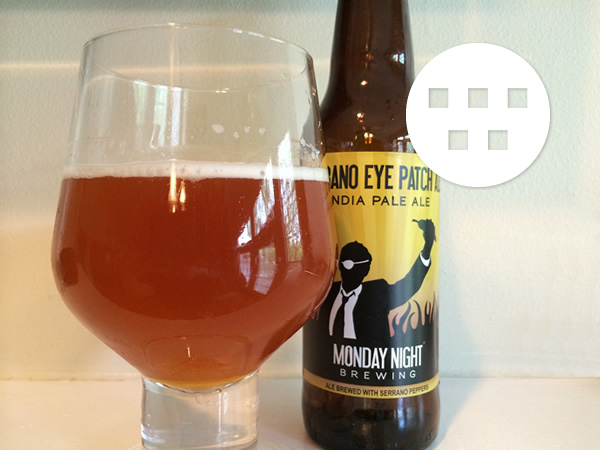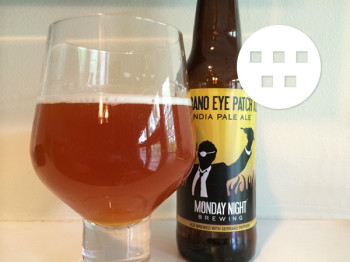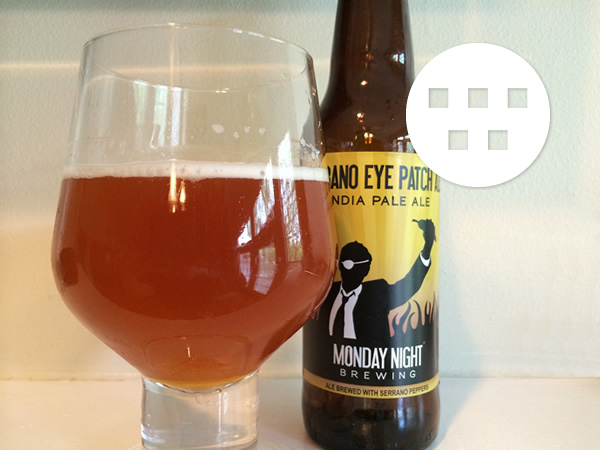 Brewery: Monday Night Brewing
Location: Atlanta, GA
Brew: Serrano Eye Patch Ale
Merchant: Greens Beverages (Ponce)
Service: Mixed 12 pk
Style: Flavored IPA
Color: Amber (10 SRM)
IBU: 55
ABV: 6.2%
Temp: Chilled
Smell: The nose is very malty with some pepper, traces of citrus.
Taste: This is a malty ale, thicker and smoother than most pale ales. There is a subtle and unexpected toffee flavor not present in the normal Eye Patch Ale. I did not pick up much Serrano pepper flavor or heat, if it's here it is extremely subtle. There is a chance that I might be projecting it because I am expecting it. If you told be this was a decent pale ale, I wouldn't call you out for passing a spicy, peppery flavored beverage off on me. I suppose by now you get my belabored point. Don't blame me, they put Serrano in front of the name of their IPA so I expected heat. Had it been the other way around I would feel different. What can I say, I love spicy things.
Now I have to make amends with the good folks at Monday Night Brewing. Lack of spice aside, this is a very good beer. I'm not sure it's an IPA because it's too sweet but it's a solid, easy drinking ale.
Pair with: Chips and salsa.
2 caps
Wayne Pelletier
September 1991. I drew from a tall, golden, hazy glass of a fresh and local hefeweizen in Bamberg Germany. Since then I've tasted more than a thousand brews. Here in the Greater Atlanta area we're pretty fortunate. Our local heavies: SweetWater, Atlanta Brewing and Terrapin all do world-class work. But the scene goes much, much deeper. That's where I like to find fresh pints. The goal is to draw attention to those finds on a 3-cap scale. Three seems simple but that isn't to say everything is great, average or terrible. Quite the contrary is the reality. I have come across very few craft/micro beers that are just no good. I assume these are all good beverages brew by good people with good intentions and you should as well. If I cross paths with a local brew that is truly terrible I won't waste your time, or mine, writing a review. 3 CAPS: Hurry. This is a rare brew worth going out of your way to find. I swear it. 2 CAPS: A very good beer. Stands out as great in the style. 1 CAP: A decent brew that is average for the style. Prost!