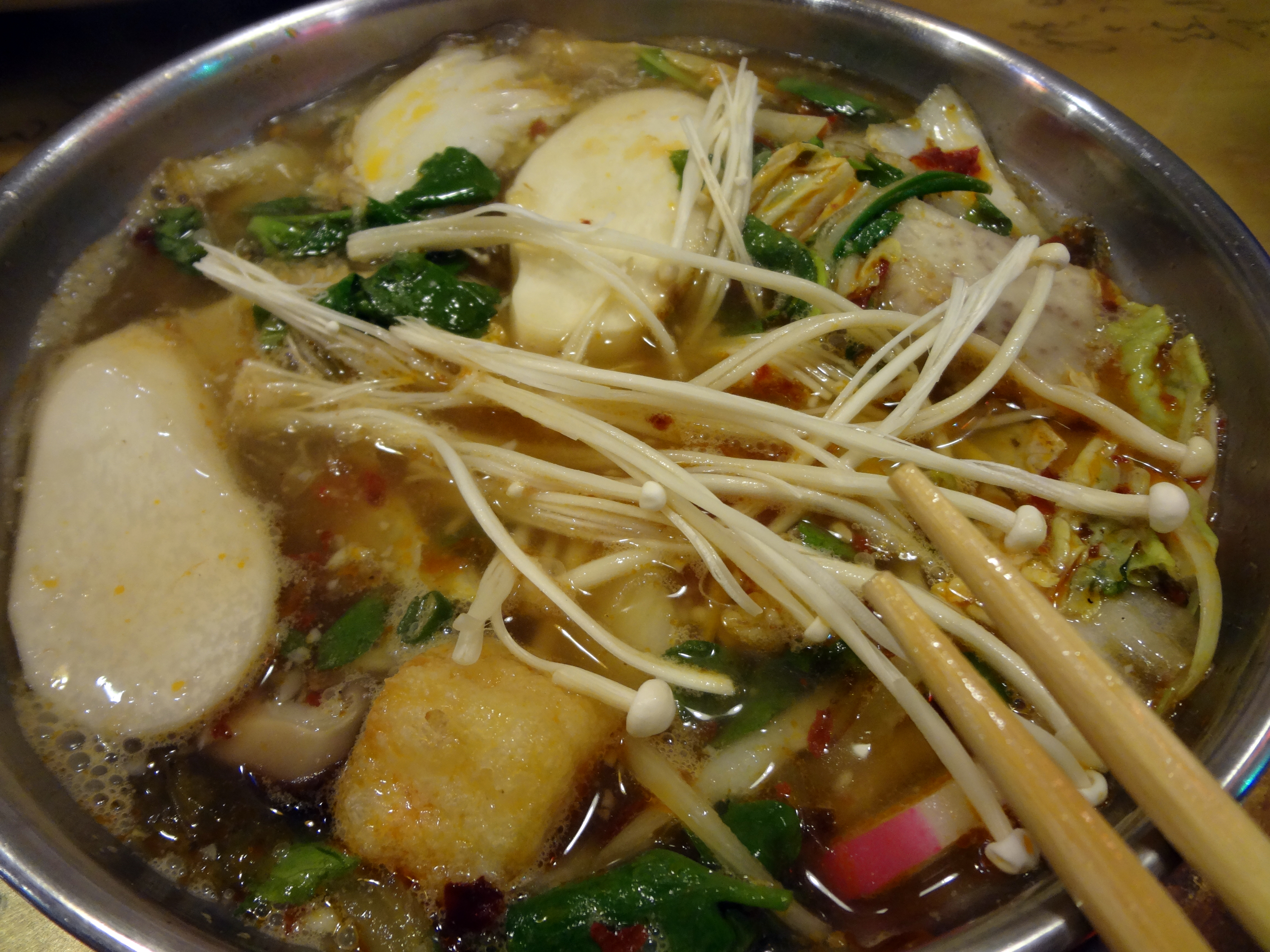 Mini Hot Pot is located in the Orient Center, in the 4000 block of Buford Highway (There is also a second location in Duluth). It is a small shop with tables, benches and chairs along one side, and a long bar along the other. In the back is a sauces/spices/toppings bar, and a single bathroom.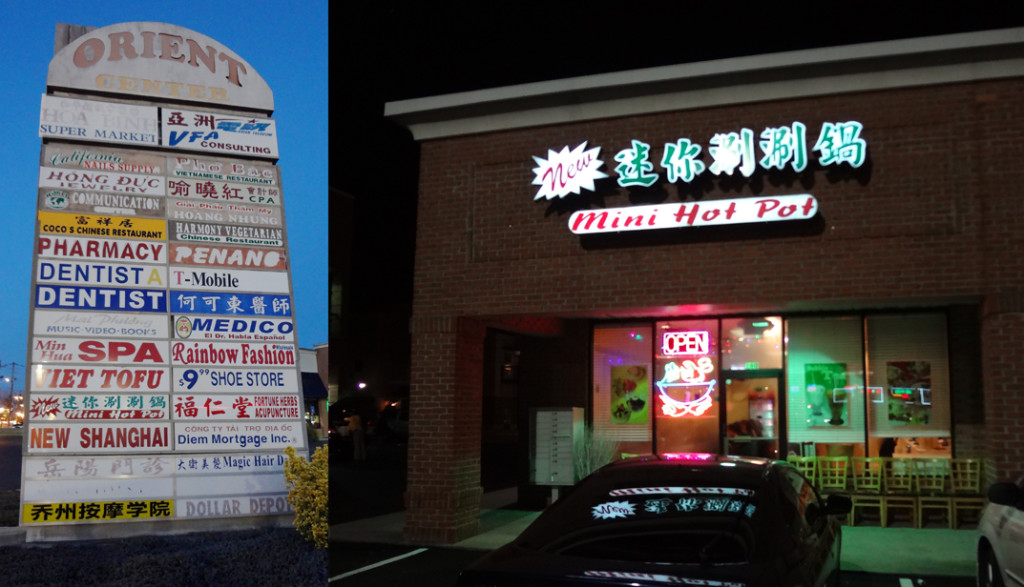 Each seat in the restaurant has its own hole in the table, with a hot plate installed below. From the menu, you select both a broth type and a protein platter – in our case the mixed seafood combination in spicy miso broth (spicy is a 75 cent up-charge) and the meat combination (pork and lamb) in beef bone broth.
While you wait for your food, you can take a jaunt back to the sauce-making table full of sauces and ingredients, including sriracha, hoisin sauce, red chile, garlic, cilantro and more.
Then you are brought your broth, and a large plate of sides for your soup. The plate is basically overflowing with watercress, cabbage, and raw noodles, as well as other goodies like an egg, corn on the cob, part of a hot dog, tofu, a fish ball, and other things.
After you get things going in the pot, your meat plate will come out. After that, it's just cooking, fishing out, eating, and repeating until you are stuffed or you run out of food.
Adam and I have been here twice, so at this point I would like to relate some (possibly common-sense) learnings to you, so you can be spared our pain.
Do not throw everything on the veggie platter in at once. Or even most of it. It will boil over.
Do NOT toss in any noodles until right before you are ready to fish them back out and consume them. They will get gelatinous, sink to the bottom and burn.
Though I saw people doing it both ways, I recommend cracking your egg into the hot pot, rather than going for hard-boiled. It is incredibly hard to peel a scalding hot egg.
Mini Hot Pot is a fun place to go for a new or occasional experience. While it is certainly a fun place for a date or a birthday, I don't think Mini Hot Pot will make it into our regular rounds on BuHi. The experience is a little harried, the soup is very hot and you don't have control over the burner if you sit at the bar). The pots are situated far away on the table, you you have to carry the hot, dripping things a long way (or drop them if you suck at chopsticks, cough cough) and make a mess.
Other dishes cooked table-side like sukiyaki or shabu-shabu will run you about the same amount at other asian restaurants. However, at those restaurants, you can stop in frequently and order at whatever price point you like. Going to Mini Hot Pot automatically signs you up for a $15 or more meal, not exactly affordable day-to-day dining (at least for us). But it is a fair price, and we got leftovers to boot.
But the service was very friendly and attentive, and the food was quite good. Mini Hot pot seems to do well, seeing as how every seat in the house was filled while we were there. Definitely a novel place to go to have a fun time and try something different. 3 stars.
Mini Hot Pot
4897 Buford Highway NE
Suite 160
Chamblee, GA 30341
emily
Nerd. Foodie. Gamer. Homecook. Perpetual planner. Gardener. Aspiring homesteader. Direct response graphic designer. I use too many damn commas.