We recently had the opportunity to share another BuHi meal with Grant and Marie of Marie, Let's Eat, with toddler and teenaged girlchild in tow. Hooray! Unfortunately, once we ruled out places that one or the other couple had already been to, things were looking a bit sparse at Asian Square. We settled for Ming's BBQ. Adam and I have had incredible meals featuring barbecue bought by the pound at Ming's, but have never sampled any entrees or eaten on-site (Grant and Marie had eaten at the Duluth location of Ming's, but not this one).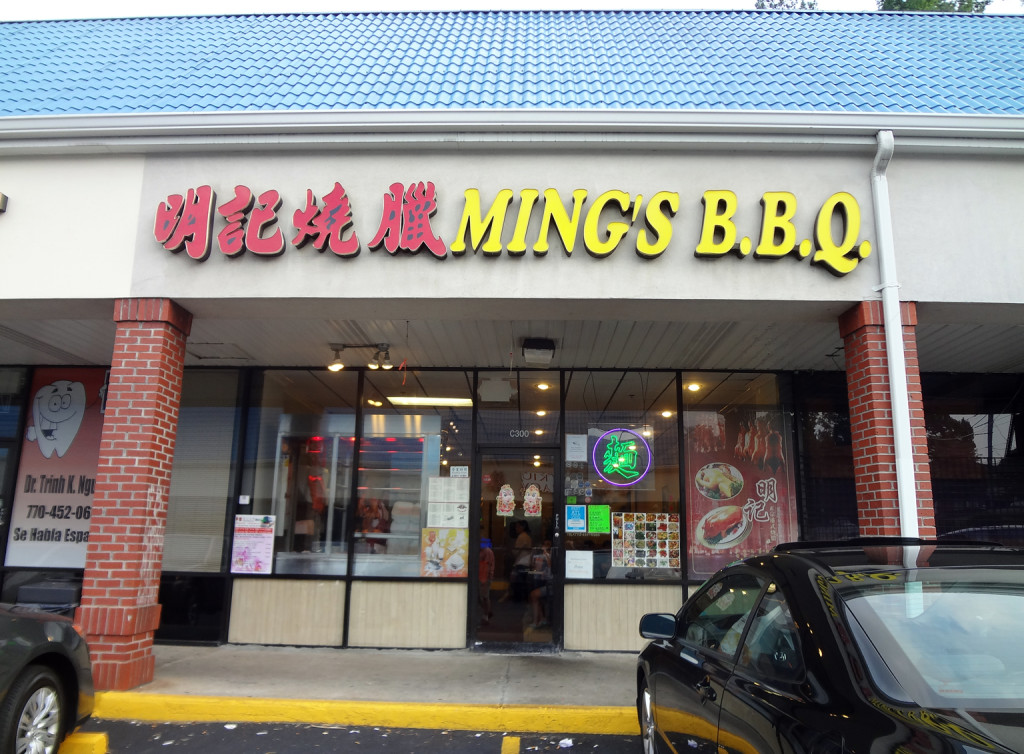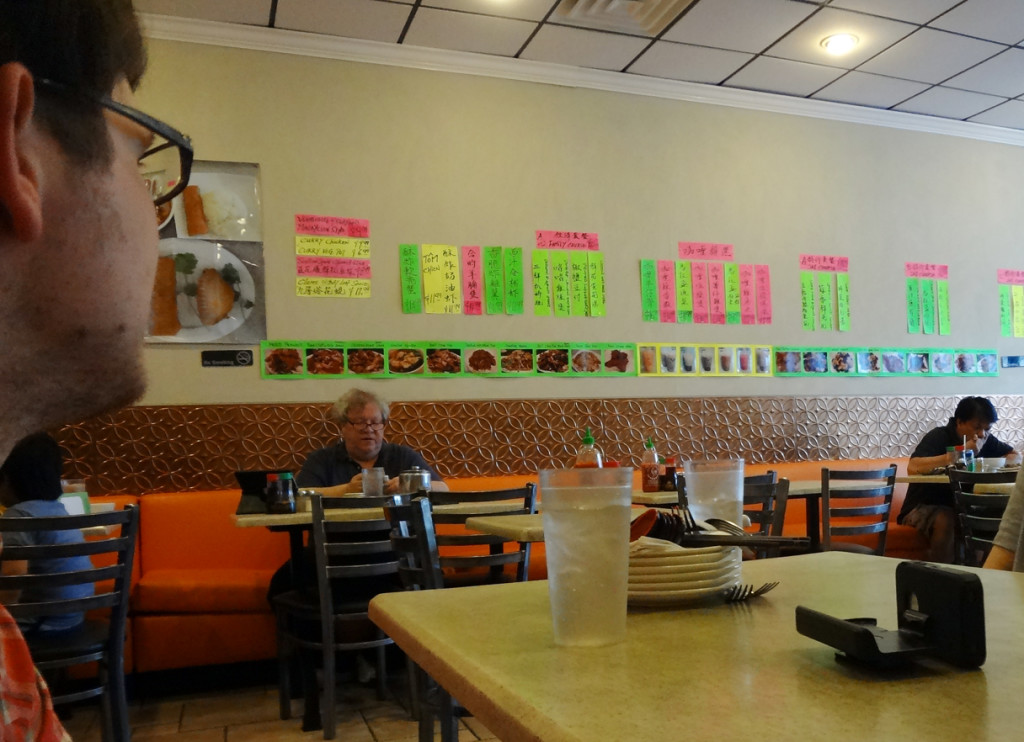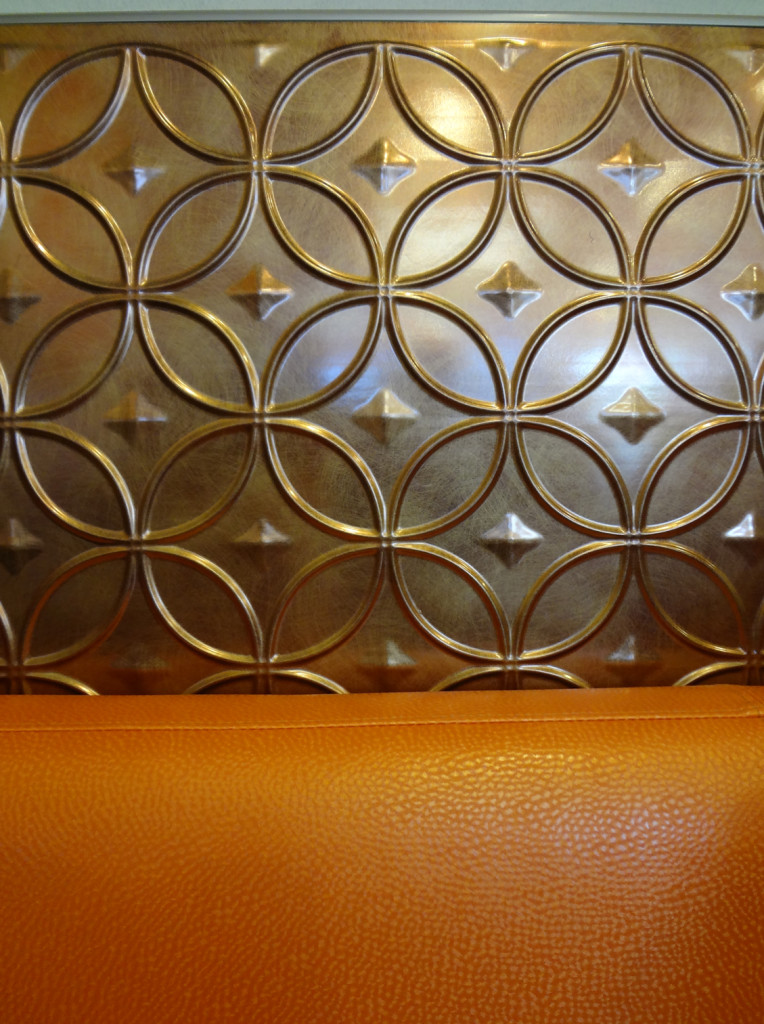 We settled into our fantastic orange booth and easily-tippable chairs, and began to peruse the impressive menu. It was hard to decide what to get, but eventually Adam and started with a strawberry jelly drink ($3.50) and decided to split the honey roast BBQ pork fried noodles ($8.99) and the salt and pepper – or "salted pepper" according to the menu – squid ($9.99).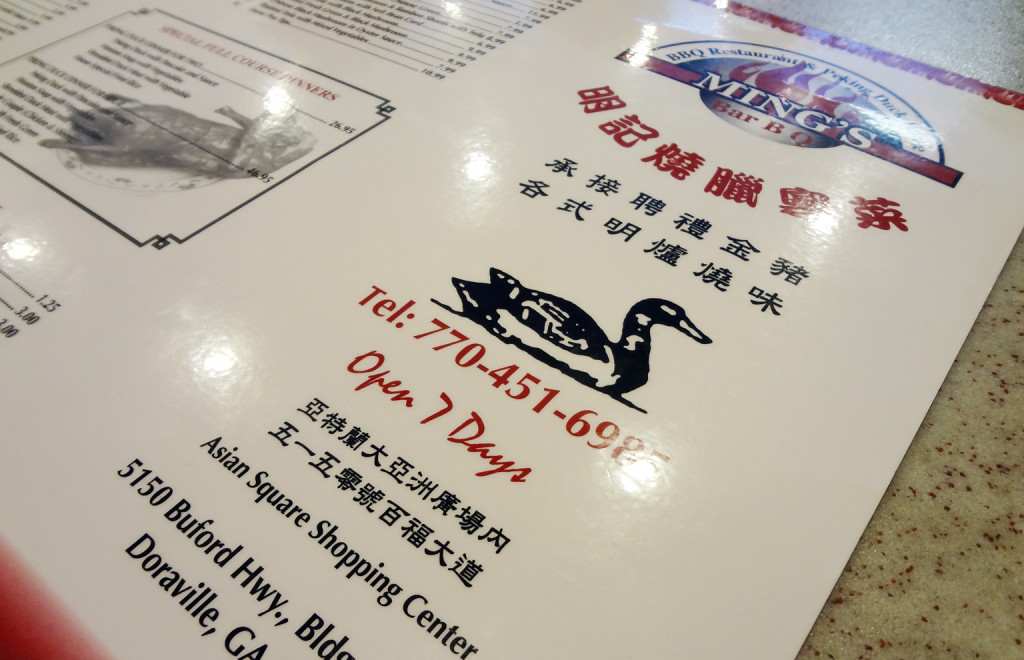 We thought the barbecue and fried noodles were good, but the fried noodles were a bit crispy for us – guess we should have figured that out. The rest was tasty, though. I enjoyed the honey barbecue flavor.
Honey barbecue pork fried noodles aside, I was completely enamored with the salt and pepper squid, scarfing down what was probably more than my share. The hubs and I can't recommend that dish enough. The texture of the salted and peppered breading was wonderful, the squid was cooked perfectly, and the onions and jalapeños both imparted and picked up great flavors, too. Loved it.
I wasn't as impressed with the drink though, especially with our recent jaunt to Quickly relatively fresh on the tongue. For one, it was more expensive than Quickly. And this drink tasted exactly like strawberry Nesquik with strawberry Jell-O in it, and I don't doubt that that's exactly what it was… it tasted pretty artificial, ugh.
Grant and Marie had BBQ pork noodle soup with two types of pork ($6.99) and salt and pepper tofu AKA bean curd ($5.99). They seemed to enjoy it well enough, but you'll have to check their write-up to learn more!
We have enjoyed dishes made with Ming's barbecue sold by the part/pound in the past, and we enjoyed the experience of sitting in the restaurant and ordering fully-prepared entrees, too. That sorry excuse for a jelly drink was the only mar on an otherwise excellent experience. Maybe next time I'll skip the drink and opt for two orders of salt and pepper squid instead! 3.5 stars!
Do stop by the Marie, Let's Eat! post about Ming's, too.
Ming's BBQ
5150 Buford Hwy NE
Doraville, GA 30340
emily
Nerd. Foodie. Gamer. Homecook. Perpetual planner. Gardener. Aspiring homesteader. Direct response graphic designer. I use too many damn commas.