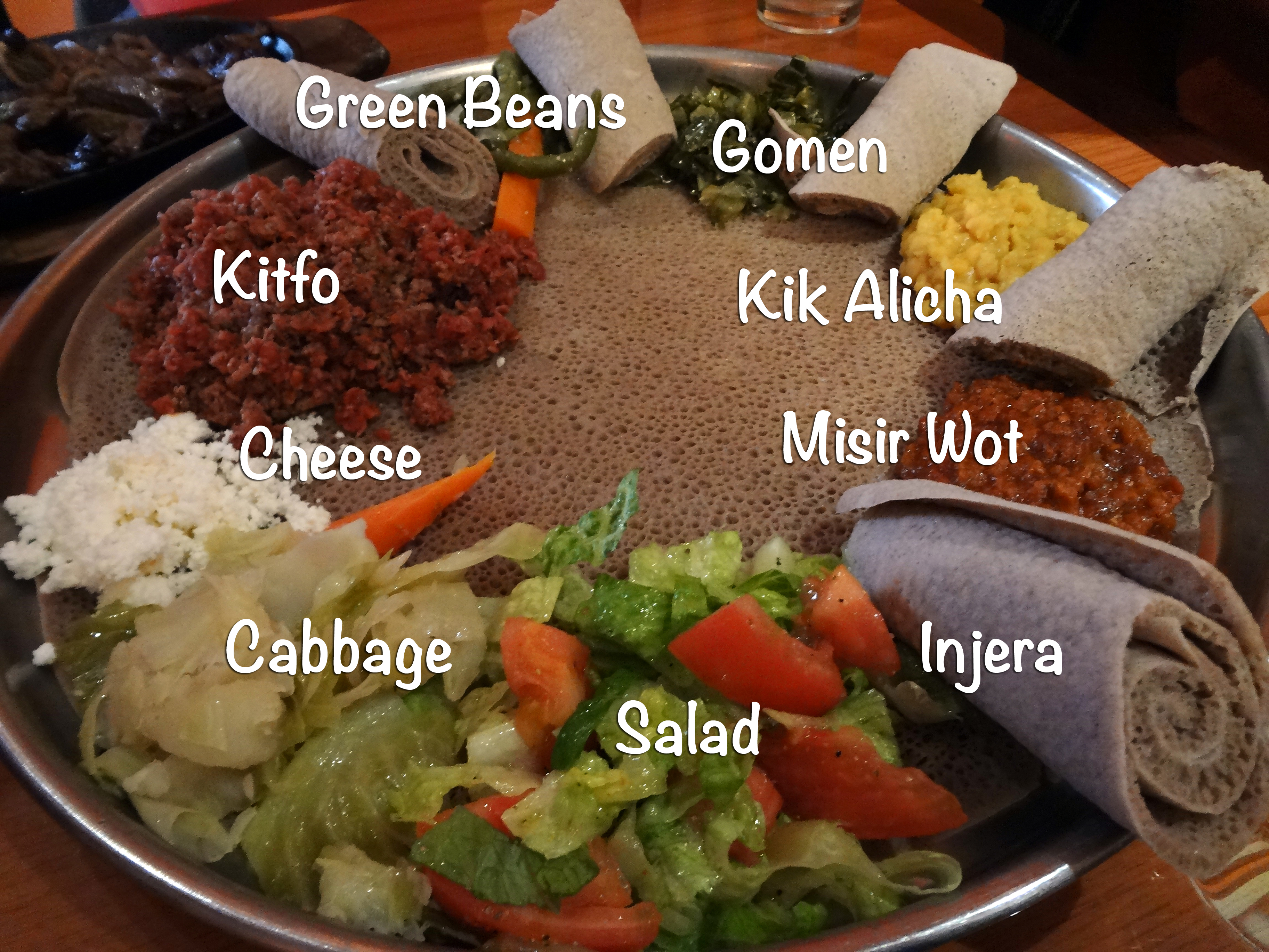 Alas, my favorite place for gored gored is not more… Meskerem closed early 2015.
Atlanta seems to have a decent number of ethiopian restaurants – 10 in the metro area that I am aware of, six of which I have tried – and four of them are clustered together at what some of us fondly call Ethiopian Corner, the intersection of Clairmont Rd. and Briarcliff Rd. When we learned during conversation at Harmony that our friends, Grant and Marie of Marie, Let's Eat, had not yet tried ethiopian cuisine, we recommended Meskerem to them as one of our favorites in Atlanta.
I have opinions about the pros and cons of each of the Atlanta ethiopian restaurants I have visited so far, so when Grant suggested that we all go together, I saw this not only as an excellent opportunity for good company and conversation, but also for food blogging, BuHi or no BuHi. Hopefully this will be one of a suite of ethiopian restaurants I cover in the coming months.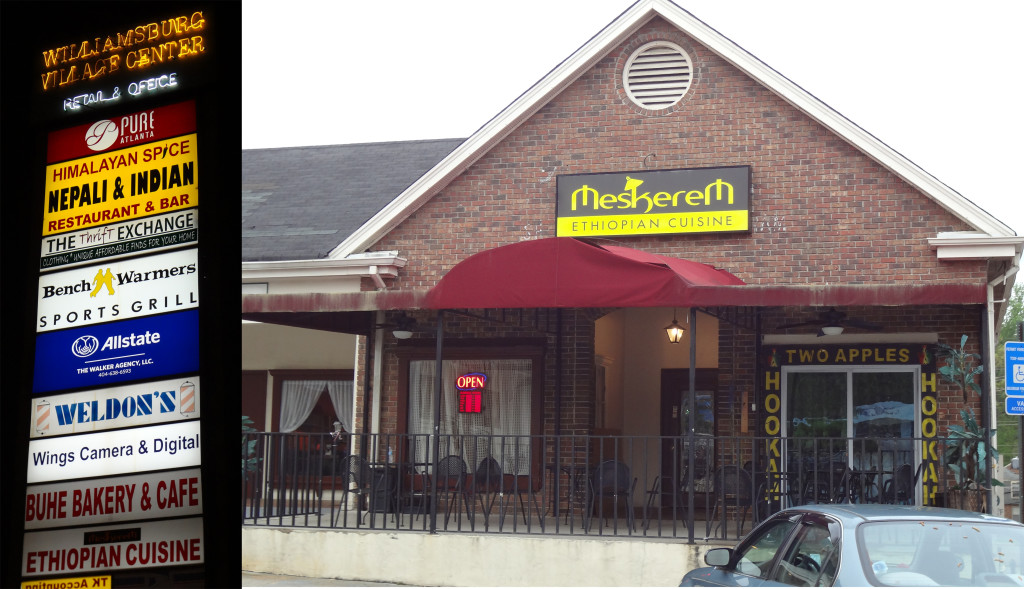 Anyway, now that the preamble is complete, to Meskerem. Adam and I were definitely thrown for a loop, because Meskerem has recently remodeled, splitting its space into a dining area and a lounge with live music and, from what I can tell, a hookah bar. "Our" old spot is now part of the lounge, so the four of us ventured into the new dining area for our dinner.
We sat at a traditional table with chairs, with no mesobs in sight, which was slightly disappointing. I suppose they are all still in former dining area that is now the lounge.
Previously, the meal has always been family-style, so we planned our order around that. However, this was the first time we were offered the option to go separate. There were also some other subtle changes that make me wonder if Meskerem underwent a change of hands, which may explain the remodeling. I didn't ask at the time, but I am curious.
We ordered kitfo ($10.50), zilzil tibs ($11.50), shiro wot ($8.00), and the veggie combo with misir wot, kik alicha, gomen, and salad ($10.50).
Kitfo is chopped beef mixed with spiced butter and mitmita, which and is served raw or medium well. Zilzil tibs is strips of beef with onion, green pepper, herbs, spices, and cooking wine. Think ethiopian-style fajita filler. Shiro wot is a spiced stew made from split chickpeas. Misir wot is spicy ethiopian red lentils. Kik alicha is yellow split pea puree with spices, onion and other goodies mixed in. Gomen is collard greens. As you can see, we also scored some green beans, cheese, and cabbage. We always seem to get something extra, so no complaints here.
You can see that the food is all served on a flat piece of injera, the ethiopian sourdough flatbread made with teff. There are additional rolls of injera on the side, and more is brought to you during the meal, because injera is the way the food is picked up. You tear off a piece and use it to pick up the food without touching it. It has its own distinct taste and is moist and earthy, but complements rather than competes with the food.
Ethiopian is one of my all-time favorite classes of food, so it shouldn't come as a surprise that I thoroughly enjoyed everything we tried and ate way too much. We have come to Meskerem many times and always enjoyed ourselves. My all-time favorite dish here is the gored gored, cubes of raw beef mixed in spicy butter. Mmmm. If you are adventurous, I highly recommend trying the dishes as they were designed to be consumed – raw if necessary. I have had ethiopian many times and have never, ever been sick from it (or sushi)! 3.5 stars.
Check out Marie, Let's Eat!'s take on Meskerem.
Meskerem Ethiopian Restaurant
2781 Clairmont Rd
Atlanta, GA 30329
emily
Nerd. Foodie. Gamer. Homecook. Perpetual planner. Gardener. Aspiring homesteader. Direct response graphic designer. I use too many damn commas.