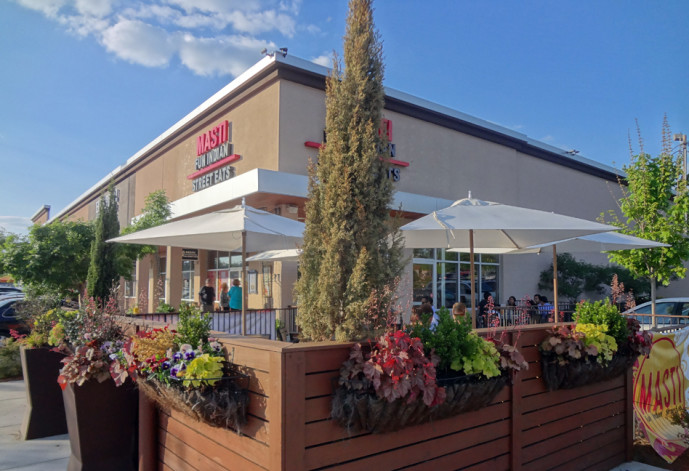 Masti recently opened up in the Toco Hills location formerly occupied by Cibo Rustico and Mirko Pasta. I was grateful to see that we'd shaken things up a bit with a non-italian food concept. Not that I don't love italian food, but it was just time for a change. Coming to us from the same group behind the Atlantan staple Cafe Bombay, Masti means fun in Hindi and the restaurant has the playful atmosphere and menu to go along with that.
About a week or two after it opened, Adam and I headed over to give it a shot with friends Richard and Susan (whom readers may remember from our trip to Madras Chettinaad). We didn't feel like we were about to give the spot a fair shake with the first visit, so Adam and I circled back shortly afterward to order some different menu items and round out our first impressions of Masti.
For the first trip, we got started with some drinks. Maybe I haven't paid close enough attention in the past, but I feel like there were more and more interesting drink options here as compared to other indian joints that we've been to. Susan had an aam pana, Richard had a mango lassi, and I had a milk badam.
The aam pana was quite tangy. I could see how it might make a great summertime cooler, but in the context of our savory indoor meal, it may have been under-appreciated. At any rate we didn't quite finish it. The mango lassi and milk badam, on the other hand, got sucked right down.
The milk badam was a spiced, savory milk drink that tasted heavily of cardamom, almond, and pistachio. I enjoyed it!
Both times we visited we were started off with some star-shaped fryums (I find that name suspect, but this is what the internet tells me it's called…) which were a bit greasy, with a little slow heat and basically impossible to not power straight through. However, we did not content ourselves merely with fryums, but ordered two appetizer dishes as well: the papdi chat and Kukuri bhindi fries.
Papdi chat is a north indian/pakastani affair that combines a variety of ingredients with chutneys and yogurt piled on crisp fried dough wafers. In short, this was like light, tangy, crispy, cold indian nachos and that is a good thing.
These okra fries were finger-licking good! They absolutely kicked the pants off of the unbreaded version I had at Chai Pani. Coated with a spiced and spicy batter, these fries were spicy. The spiciness combined well with the chutney and yogurt provided, but I was perfectly fine to just shovel these things striaght in. Yum!
For our entrees, we shared Delhi Chinatown Hakka noodles and a dinner thali.
These noodles were delightfully slow-heat-spicy and sported the oily comfort food feels as much as any lo mein dish ever did. I could have inhaled these.
Unfortunately, though you can tell I've liked everything we've had so far, the meal did not end on as much of a high note. We found the thali to be lacking – and it had nothing to do with the fact that I cannot handle the taste profile of indian pickled vegetables! For the thali, you get to choose two main dishes from the rotating daily list on the chalkboard, and they are served thali-style in small dishes with a variety of other dishes on a large platter. We chose the palak paneer and butter chicken. The palak paneer had no paneer that any of us could locate and the butter chicken was very oily. The other items didn't really stand out to me one way or another aside from the rice pudding which was a nice surprise. It has a different flavor profile than most rice puddings you get around here and the flavors were subtle and lovely.
This first meal did have its issues, but the restaurant had barely been open when we visited and a lower quality of service is to be expected for a while, so I am willing to give the benefit of the doubt about some of the drawbacks we encountered such as uncomfortable all-metal chairs (there is another type of chair available that seems fine) and slow, scattered and a bit clueless wait staff.
In talking about Masti, Adam and I noticed that our favorite dishes were the fusion style ones and the least favorite were the more traditional. While were there the first time, we received a long talk about all the work that went into the indian-italian fusion pasta dishes, and we saw a lot of indian tacos and indian-tyle sliders go by. We decided we might have missed the mark a bit in not taking aim at more fusion food. It seemed to us to be where the restaurant has invested more of its time/energy (it's called Fun after all) and therefore it makes sense that other, more traditional dishes might not be on the same level.
So on our return visit we opted for the masti paneer sliders, the keema tacos, and the potato masala mash dosa (thinking that it basically looks like an indian burrito made with a crepe. Our instincts were correct.
The sliders and masala fries were good. If you are the type of fry connoisseur that would be dismayed at the way NaanStop's masala fries get soggy due to the masala sauce being poured right on them, then these are the masala fries for you! They are dry, getting their flavoring from being tossed in a masala spice mix. They went well with the paneer burgers with were a bit sloppy and entirely enjoyable, brimming with fresh-tasting ingedients like ones you might expect to see on the papdi chat, and the warm, wet paneer patties lurking underneath. Works for me.
The indian tacos were a bit less familiar but still fun. Playing the role of tortilla is an indian-style pancake made with lentil and rice batter called uttapam. The filling includes spiced ground meat (I believe it was chicken, but I failed to write it down and the menu doesn't say), rice, cheese, tomatoes and chutney. They were enjoyable, but the fusion element seemed to be mostly in form and not in a mixing of two distinct flavor profiles. Still fun.
Last up was the dosa. We did it again, ordering a few fun dishes and then following it up with something traditional. If I've ever seen dosa on a menu before, I don't remember it, so I was suckered in my the lure of something new and unique (to me). However, the dosa is a traditional staple south indian dish and as a result was a bit ho-hum at Masti – like the thali was the time before.
Masti means fun, and they really do mean it here. So much so that you should probably stick pretty closely to ordering the most fun things on the menu and leave the traditional items alone. I was prepared to stick Masti with 3 stars but if you follow the above advice, it really can be a better than average restaurant at 3.5 stars. It seems that if you go the all-traditional route, it would be more like a 2.5 – and there's no reason to do that with Cafe Bombay just down North Druid Hills Road. Definitely the place is bumping, it was crowded both times we were there, so a lot of people are out giving it a try. You should, too, for a unique experience. 3.5 stars.
PS: Apparently there is also hookah here, though I haven't seen anyone partaking yet.
Masti
2945 North Druid Hills Road
Atlanta, GA 30329
emily
Nerd. Foodie. Gamer. Homecook. Perpetual planner. Gardener. Aspiring homesteader. Direct response graphic designer. I use too many damn commas.