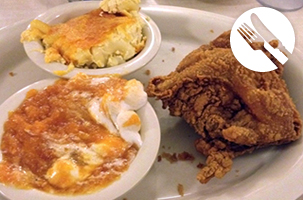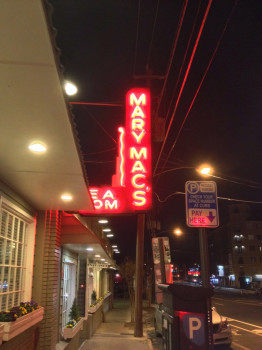 Outside of maybe burgers, fried chicken is probably the single most discussed food item in the Atlanta dining scene. Even when guests come to visit, the question is always "where can I find the best fried chicken?". Similar to going to Memphis or North Carolina and asking "where you can find the best BBQ?", it is almost a surprise if someone doesn't ask. It is a dish that is ingrained in the south's food culture.
There is no shortage of spots that serve their own version with all the meat and two sides places in addition to a lot of the higher end spots including it on their menu as well. Having said that, if you asked 10 different people where the best fried chicken in Atlanta is, I imagine you would get 5+ restaurants named. Mary Mac's would likely be named by one of those people. Having been open for over 70 years, Mary Mac's stays busy and has become an Atlanta institution and deservedly so.
Parking can get a little hectic due to the Midtown location and you can expect a wait most nights of the week. My suggestion if you are given a wait is to go grab a drink at Top Flr which is behind Papi's next door, it has a nice bar setup and good cocktails.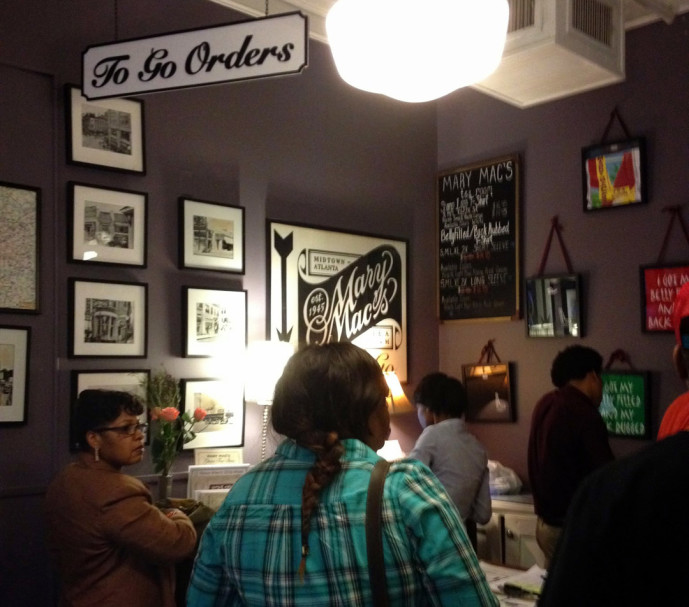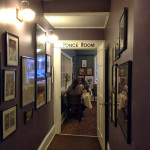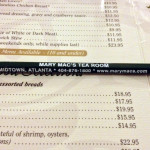 The amazing thing about the wait at Mary Mac's is the place actually sits 300+ people. It is something you can't really tell from the outside or even when you first enter. However, when taken to your table, you quickly notice all the different seating rooms along with the endless amount of famous peoples' pictures that haven eaten at Mary Mac's.
One of the things I love at Mary Mac's is the old school ordering system using pencil and paper. Every time I visit, I think to myself, "The last time I wrote with a pencil was probably the last time I was at Mary Mac's."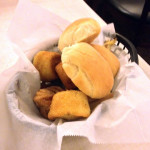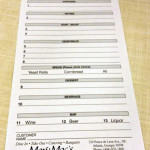 They bring out a variety basket of cinnamon rolls, yeast rolls, and cornbread as a starter. As much as I love cornbread, I would say it's probably ranked third out of the three served. Both rolls are equal on the tastiness scale and you could probably nom a few baskets without blinking.
You can order any of their "traditional southern specialties" and I'd imagine you won't go home hungry. That is one of the beauties of the Mary Mac's-esque restaurants, you won't find people complaining that they had to stop at Taco Bell on the way home because the portion sizes were too small.
It is hard for me not to get the fried chicken whenever I come here and I's imagine that is the same thought process most others encounter, too. You can get two different servings of fried chicken: breast, wing, leg, and thigh; or three legs/one breast. I didn't want to feel like a fatty so I opted for the one breast but regretted it later because for 2 extra bucks, I could have had three additional types of chicken. Lesson learned though, I will be ordering the four-piece moving forward.
Mary Mac's fried chicken is legendary for a reason. Although it wasn't a massively-portioned, steroid-injected breast that you find at a lot of other places, it was a fair size and definitely enough to fill you up. I wouldn't say the moistness of the chicken is the best I have had in Atlanta, but the crisp skin is as good as it gets.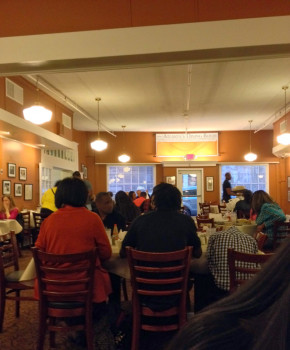 Mary Mac's probably has one of the most extensive side menu selections I have seen which definitely makes it hard to select just two. I am a sucker for mac and cheese so anytime that is the on the menu, I am more than likely getting it. I opted for the sweet potato souffle as my second side this time around. The mac and cheese was a cut above average due to the nice baked cheese layer on the top and the souffle was a nice consistency, though I wish there were more marshmallows as it really blended well texturally within the dish.
Overall, you can't go wrong with the fried chicken at Mary Mac's. As stated earlier, you could probably argue upwards of 5-10 other places (Busy Bee, Colonnade, Matthews, etc.) that have great fried chicken and you wouldn't be wrong. And that's without including the finer dining spots (Watershed, JCT, Southern Art, etc). I haven't had Holeman & Finch's hot chicken yet, but I definitely wouldn't be opposed to seeing more spicy versions around town.
If you want a relaxed, old school vibe where the history of the place just oozes out, this place offers it. Be prepared to wait for a table if you arrive for dinner but just know it'll be well worth it.
Food: 4.0
Vibe: 4.0
Mary Mac's Tea Room
224 Ponce De Leon Ave NE
Atlanta, GA 30308
anish
I am a 20-something white-collar worker that enjoys the great food options Atlanta has to offer. I enjoy sharing my dining experiences and opinions to anyone who will listen. I hate being the guy next to your table taking cell phone pics but understand its place as a necessary evil in the food blogging world. I love to research places beforehand (some would say to a fault). The theory is if I am going to spend time and money eating out, it is worth the 10 or so minutes to vet it out beforehand. I have a laundry list of dining places I still want to go to but for every one I check off, four probably get added. For me though, that is probably the biggest perk of living in a big city.