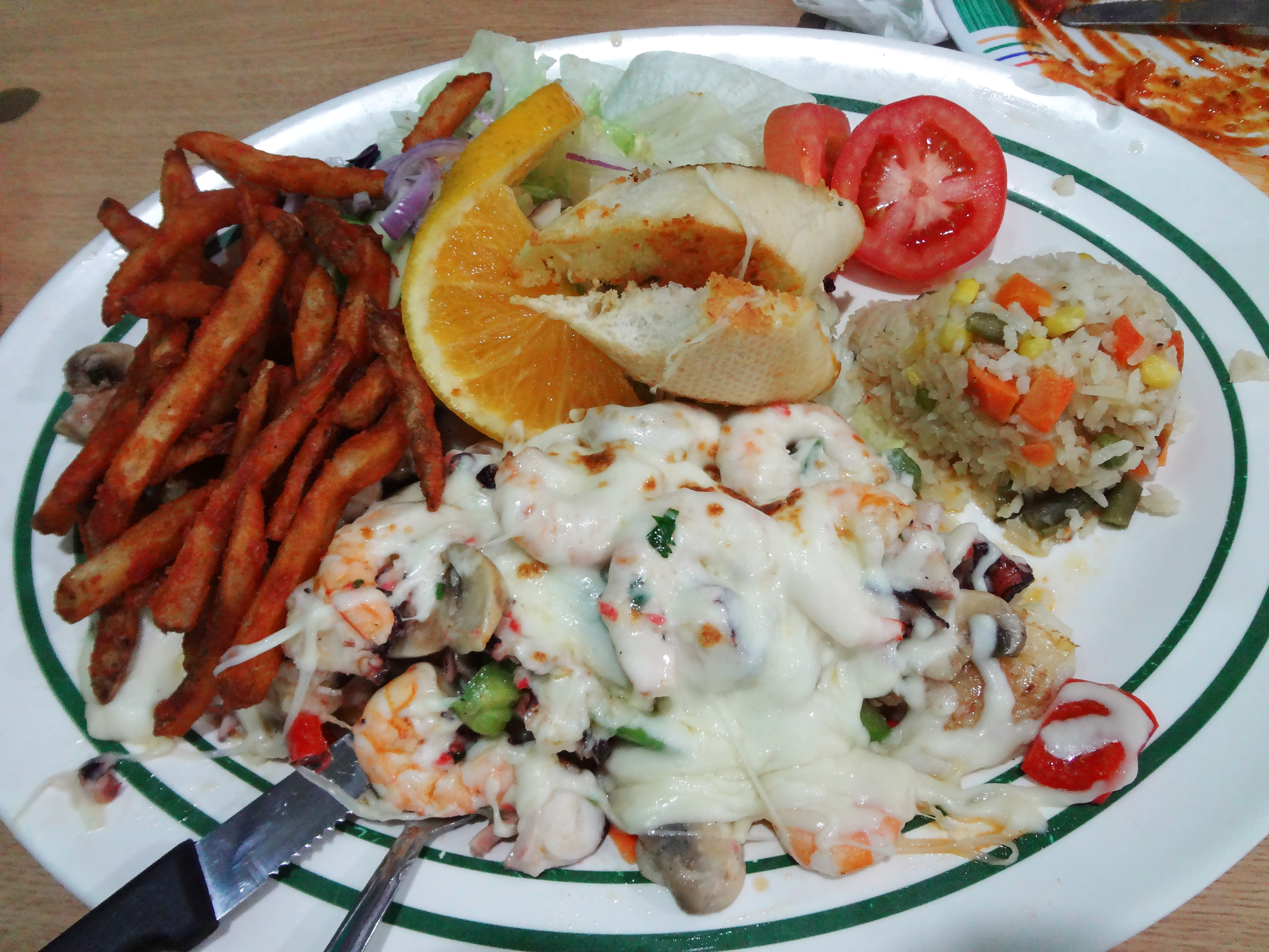 This week the hubs and I hit up a Nayarit-style mexican seafood joint called Mariscos El Veneno – which, as near as I can tell, means "poison seafood" or maybe "wrathful seafood." Glad I looked up the translation after we got home, or I may have had more reservations.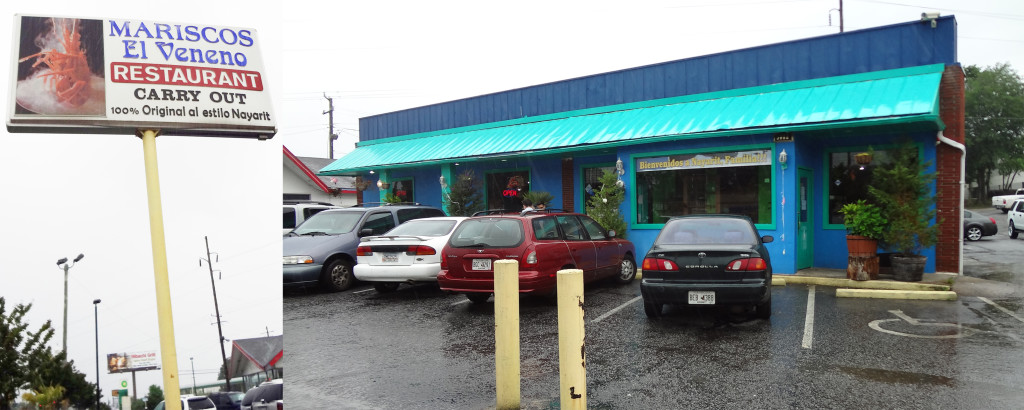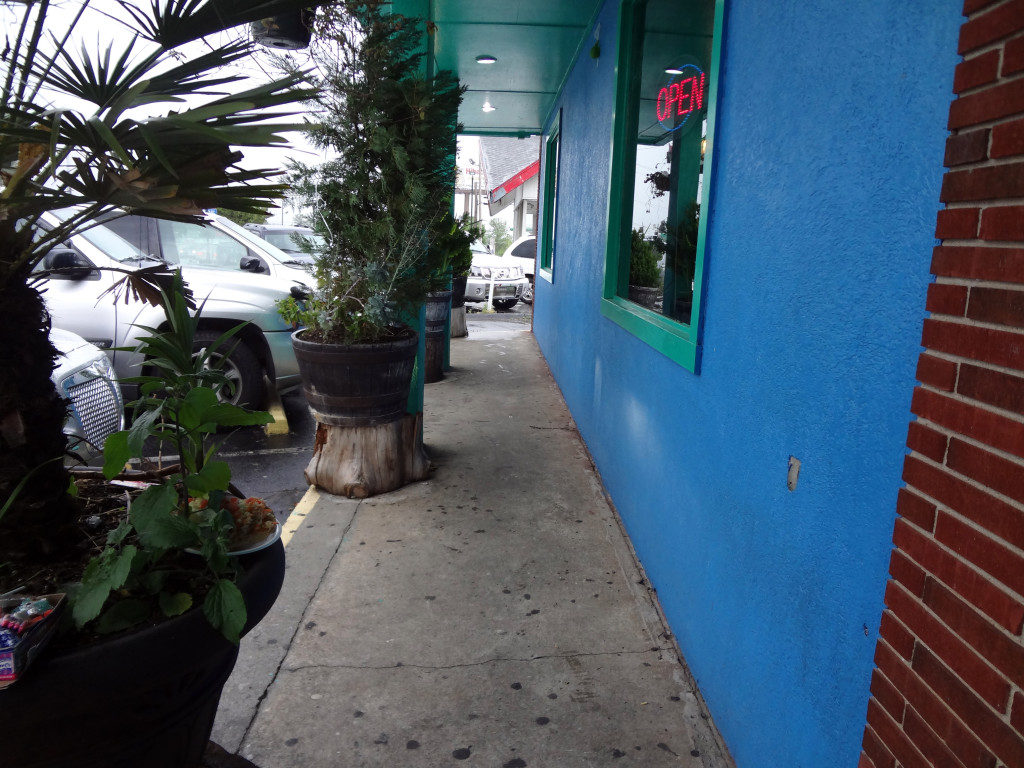 If "Nayarit" sounds familiar, it's because we have already sampled Nayarit-style cuisine at one Mariscos La Riviera Nayarit, yearly one year past. Mariscos El Veneno certainly reminded us of MLRN, from the catering van out back, to the live band inside; from the pictorial menu to the gigantic portions.
The inside of MLRN is more conventionally nice (read: clean, modern and appropriate to the price range) than here, but it was cheery, bright, well-kept and clearly decorated with care.
We even got the same free app – fish ceviche tostadas, with lime and some BRUTAL hot sauce (for those wondering, I did not tear up like I did at MLRN). The tostadas were tasty, and went well with the horchata ($1.99) I ordered. I have in mind to do a huge BuHi horchata blind taste test showdown some day, but until then I have to say that despite the fact that memories dim over time and recency skews opinions, this may be the best horchata I have ever had. Whew… so good.
For dinner, we ordered filete relleno ($16.99, and seems to be the same as filete del rey at MLRN) and the pulpo especial ($26.00). As you can see, this is a pricey joint. But seafood is expensive; it's not like we live on the coast.
Our waitress very sweetly warned us that many people don't finish the pulpo especial (special octopus), but we didn't really get a clear idea of why, and we're stubborn, so we forged ahead.
And we have no regrets. We clearly got an entire octopus' worth of tentacles, lightly battered and fried before becoming one with a delectable tomato sauce with red and yellow onions, red bell peppers, and who know what all else. Delicious things. The octopus was tough to bite off the fork, but not unpleasant to chew. We both really enjoyed it.
The filete relleno was also very good. I remember enjoying the one at MLRN more than here, but Adam feels quite the opposite. Either way, it was quite tasty.
We didn't finish either plate completely – splitting one plate probably would have sufficed – but the leftovers were swiftly and efficiently boxed up for us. We got a whole second meal out of it.
I feel compelled to let everyone know that we did find a hair in our filete relleno. Accidents happen, so I am willing to assume this was a one in a million kind of thing (there was steady stream of customers the whole time we were there), but there it was none the less.
Also, the food made me fairly indigested (wrathful seafood, perhaps?), but the same thing happened when we ate at MLRN, so I am also willing to cut Mariscos El Veneno some slack and assume that there is something about Nayarit style that I am sensitive to. Too bad for my stomach, though, 'cuz I am going back for more.
Mariscos El Veneno is expensive enough that there likely needs to be a special occasion to visit, but if you're going to drop dough on Buford Highway, this is a great place to do it. The prices are high, but the portions are huge. I enjoyed it quite a lot, and Adam is particularly over the moon about it. We'll definitely be back. 4 stars.
Mariscos El Veneno
5082 Buford Highway NE
Atlanta, GA 30340
emily
Nerd. Foodie. Gamer. Homecook. Perpetual planner. Gardener. Aspiring homesteader. Direct response graphic designer. I use too many damn commas.