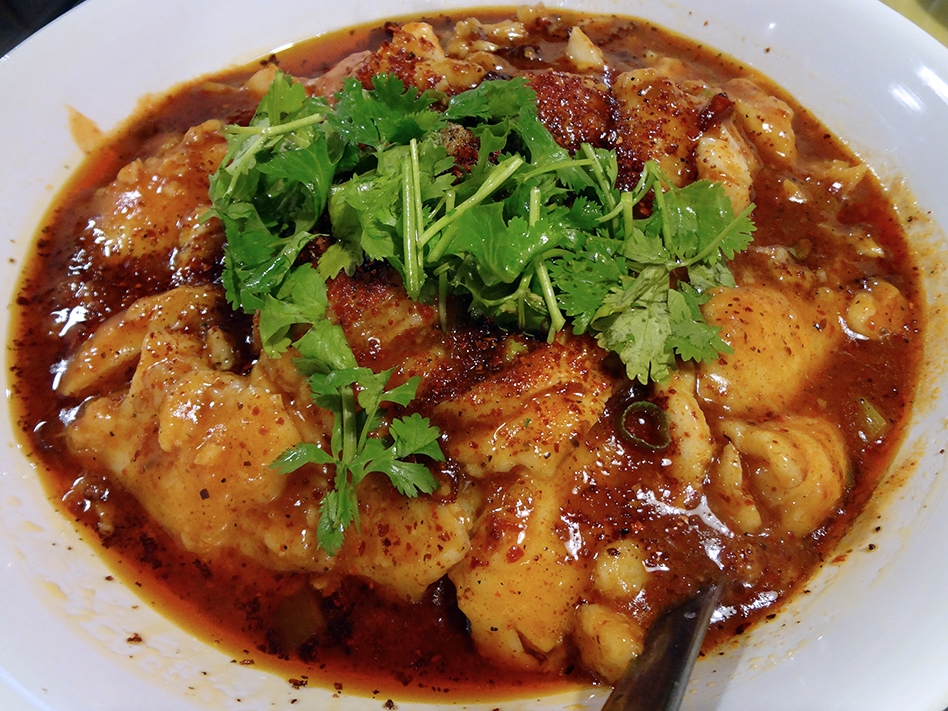 We are beginning to reach the end of the high-density section of Buford Highway with this project. We've already passed the end of the classical definition of the Buford Highway cultural corridor – less than 9 miles of Buford Highway's 50-mile length.
But there is one last cluster of high density, and that is where we will reside for the next few posts. Adam and I visited Man Chun Hong a few weeks back. Dear readers, let me be honest for a moment. We have eaten at a lot of korean restaurants. We have eaten at a lot of chinese restaurants. We have most recently eaten at a number of korean-run and -influenced chinese restaurants, and we may be losing our ability to discern one from the other. Just a word of warning.
Man Chun Hong is in a two-story strip mall north of Oakcliff Road called Seoul Plaza. The interior is more upscale than you typically see on Buford Highway. The menus – there is an americanized one and a more authentic one – reveal it to be another korean-chinese joint, with specialities of both served and kimchi hitting the table early on in the dining experience. There was a surprising preponderance of standard, inauthentic, americanized-chinese dishes on the menu, but there were also a lot of interesting gems.
Adam and I wanted to start off with some dumplings, but the kitchen was out, so we split a serving of hot and sour soup instead. This is, of course, a chinese food trope, but it's also a great measuring stick when trying to think critically about your americanized chinese spots.
It was incredibly good hot and sour soup, giving the (now-closed, may it rest in peace) Szechuan Village's amazing hot and sour soup a run for its money. Oftentimes you get hot and sour soup that is really bland, but this is not the case at Man Chun Hong. Peppery and delicious. Really great.
For our main course, we got the boiled peppercorn fish with cabbage ($17.95) and the salt and pepper eggplant ($14.95). Yum, yum. The salt and pepper eggplant was everything you expect out of a salt and pepper "insert noun here" dish – light and somewhat crispy, with a nice salt and pepper dusting. Good stuff, and a great compliment to the saucy, spicy fish dish. The fish and cabbage dish was phenomenal. I really enjoyed it and ate entirely too much of the stuff, as did Adam. Even when we were full to bursting, there was still some to take home and have for lunch the next day (oh, that's the best)!
The worst thing about Man Chun Hong was the music. I had to cringe through Whitney's I Will Always Love You (hey it's just not my thing, least of all when eating), so that was a bummer. At the time, I thought Man Chun Hong was another great Buford Highway spot, but not one that was changing my life. But in the intervening time it really has grown on me, and I think it is one of the nicer places to go for chinese, and certainly the nicest spot that serves fake chinese food like General Tso's or beef and broccoli. 4 stars.
Man Chun Hong
5953 Buford Highway NE
Doraville GA 30340
emily
Nerd. Foodie. Gamer. Homecook. Perpetual planner. Gardener. Aspiring homesteader. Direct response graphic designer. I use too many damn commas.