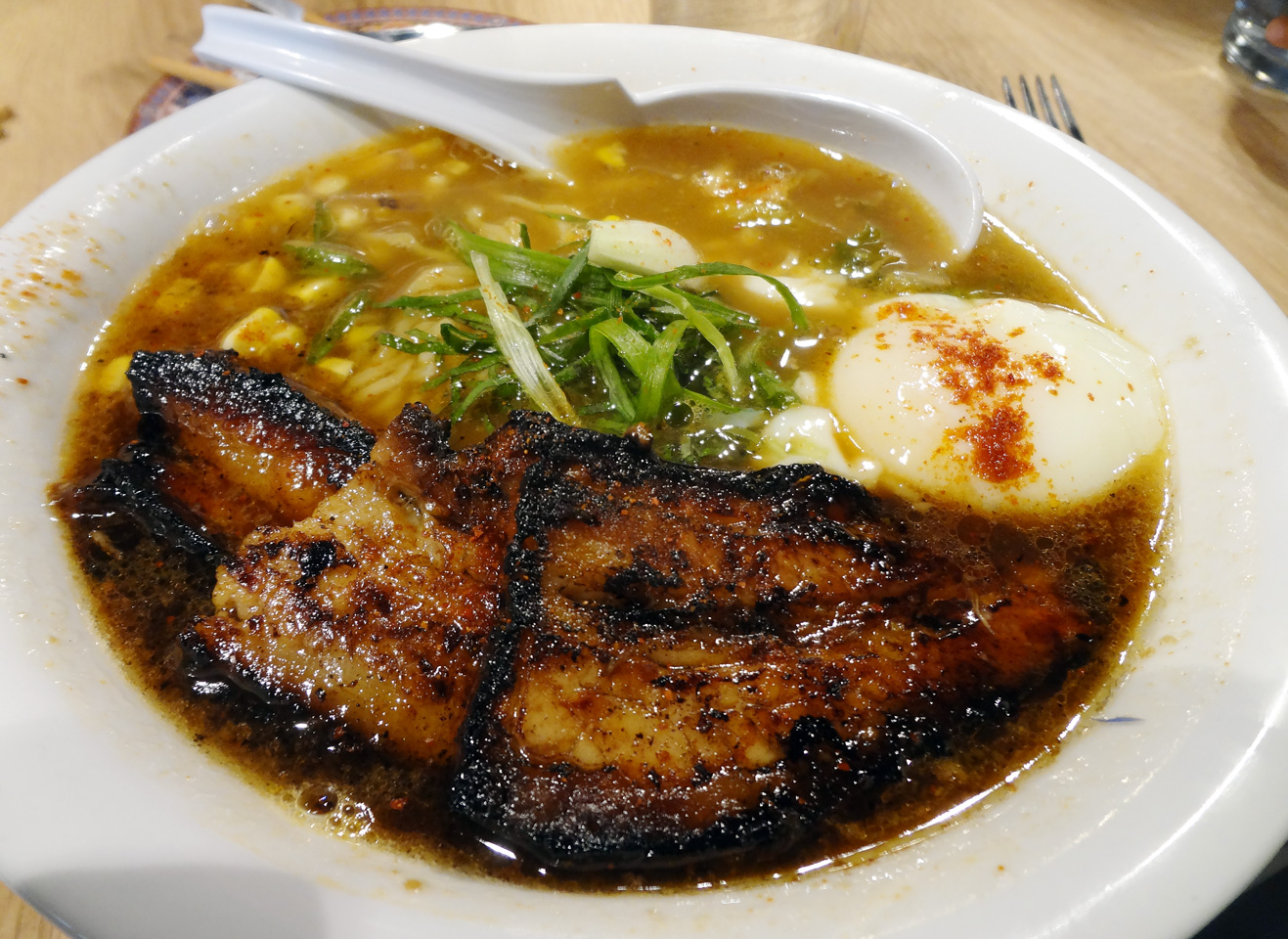 A couple of weeks ago, coworkers Anthony, Anish and I caught lunch with our dear friend and ex-coworker Jaimyn, to get his colorful commentary and send him on his way to greener pastures in homeland of New York. Located in the Marriott Courtyard in downtown Decatur, Makan has been open for about a month, serving "asian comfort food." I would add "upscale" and "with a modern twist" to their by-line. More on that later.
Since we were all driving to Makan from elsewhere, we parked in the hotel's deck and traversed the lobby to get to Makan. There is a slight disconnect when you enter from that side, since the host stand is on the other side of the space, near the exterior entrance. No big deal though, someone showed us the way, and we got a great view of the lovely bar and friendly bartender.
When we got seated, we immediately noted that the chap chae (I've blogged about this dish before as
japchae
) is a dinner item, and was not featured on the lunch menu. However, our host (whom I suspect to actually be owner Michael Lo), overheard us lamenting that fact, and took it upon himself to ask the chef (presumably owner George Yu) if he could produce the dish for lunch. He returned to the table to inform us that he had asked and that Chef had said he would.
So we ordered the chap chae appetizer, knowing full well that it was $10 and would be on the small side, since the price is due mainly to the cost of the uni that contributes to that. This is what I mean by upscale asian comfort food with a modern twist. Japchae is a great, classic korean noodle dish that is now upscale-modern with the inclusion of uni and roe. Sadly, it seems I was too busy jockeying for a piece of uni to take a photo of the dish. But it wasn't the only appetizer we ordered!
We also got the wontons ($6) and a pork belly bun ($4). The wontons were just great; they were succulent and soaking in a fiery, oily sauce. I really enjoyed the wonton I snagged.
The pork belly bun was also stellar. The pork belly was melt-in-your-mouth and the light bun supported the taste and complemented the texture, without being interruptive. I would recommend a few of these to get a group started at Makan.
Despite an appropriately-sized menu, I had a hard time deciding what to get. This was in part due to preconceived notions about lunchtime pricing, but I eventually got over it and ordered what I wanted, the korean-style steak with greens, kimchi, a fried egg, rice, and a lovely little ramekin of korean red pepper paste (gochujang). This was the priciest entree at (~$18).
But it was worth every penny! I enjoyed mixing everything together with the rice, gooey egg yolk, and gochujang… mmmmm. My ravenous appetite for the gochujang was noted, and without my having to ask, I was provided with a second ramekin of the good stuff. I really enjoyed the meal!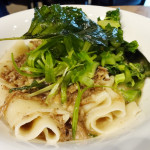 Other dishes at the table included Jaimyn's pork belly rice bowl (which he really enjoyed), Anthony's lamb dish (a noodley soup affair pictured on the right), and Anish's pork ramyun. Here are Anish's thoughts: "Overall, I really enjoyed Makan. I love being able to have Buford highway quality food with a modern twist and a more upbeat vibe where you can also grab a cocktail. All the apps we had were great; I would probably rank them as wontons, pork belly, and then the chap chae with uni. I had the ramyun as my entree. The broth, noodles, and veggies were all solid. However, the star of the dish was definitely the pork belly and I would venture to say it's some of the best I have ever had. It had a nice grill on it while also being meaty and tender."
Overall, I really enjoyed my trip to Makan. The interior is absolutely lovely, the service was mostly great (our server was obviously new, but competent), and the food is absolutely worth the price. I look forward to coming back to try more things from the dinner menu, and a couple of drinks as well. 4 stars.
Makan
130 Clairemont Avenue
Decatur, GA 30030
emily
Nerd. Foodie. Gamer. Homecook. Perpetual planner. Gardener. Aspiring homesteader. Direct response graphic designer. I use too many damn commas.