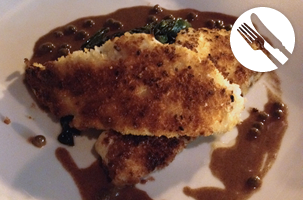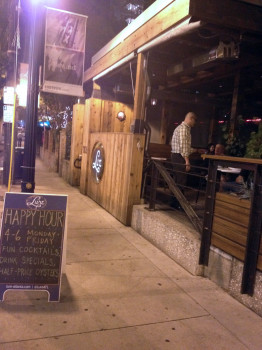 Lure is part of the Fifth Group restaurant group. Ecco is the only other restaurant of theirs I have been able to try but it definitely stands as one of my favorite restaurants in town.
My brother-in-law was in town via work and was staying at the Loews in Midtown. In researching places that were walkable from the hotel, I was a little disappointed with the limited number of options that were close by considering he was located in the heart of Midtown. I narrowed the choices down to Empire State South or Lure and since he had already been to Empire, Lure was the choice.
The fact that Atlanta is landlocked is my biggest knock on the Atlanta food scene so when I come across a seafood-focused restaurant like Lure, I am always excited but feel the need to take it with a grain of salt.
Side rant: I showed up to Lure on a Thursday night around 6:30pm, I had not made reservations and requested a table for two. The restaurant appeared to be a quarter full when I arrived so I imagined getting a table wouldn't be an issue. I was told there was a 45-minute wait due to what I figured was a smaller staff working at the time or there being a ton of upcoming reservations within the next 30 minutes or so. As I said, since there weren't many other options I wanted to try that were walkable, we decided to wait it out.
While waiting, we had a few drinks at Front Page News next door as it was a nice night out and ended up getting seated an hour later. I can't blame Lure for the wait as they ended up being full by the time we were seated but I guess that was just a lesson learned to always call restaurants ahead and make reservations if possible, even on weeknights.
Lure is on Crescent Ave, it is a great location as you are right off Peachtree so it is fairly quiet on the patio but still has the city feel. Heading in, I had read rave reviews of the grilled octopus and pork lettuce wraps and was strongly considering getting it. However, the in-house smoked seafood dishes was a unique and intriguing offering so we opted for the smoked salmon.
One of the problems I find with seafood often times is if the quality isn't great, restaurants try to mask it with extra mayo, seasoning, etc. However, this dish let the salmon and quality shine, I would definitely be interested in being more adventurous and trying the other smoked items they had on a return visit.
For entrees, anytime sole is the on the menu, I am probably getting it. The Pan-fried sole fillet was prepared really well, it was nicely crisp and light. The capers and brown butter sauce that accompanied the dish where typical and served their purpose. The spinach was definitely way served with way too much salt and it took away the balance of the dish and limited it from being great.
My brother-in-law opted for the seared Georges Bank sea scallops, and while he enjoyed his meal it definitely seemed that the scallops were not consistent, as many of them lacked that nice sear on top that most enjoy.
We ordered two sides, the hushpuppies and Korean cucumber/avocado dish. The hushpuppies were amazingly good and probably up there for ones I have had in the city. The light crisp breading on the outside made for a great side instead of feeling heavy and like a meal on its own. The cucumber/avocado side was okay but I found it a little bland, I would probably recommend trying something else.
Although I am a sucker for dessert, we decided to pass this go around.
With the restaurant being in Midtown Atlanta and parking being limited, Lure has their own valet which was easy to get in and out of. Overall, service was good and the dinner was an enjoyable experience, there were a few hiccups within the meal but it is definitely worthy of a return visit.
It seems like there is an ongoing comparison of the Optimist and Lure as the seafood heavyweights in the Atlanta dining scene. While I would lean towards the Optimist side, Atlanta can definitely use more restaurants with high quality seafood selections as both of these serve as great additions to Atlanta's dining scene.
Ratings:
Food: 3.5
Vibe: 4
Lure
1106 Crescent Ave NE
Atlanta, GA 30309
anish
I am a 20-something white-collar worker that enjoys the great food options Atlanta has to offer. I enjoy sharing my dining experiences and opinions to anyone who will listen. I hate being the guy next to your table taking cell phone pics but understand its place as a necessary evil in the food blogging world. I love to research places beforehand (some would say to a fault). The theory is if I am going to spend time and money eating out, it is worth the 10 or so minutes to vet it out beforehand. I have a laundry list of dining places I still want to go to but for every one I check off, four probably get added. For me though, that is probably the biggest perk of living in a big city.