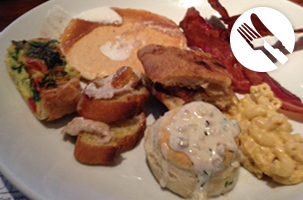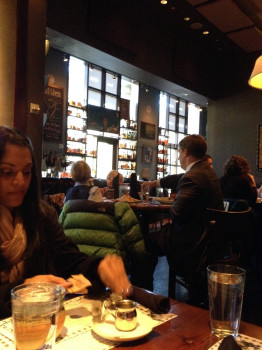 Caveat: This review is only for the brunch at Local Three.
Local Three's philosophy per their website is "People Matter Most, Local Is Priority, Seasonal Makes Sense, Authenticity Rules, Quality Governs, Delicious Trumps, Pretense Stinks, Comfort Feels Good, Appreciation Tastes Better, Prudence Sustains It All." These are all great points to live by and I think these qualities shined during my visit there for brunch. Local Three is a restaurant that I honestly hadn't heard of until I saw them featured on Atlanta Eats. After watching the episode that highlighted the brunch at Local Three, I made it a point to have it jump to the top of my brunch places to visit queue.
One frustrating aspect of brunch is the inability in Georgia to serve alcohol on Sunday mornings which definitely takes away an important element of what I define a great brunch to be. Nonetheless, it's obviously not the restaurants fault but one another aspect Local Three appears to be known for is their bourbon selection. I am no bourbon connoisseur by any means but sampling their vast selection is probably worth a return visit on its own. Outside of the alcohol portion of brunch, what makes a good brunch to me is; a good balance of breakfast/lunch and sweet/savory items, innovative twists on classic items, quality ingredients, and a laid back environment.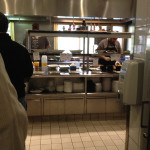 Local Three serves a buffet-style brunch with a menu that changes week to week. They list out the items here before you head to the buffet which helps you game plan (one of the most important elements to maximizing your experience). One of the unique qualities of Local Three is they have a massive kitchen that allows their brunch to be served right out of it. You walk into the kitchen, grab a plate, and make your way down the line.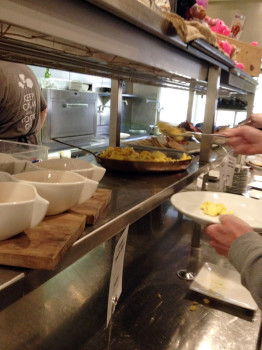 Usually, I hate buffets because they seem to put the emphasis on quantity versus quantity. Here, there isn't a massive quantity of food made and set out under a heat lamp for the rest of the day, you can see the chefs making the next batch to serve on the other side of the buffet which makes for a welcomed behind-the-scenes experience.
For me, I made it a point to sample every item and ended up making 3 ½ trips through the line. Two of the first items I had were some of my favorites, the tomato soup and whipped pork belly crostini. On a chilly morning, the slightly thick consistency of the tomato soup was still light and refreshing. The crostini was the perfect amuse-bouche that combined richness, crunch, and good overall balance with the jam on top. Along the line there is literally a full plate of bacon sitting there, waiting to be eaten, which should please even the pickiest of eaters. The blood orange margarita twist on the french toast and the fig and ricotta topping on the pancakes were both great ways to take a brunch staple and elevate them.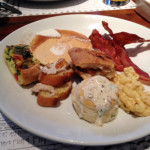 One of the knocks on the brunch items served were the pancakes I had were a little dry on their own but served with the fig & ricotta sauce, I still could have eaten 50 of them. The biscuits, were nice and fluffy, the mac and cheese was decadent (although shell > elbow), the quiche was super rich and fluffy, and the brussels sprouts had a really nice char on them. One of the items that surprised me the most was the chipotle spiced shrimp, it had great heat that came on the back half of eating it that was welcomed and appreciated. The brownies and banana bread for dessert were a nice addition as my final bites. The only thing I probably would have liked to see a little bit of was some fresh seasonal fruit served to add some lightness to the menu.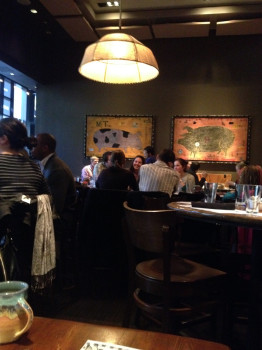 Overall, everything during my brunch experience was great; from plates being removed and napkins being fold when you headed to the line, as well as coffee, water, etc being replenished. At $20 for the buffet, it may seem semi-expensive but for the variety and quality of items you get, it is actually a great value to me. Instead of going to a brunch spot and having to contemplate between 4 different items, you can get it all here.
Two pieces of advice, make reservations (Open Table) prior to going as this place is and always should be slammed, and don't plan on being productive for the rest of your Sunday afternoon. I have anointed Local Three as my favorite brunch spot in Atlanta. I look forward to returning to sample that bourbon menu and see what dinner has to offer.
Vibe: 5
Food: 5
Local Three Kitchen & Bar
3290 Northside Pkwy
Atlanta, GA 30327
anish
I am a 20-something white-collar worker that enjoys the great food options Atlanta has to offer. I enjoy sharing my dining experiences and opinions to anyone who will listen. I hate being the guy next to your table taking cell phone pics but understand its place as a necessary evil in the food blogging world. I love to research places beforehand (some would say to a fault). The theory is if I am going to spend time and money eating out, it is worth the 10 or so minutes to vet it out beforehand. I have a laundry list of dining places I still want to go to but for every one I check off, four probably get added. For me though, that is probably the biggest perk of living in a big city.