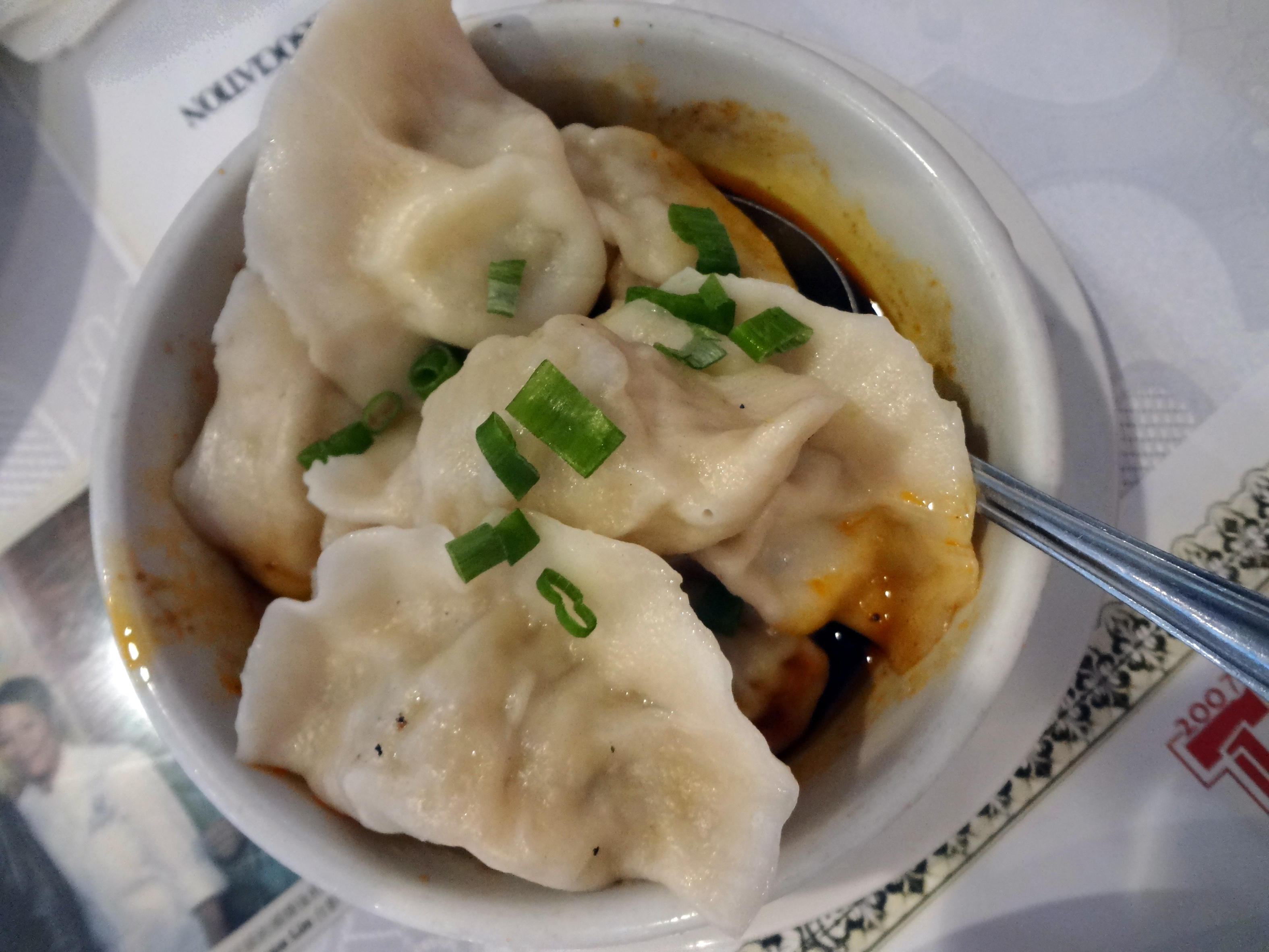 Little Szechuan has moved to 2863 Buford Hwy NE, Atlanta, GA.
Located in the Northwoods Plaza, Little Szechuan is an old favorite of ours, but we have not visited the establishment since embarking on this Buford Highway Food Expedition, so it was an interesting experience to go back with more BuHi experience under our belts.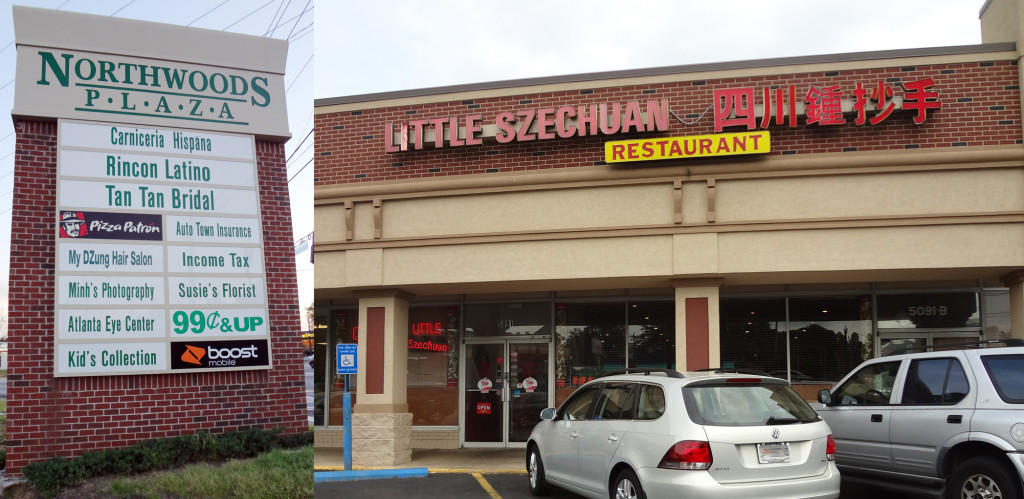 As in the past, Little Szechuan does a good job at setting the tone for your experience. The door is covered in Zagat stickers (among others), under the glass ont he tables are certificates and news clippings about the restaurant, and the menus refer to this place as being Atlanta's best-kept secret. Perhaps this is why we were so overcome with excitement the first time we came.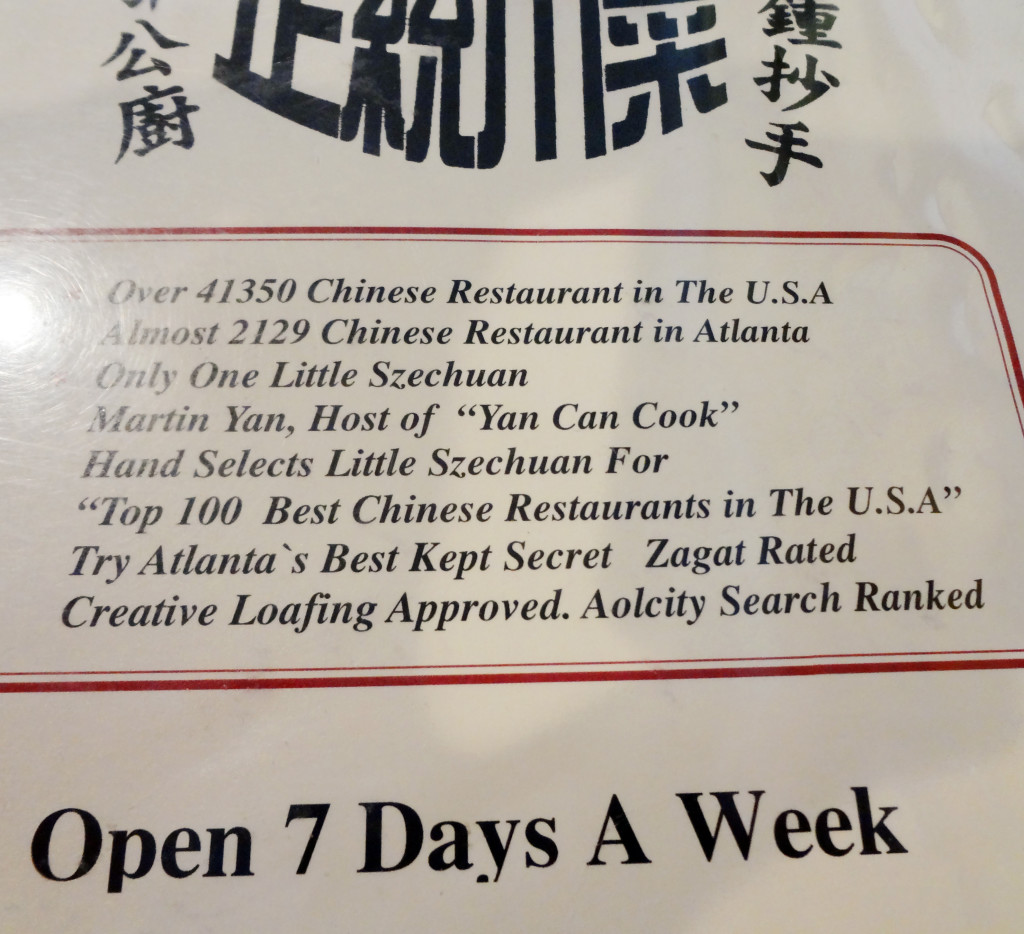 The interior is pretty typical, though the big windows in the front provide enough ambient lighting that with the largely lights off, the restaurant is dim in a pleasant way. The typical decorations are around, sans the television. As if to make up for the lack of TV, the PA system was softly playing The Proclaimers, along with other 80s and 90s hits.
To start, we ordered steamed dumplings in spicy sauce ($6.05). The sauce was quite tasty, and seemed to be mostly composed of animal fat and spices. I am okay with that. the dumplings were good, too, and they didn't strike me as having been pre-made/frozen.
For our family-style meal, we ordered szechuan beef ($15.95) and twice-cooked pork ($14.95). The szechuan beef seemed like a necessity, since we'd never ordered it before and the place is named Little Szechuan after all. One would assume that the szechuan cuisine would be particularly good. And it was. I practically inhaled that dish.
The twice-cooked pork was also very good, though it wasn't what I expected. I vaguely recalled nearly losing my sanity over a particularly tasty pork dish here, but now I suspect that it was the garlic pork, rather than the twice-cooked. It was tasty nonetheless.
Sadly for us, there was a Scoutmob for Little Szechuan that we were unaware of, which is a shame. As you can see, Little Szechuan is on the expensive end of the places we have visited on Buford Highway. The food is very good, but I can't say I am having perfect experience if I can't afford to order a seafood dish as a restaurant in a strip mall. But I suppose a place as well-endowed with awards as this can charge a bit more, so they do. And I'll go back again, Scoutmob in hand, just not as often as I would if their items were priced more competitively.
Word of warning! If you do have a coupon, they will insist that you pay in cash. I don't know why, since they do accept cards, but they will get quite rude about it. The first time we went, I wound up sitting uncomfortably in the booth while Adam ran to the nearest ATM. Also, there are many people who have been very dissatisfied with service at Little Szechuan. I can say we have almost always been treated indifferently, but not rudely. (Except that first time… they should be lucky there was a second time, eh?)
Anyway, if you have a coupon, or extra budget for an above-average BuHi expense, give Little Szechuan a try! Get the garlic pork for me. The initial shine may have worn off a bit with our experience, but Little Szechuan still gets 4 stars.
Little Szechuan
5091 Buford Highway NE
Doraville, GA 30340
emily
Nerd. Foodie. Gamer. Homecook. Perpetual planner. Gardener. Aspiring homesteader. Direct response graphic designer. I use too many damn commas.