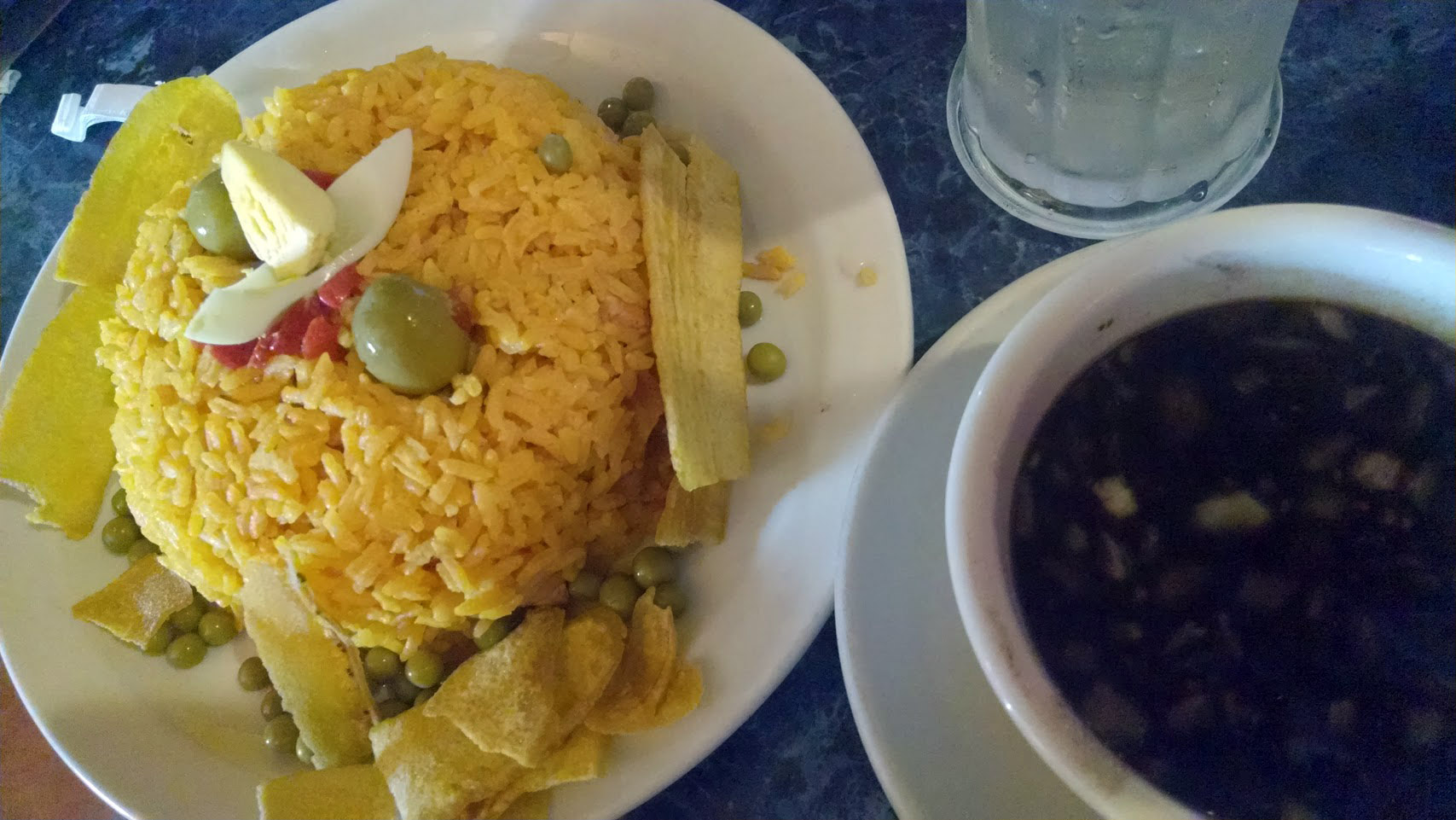 A couple of weeks back, I went to lunch with fellow RMIers Claire, Anish, and Chibuzo at Little Cuba up in Chamblee. This modest little restaurant resides in a strip center. I neglected to take a photo of the exterior, but you can check one out on Pig Out Spot's Little Cuba post for an idea. I also forgot my camera and had to take photos with my Moto X… what can I say, it was an off day – sorry!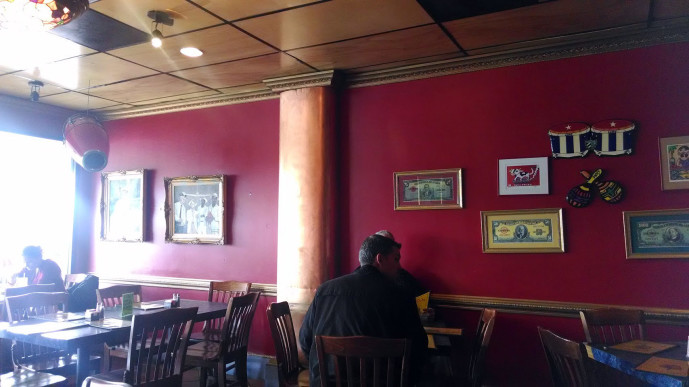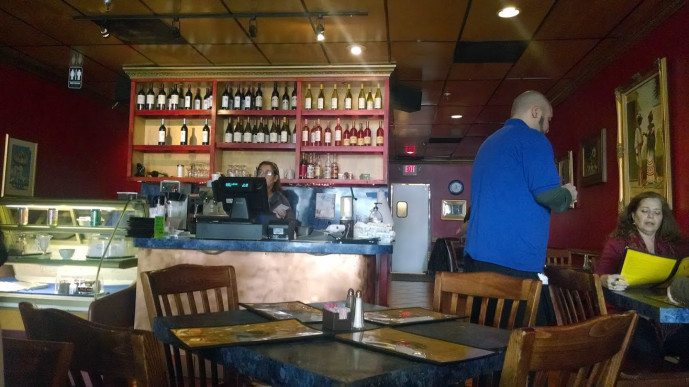 We got started with two apps: mariquitas (yuca fries) with a very garlicky sauce and maduros (fried plantains). These sides were small, but also cheap (about $2) and adequate for that price.
Claire ordered the cuban sandwich and a cuban coffee to-go. She says, "The Cuban sandwich was not my favorite I have had. I find it disappointing since the over feel of the restaurant and staff seemed very authentic. My coffee was good and not way too sweet like at Papi's. I also found the pork on my sandwich to be a little dry. Overall, I would give it a 2.5 for the service bringing down the score."
Chibuzo ordered the Bistek Palomilla, a "generous portion of marinated top sirloin sliced thin and and quickly grilled, accompanied by mojo crudo (chopped onions, parsley and lemon juice) served with black beans and white or yellow rice." It looked great from across the table. Here's what she had to say: "I thought the food was more tasty than other Cuban restaurants I've been to. I ordered thin steak seasoned with cilantro and some spices. It was a little tough and dry, but paired with the rice and beans, it was ok. Considering it's in the middle of a strip mall and the prices were very reasonable. I would give it 3 out of 5 stars."
Anish and I split the lechon asado and the arroz con pollo, to try two meats. Anish's opinion: "I found Little Cuba to be okay. Not horrible but nothing to write home about. The apps were standard fare and the garlic sauce served with the mariquitas was definitely a bit too pungent for my taste. The chicken in the arroz con pollo was a little dry but the rice and black beans were good. I found the lechon asado to be way too salty and it was thinly pounded out where I thought it would be a little thicker based on the description on the menu "our signature roast pork 'steak'". I can't see myself returning, I would rather hit up Papi's in Midtown if I was craving Cuban food. 3.0 stars."
I found the arroz con pollo to be entirely underwhelming, the rice wasn't any better than typical yellow rice on the side and the chicken was dry. Maybe if it had been more moist and the dish had had more peppers and green olives I would have enjoyed it better, but as it was I found it to be a bit bland and boring. Which is fine if it's your comfort food from childhood, right? It just isn't mine. I enjoyed the lechon asado much more, but I can be a bit of a salt fiend. The rice was fine, but I barely touched the beans. No flavor to speak of, other than what a few raw onions and leaves of cilantro tossed on top could impart.
I did enjoy my cuban coffee with my meal though, as I was feeling pretty jet-lagged at the time.
The service was inconsistent and slow. They had trouble with english, which is fine, but after I translated to spanish and we made our desire to order extra bread understood the order was lost, forgotten, or ignored – which was not fine. Our experience at Little Cuba really was ho-hum, with the service bringing it down even further. 2.5 stars.
Little Cuba
3350 Chamblee Tucker Road
Chamblee, GA 30341
emily
Nerd. Foodie. Gamer. Homecook. Perpetual planner. Gardener. Aspiring homesteader. Direct response graphic designer. I use too many damn commas.