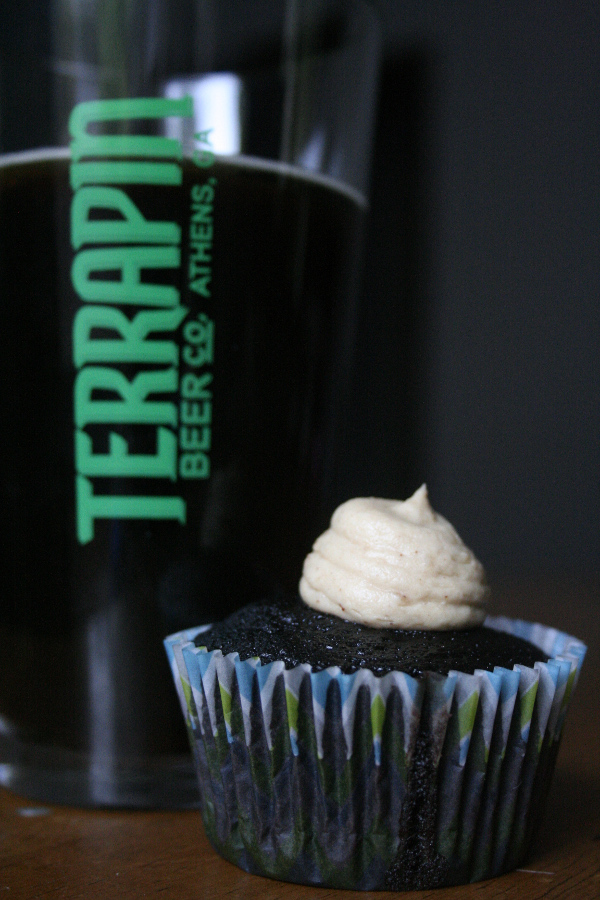 In early May I took a trip out Terrapin Brewery in Athens for a birthday party, and in the spirit of the birthday boy's festivities I decided to make a batch of boozy cupcakes with one of their sweetest beers: the Liquid Bliss Porter, a porter brewed with cocoa nibs and peanut butter essence. This beer smells just like a Reeces Peanut Butter cup, and tastes pretty close too (for a more professional opinion, check out Wayne's review from last fall!). I got some pretty strong responses from my taste-testers, so I'm very pleased with how they turned out.
Now, what I didn't mention before is that the birthday boy in question was only turning 1 year old. The fact that his birthday party was at Terrapin was more for the benefit of the parents than the children in attendance, but because the brewery has a nice grassy field out back, the chilluns were able to crawl about and enjoy their time, while the parents (and non-parents in attendance, such as myself) were able to sip on some beer and munch on snacks.
Because of the large age discrepancy in the partiers and their parents, there was some concern about separating my baked goods from the others – nobody wants a liquored-up toddler. I knew that conventional wisdom says "all alcohol gets baked out" of boozy baked goods, but because I was curious, I did a little research.
Interestingly, it turns out that the question of all alcohol burning off in baked goods is a completely wrong! For alcohol to completely bake out of anything it has to bake for a solid 3 hours (something you're never going to do to your cupcakes). I found the same chart repeated on almost all the websites I looked over regarding cooking method and length of time versus the percentage of alcohol that remained in the food – for the 30ish minutes I cooked these cupcakes, according to the chart about 35% of the alcohol contained remained! Certainly not enough to get even a little buzz off of a single serving, but still more than you'd probably want your child to eat!
Alcohol content aside, though, the cupcakes didn't taste like booze much at all, though it did taste like the beer itself, which was perfect! To cap off a chocolate-porter cake base, I added a blob of peanut butter ganache to each one. You remember ganache, right? It's the delicious combination of chocolate and heated cream that can be made into anything from frosting to rich chocolate truffles! For peanut butter ganache, I picked up some Reese's Peanut Butter chips instead. Success!
Now that I've found a nice base recipe for beer cupcake, I definitely see myself making more – there's so many great beers out there, it'd be tough to stop now! So come one, come all! Grab a pint…and then pour it into some batter!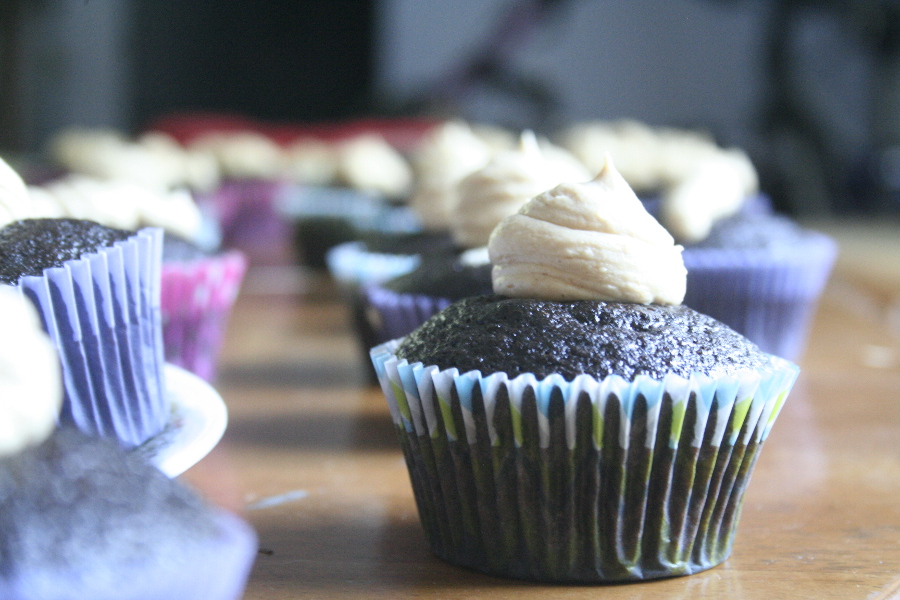 Ingredients:
Cupcakes:
2 cups sugar
2 1/2 cups all purpose flour
3/4 cup cocoa powder
1 1/2 tsp baking soda
3 eggs
1/2 cup vegetable oil
1/2 cup milk
3/4 cup plain greek yogurt
1 tsp vanilla
11-12 oz (1 bottle) Terrapin Liquid Bliss Porter
Ganache:
10oz Peanut butter chips
3/4 cup heavy whipping cream
Instructions:
Cupcakes:
Preheat the oven to 350F
Mix beer, milk, oil and vanilla in the bowl of your mixer until combined.
Add yogurt and eggs (one at a time) until combined.
In a medium-sized bowl, mix remaining dry ingredients with a whisk. Break up all clumps,
Turn the mixer on low and slowly add dry ingredients to the wet ones until fully combined.
Line a cupcake/muffin tin with liners (or grease the tin with butter or a spray) and fill each up 3/4 of the way.
Bake for 20-25 minutes, rotating halfway through.
Ganache:
Heat the cream in a small pan until steaming (not boiling)
In a medium-sized bowl, add all peanut butter chips, then pour the hot cream on top. Let sit for 5 minutes.
Once the chips have begun to melt, gently stir until fully melted.
Chill for 15-20 minutes.
With a mixer, whip the ganache until it's pipe-able.
Pipe in dollops, swirls, or however you like until you're happy! Word to the wise – it'll slowly get easier to pipe as it warms in your hands – consider letting it out for 10 minutes ahead of time to loose it up slightly.
CONSUME!
Mary Gezo
Formerly of both n00bcakes and !Blog, the two magically become one on Spatialdrift; expect some lazy baking and serious nerditude. Also, I love semicolons.