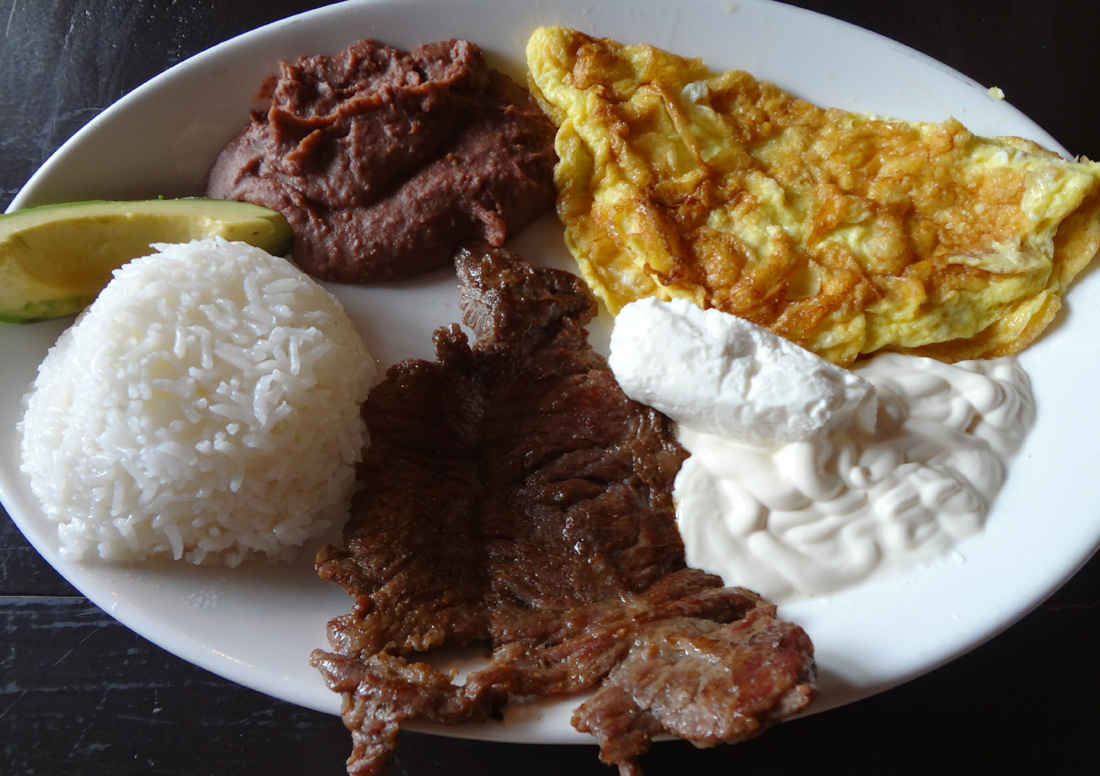 Las Palmeras is a honduran restaurant located a block off of Buford Highway on Shallowford Road, just north of Chamblee-Tucker Road. It opened in June of last year and is only one of four honduran restaurants in the metro Atlanta area that I am aware of (if there are more/great ones that I should know about, do let me know in the comments). Adam and I went to visit a couple of weeks ago.
The first thing we noticed was the music playing at an incredibly high volume. The main door is mostly in the center of the long side of the restaurant and the music, emanating from the far left side of the building, was already on the edge of painful from that central location. At first, our greeter/server looked like she would lead us to a table towards the left, but I think she caught the terror in our eyes at being that close to the painfully loud stacks, so took us to the farthest booth on the right, much to our relief. From that farthest point we still had to speak a little loudly, but we could also enjoy the romantic songs.
While we were looking over the menu, we were presented with chips covered in a red sauce and cheese. We expected that the red sauce might be hot, but it was not. An interesting and tasty dish, and a welcome alternative to chips and salsa.
From the menu we selected an agua fresca I'd never heard of before, nance ($3), the cena hondurena ($10.99), and the ejemplar hondureno ($8.99). We received the very obviously freshly made nance – a yellow cherry drink – right away, complete with a inch or more of chopped yellow cherries at the bottom. It managed to be both sour and sticky-sweet, but we were pleased that it tasted natural and not overly sweet or artificially sweetened. We sipped on this, ate every crumb from our free appetizer, and watched the steady stream of other patrons coming and going while we waited for our food.
When our food arrived all at once, we knew right away that it had been worth the wait.
The ejemplar hondureno is a honduran sampler plate that helped us cover all the various unfamiliar honduran items on the menu without ordering a ton of food. The pastelito put me in mind of an empanada, while the taco was surprisingly both hard-shelled and open-faced like a tostada. The little enchiladas were like taquitos. I think it's interesting that almost everything I had reminded me of something else that goes by a different name elsewhere. Clearly, I need to learn a bit more about honduran food and culture to understand the relationships of these items and cultures.
All of the sampler items were good, but the standout was the baleada – something that I don't have a neat comparison for. A thick soft flour tortilla is folded over beans, cheese and crema. Oh man, freaking fantastic. Adam and I both agree that we could go back just to eat a large platter of these tasty things.
The cena hondurena, a traditional honduran dinner, reminded us a little of the bandeja paisa of colombian fare, but the resemblance stops after the steak, rice, beans, and avocado. This honduran dish features firmly-cooked eggs (which I surprisingly liked, as eggs are one of the few things I am extremely picky about), and a big dollop each of mayo and crema, not to mention an entire side dish of yummy plantains.
Adam and I both thought the entire honduran dinner was delicious, and by the end we were both glad we had only split it and the appetizer platter, because we were both stuffed. The refried beans were very delicious and had a great, thick texture. I mixed mine in with the rice, because I found the rice to be a little plain.
Overall we had a great time dipping our toe into honduran cuisine, and we were impressed. The fare was hearty and delicious, and when compared with some other latin restaurants in the area, the prices are appropriate. The staff was very friendly, and made sure we knew what we were ordering. Really the only thing that knocks this place back from 4 stars for us was the deafening volume of the music that was a challenge to conversation – and this is a statement coming from two people who each play their music entirely too loud while commuting – if we think it's loud…
3.5 stars. Definitely worth a visit for those curious about honduran cuisine.
Las Palmeras
3384 Shallowford Road NE
Chamblee, GA 30341
emily
Nerd. Foodie. Gamer. Homecook. Perpetual planner. Gardener. Aspiring homesteader. Direct response graphic designer. I use too many damn commas.