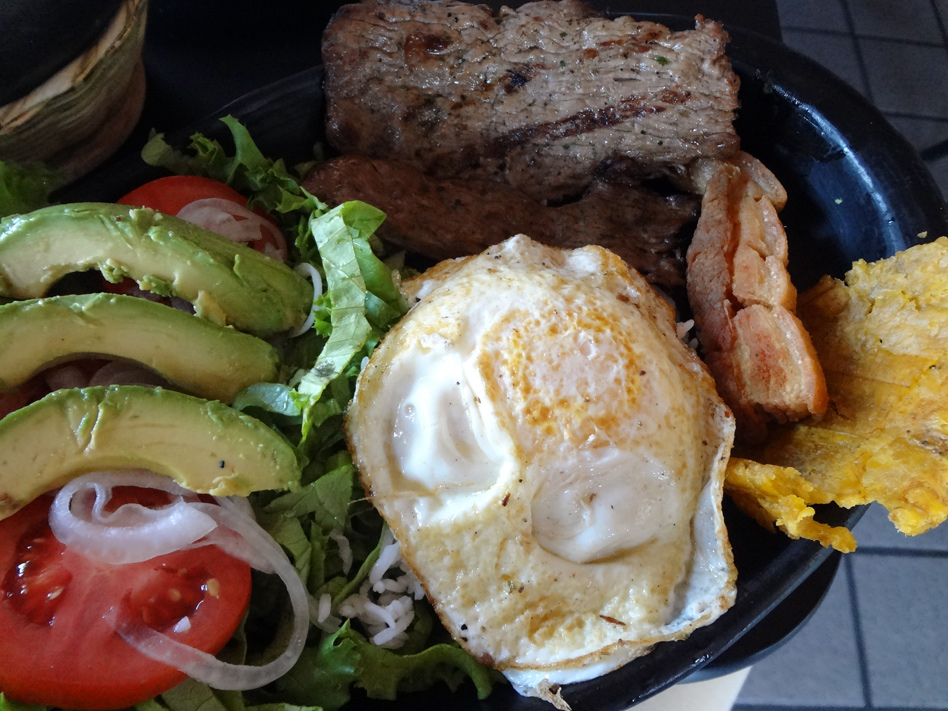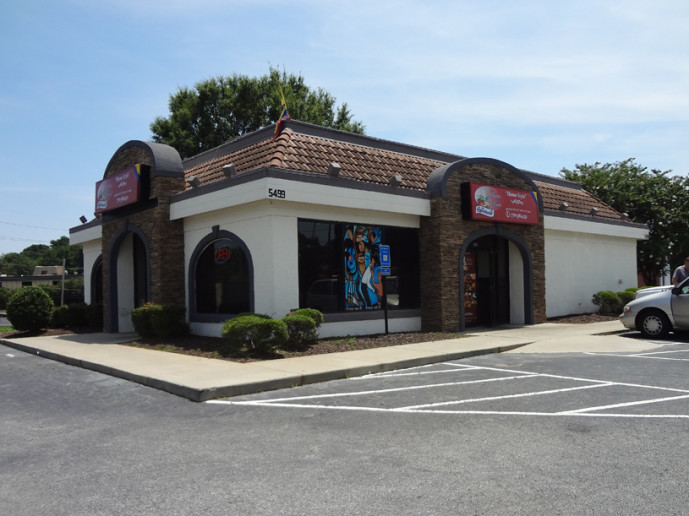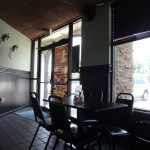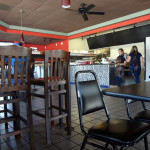 In old an Taco Bell building that recently housed a restaurant called Tostones that closed before we could try it, there is a new restaurant on Buford Highway. Las Delicias De La Abuela Restaurante just opened last week, and I dropped in to give a try with Adam and my parents. The space has been overhauled since the last time we were in this building (before Tostones). The only thing I am sad about in relation to the renovation is the signage, which is very lacking. It is very hard to read the name of the restaurant from the street, and the only thing you can really make out is "Home Style," which doesn't really give you a lot of information to go on. This really isn't a problem for diners, I just worry about the poor signage hurting the curb appeal for first-time customers.
Since we arrived a little early, we looked over the impressive menu and ordered two beef empanadas to keep our hungry stomachs at bay. Neither the signage, menu, or servers indicated a specific nationality for this establishment, but based on what I've seen around, I believe that colombian food is at least very well-represented at Las Delicias De La Abuela Restaurante, if not the sole nationality. There are two more colombian/latin restaurants bearing the same name in Florida, but I am not sure if there is a connection or not. When we go back next, I will ask. Note that La Casona is right across Buford Highway from Las Delicias De La Abuela, making for some very direct colombian food competition on Buford Highway!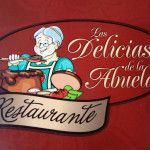 We thought the empanadas were good, and they certainly served their purpose, staving off hunger enough for us to more rationally approach the menu, rather than considering five or six things at once, haha!
After my parents arrived, we showed off the menu to them. There is a breakfast, lunch, and fast food page in english, with the page directly across being the same menu en español. Each pages had a variety of dishes, some familiar and some not. Adam and I spent some time Googling unfamiliar terms, like cazuela, mojarra, and patacones con hogao. The adventure continued to the back of the menu, which features a really intriguing array of desserts. At this point I was convinced we were going to order at least two, but wanted about four.
Adam and I settled on sharing the bean casserole with drowned plaintains, and the mini bandeja paisa. The bandeja paisa is a dish I have had before, at Casa Vieja and La Casona, so we thought it would be a good choice for comparisons' sake.
As huge and filling as our previous two mini bandeja paisas were, this one is even larger, coming with a large bowl of soup in addition to everything else. In looking back at the others, I can say I prefer the composition of this one – more fresh things were included on the plate. Instead of rice and beans, there was just rice, as the soup was very bean-y. I was totally fine with all of this! It is a huge amount of food, and the steak itself was quite good. I only remember being more impressed with the steak itself at Casa Vieja, but I'll need to do a head-to-head taste test some day to be sure.
The bean casserole was impressive, since it came topped with steak and a fried egg, which we didn't anticipate. The bean and rice casserole itself was just chock full of meat (not counting the steak on top) – at least two distinct types that I could discern, and I'd guess that they were pork belly and chorizo.
Both of these dishes were quintessential comfort food – hearty, dense, starchy gut-bombs – though other than being slightly uncomfortably full, I didn't feel any ill effects, and neither did Adam.
My parents tried to order costipapas (fried ribs and potatoes) and a cuban sandwich. Unfortunately, we have may visited the restaurant just a teeny bit too close to opening, since the full menu isn't available yet. But that's okay, after a little consideration, they switched to salchipapas (hot dogs and potatoes) and a beef arepa, both of which were available. Both of my parents kindly shared their thoughts with us, and here they are:
My fantastic Dad: "While I enjoyed much of what we ate at Home Style, the menu was not much help to a first-time diner. Our initial order was for a 12" Cuban sandwich and costipapas (a rib and potatoes dish). The waitress was very amiable but could not offer much assistance with the menu and went to the kitchen to find out what items on the menu were or were not available. On her return, we were advised that neither item was available yet. Instead we ordered empanadas, salchipapas and a beef arepa.

On the English side of the menu salchipapas was described as french fries, sausage and yellow potatoes. I realize that fries are also made from potatoes, but was disappointed to receive only small round yellow potatoes and bits of hotdog, the mention of fries in addition to the potatoes is apparently a typo, or else they were also out of fries.

The food tasted okay and I enjoyed the sauces that accompanied it. It just was not what I expected. The empanadas were good and while not our first choice the arepa was also very tasty. For now I would give them 2.75 stars, and recommend that they review and edit the English side of the menu for first-timers like myself. That said, I am planning to revisit "Home Style" after they get settled to try a Cuban sandwich and some Costipapas."
My lovely Mom: "While one could cut them some slack for being a newly opened restaurant, one could also raise one's eyebrows at the apparent inability to provide what is listed on the menu. Perhaps they could have had a temporary/interim menu until they get up a full head of steam in the kitchen.

I wasn't paying attention too much after hearing that my first two choices were not available. It put me in a bad mood and I decided I would just eat whatever my husband ordered whether I liked it or not, since I struck out with my choices. However I have to admit I enjoyed it all, to varying degrees.

The empanada appetizer was tasty. Dad and I split our entrees and I thoroughly enjoyed my tasty beef arepa. We were under the impression that Dad's entree was sausage and fries, but he wound up with baby potatoes and something resembling more of a hot dog than a sausage, sliced. It was not what we were expecting but it wasn't bad. I enjoyed my arepa much better!

I really have no measure of comparison since I have not had any of the dishes before. Based on my low expectations after not getting what I wanted, I was pleasantly surprised by the whole meal. I tried Emily's bandeja paisa, it was also very tasty! I would have to rate the place at 3 stars overall, because of the technical difficulties, but the food was a solid 4 stars.
Sadly, I was WAY too full to try any of the desserts that were calling my name, but I am 100% positive I'll be back to try the mazamorra, since I haven't had it anywhere but Machu Picchu, and I really enjoyed it there. There was also an intriguing selection of flans, and tres leches and cuatro leches cakes. I am bummed, but I know I'll be back someday to try them all!
Overall, we really enjoyed Las Delicias De La Abuela Restaurante. I don't know whose grandma this is, but you go girl. I do really wonder if this is related to the restaurants of the same name in Florida, because the tableware and presentation were pretty together for a brand-new restaurant. Either way, kudos to them.
All four of us really enjoyed our meal, and aside from a few very minor issues with getting water and cutlery which I am 100% willing to chalk up to being brand-new, everything went off without a hitch. We wish them luck, not just because we want to see a tenant able to stay in this location, but also because we think Las Delicias De La Abuela Restaurante deserves it. For a first look, we're giving them an emphatic 3.5 stars, and we hope/expect this number to rise as this new abuela on the block hits her stride.
Las Delicias De La Abuela Restaurante
5499 Buford Highway NE
Doraville, GA 30340
emily
Nerd. Foodie. Gamer. Homecook. Perpetual planner. Gardener. Aspiring homesteader. Direct response graphic designer. I use too many damn commas.