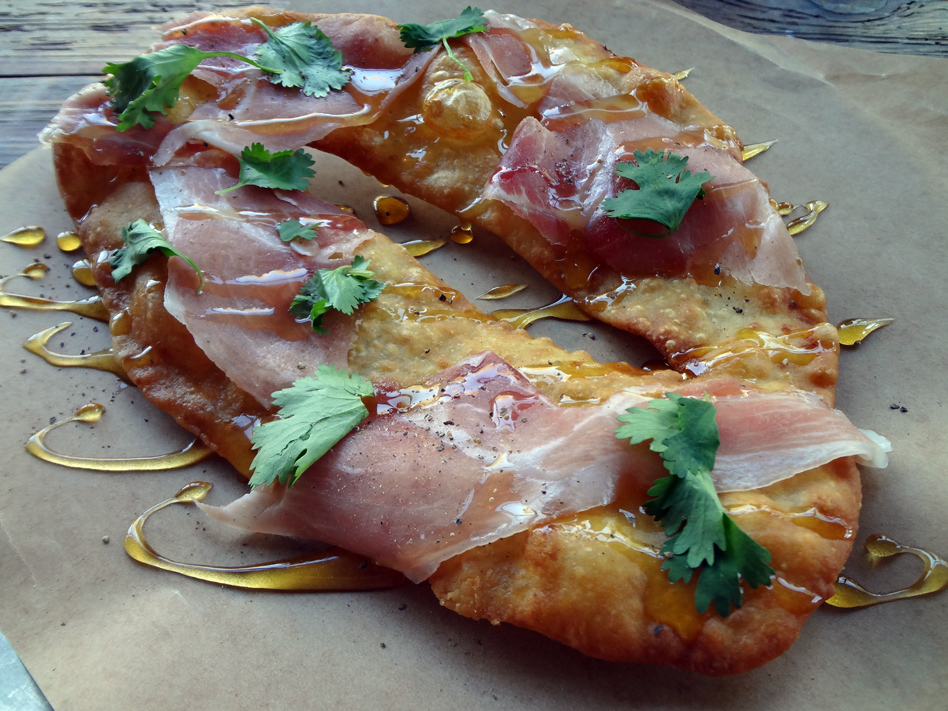 I've been wanting to go to Ladybird Grove & Mess Hall ever since it opened towards the end of last summer. The woodsy, campfire, vintage great outdoors vibe and quirky menu had me by the heartstrings from the very start. Plus, this particular weekend we had a planned camping trip get rained out, so this atmosphere seemed like a nice consolation prize.
Originally, I had planned to have a brisk bike ride along Beltline to get to the restaurant (while Adam would run, because that's his thing) but the website looks so nice that when we saw it, Adam rightfully questioned if we would look like crazy, sweaty slobs in our workout wear. The answer, by the way, is that we totally would have, though I really didn't believe it at the time. It's a total hipster scene.
Thankfully, we dressed a bit nicer than we would have for a nice sweaty run or bicycle ride and had a very lovely walk down the Beltline instead. Also, the Beltline was incredibly crowded with people and their pets, so I would probably had a pretty unpleasant bike ride.
This was my first time on the Beltline, and I had a great time on our walk. I was totally on-board for some brews and grub at Ladybird Grove.
The place consists of an uncovered deck area, a kind of screened in summer camp type room with long tables, an L-shaped bar area, and a totally interior area with regular tables. There's a fun mix of decor and a shuffleboard. At least, this is what I assume, because the joint was hopping! I'm quite sure that we were well past the fire code limit.
Because it was so crowded, it was incredibly loud. Adam and I practically had to shout at each other the entire time, but after a couple of brews, it was tolerable. We had Creature Comforts' Tropicália, Founders; Centennial IPA, Schlitz, and a Coors Banquet. The Coors banquet was kind of a pleasant surprise, honestly.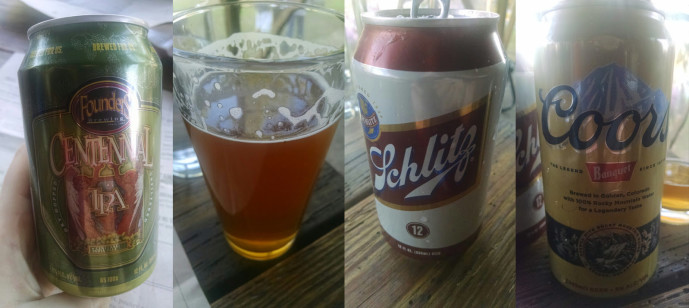 I knew from point one that we were going to be ordering the navajo fry bread. Firstly, I am not aware that I currently have any ready access to explore native cuisine, be it accurate or not. Secondly, it just sounded like a crazy interesting combination of fry bread, country ham, honey, and cilantro.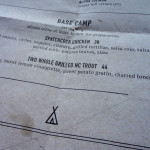 And crazy interesting it was! The navajo fry bread was a little sweet, a little spicy. A little carby, a little meaty. It didn't blow me away with some sort of transcendental foodie bliss, but I don't regret it one bit. It's one of the more interesting and unique things I've had at a mainstream restaurant in a long while.
Speaking of which, something else that is interesting and unique are the large entrees at Ladybird Grove & Mess Hall. The spatchcocked chicken and the North Carolina trout both sound very delicious and I can't wait to rope a several other people into a revisit with us so we can try them.
For entrees, we decided to split a double-stack burger and the grilled boudin blanc, as well as a vegetable side, the hot mushroom skillet.
The double-stack burger was effing delicious, y'all. I believe I have mentioned before that I am not incredibly into hamburgers, but this was a delight. It was very moist and saucy, cooked to the correct temperature, and outright delicious. There were no condiments offered, and none were required.
The grilled boudin blanc was also delightful in a totally different way. It came in one of the hot skillets that Ladybird Grove is known for, and this kept the food very hot. The flavors of the kale, sweet potato, and boudin meshed very well, tied together by the sauce. We both really enjoyed it.
The hot mushroom skillet also came out in a hot skillet. By this time, I was really starting to slow down because these dishes are very filling., but it was still really yummy. The bread was a bit too crispy for my liking, but I am a little picky in that regard. Adam and I were both happy to see that a variety of mushrooms were included. The soft-cooked egg on top went really well. Yum!
Since we were really full by now, we ordered a housemade moon pie to go, and enjoyed the atmosphere a bit before walking back up the Beltline and across Piedmont Park.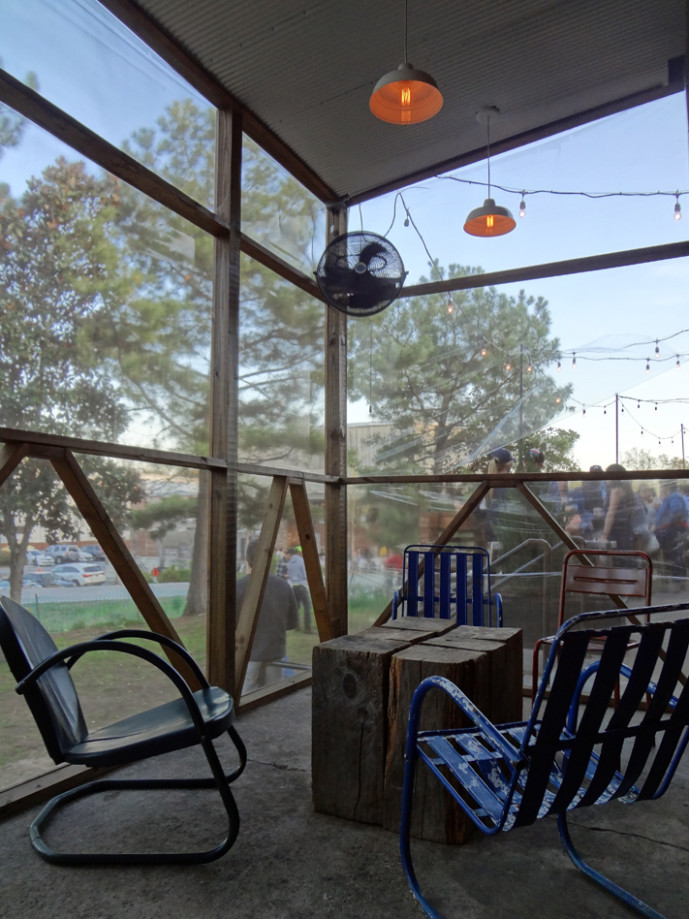 Yelp and Scoutmob reviews on Ladybird Grove are divided, and we could see why if the place is always that slammed. I can totally understand. It was loud and people were everywhere, and of course the servers get bogged down in all that. It's good and it's so good, that the mobs of people cause the atmosphere to suffer and that could be a real shock if you are expecting a quiet date night. It was crazy loud, but we were able to get over it, enjoy the great food and have a great time.
When we did get around to having the moon pie, it was tasty, but neither of us are really moon pie people. Now, this was by far the best moon pie either of us have ever had, but I just find them in general to be crumbly, dry and a little bland. I look forward to trying some of their other desserts… and sides… and giant 4-person entrees.
Expect loud herds of hipsters and terrified teacup chihuahuas, but this is absolutely worth a trip. I'm glad I finally made it and can't wait to go back. 4 stars.
Ladybird Grove & Mess Hall
684 John Wesley Dobbs Avenue NE
Atlanta, GA 30312
emily
Nerd. Foodie. Gamer. Homecook. Perpetual planner. Gardener. Aspiring homesteader. Direct response graphic designer. I use too many damn commas.