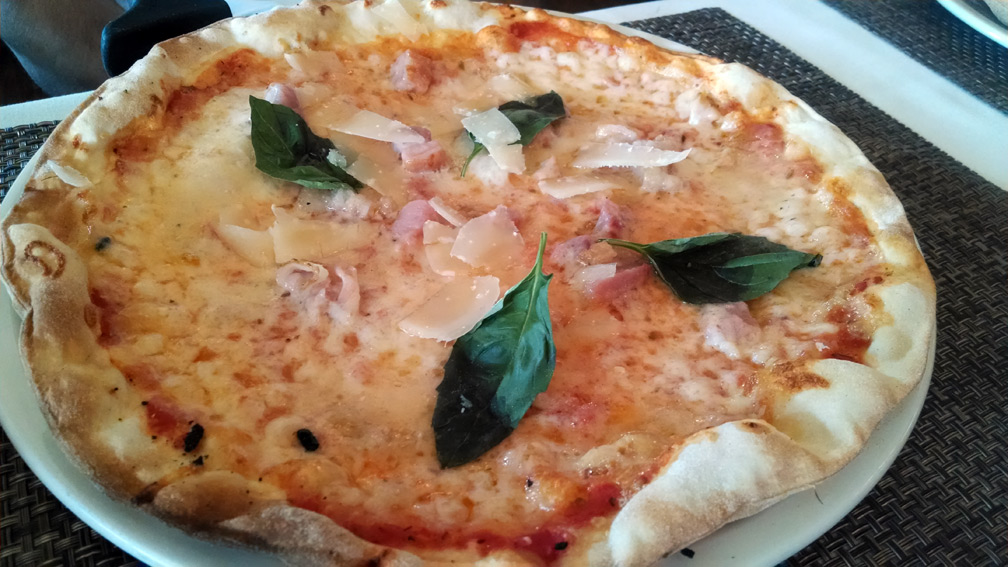 Caveat: This is a lunch review.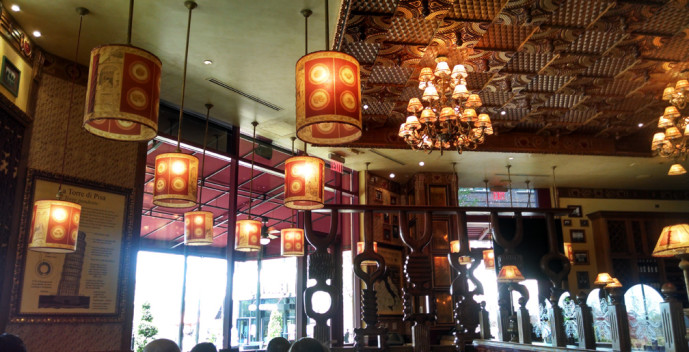 We were looking for a lunch spot in the Emory Point area and came across La Tagliatella. My initial vote would have been General Muir but most us had already been there and wanted to try something new. The next spot that sparked my interest was Ink & Elm but they unfortunately were not open for lunch. I wouldn't say we necessarily settled for La Tagliatella but it definitely wasn't the top option in the area, especially after hearing that the Midtown location recently closed.
Nonetheless, we arrived as a party of 8 at 12 o'clock. There was only one other group there at the time and it definitely presented an eerie vibe considering how empty it was. As you can imagine, we were seated fairly quickly and were brought bread shortly thereafter. Should you visit, I would advise you to go ahead and order a second basket as soon as the first one arrives. Being hungry and having some olive oil/black pepper on hand resulted in the bread disappearing in less than 90 seconds. They were warm and still a bit doughy which made them great to soak in olive oil; a great start to the meal.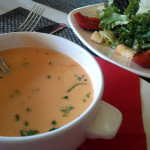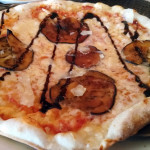 The lunch menu offers plenty of variety to please everyone with apps, salads, pizzas, pastas, and sandwiches all included. The pasta is laid out for you to pick the type of the pasta you want along with the sauce and the ability to add meat your choice of meat as well (chicken, shrimp, salmon). Although the options are limited here, I usually don't prefer to create my own meal when I go out to eat.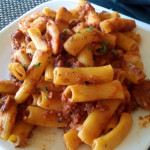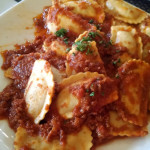 For one, I don't trust myself to pick the best match and two, the quality and effort often lacks in the preparation of dishes. This is one of the reasons I am not a huge fan of Mongolian grill style places because I often go overboard with combining weird things and sauces which leads to an average dish in the end and I still somehow end up eating 4x my normal serving size. In this same vein, one of my coworkers ordered the gorzongla and pear pasta with a heavy red sauce which made for an unpleasant combination. In this case, I feel like the waiter should have recommended a different pairing, but in their defense, they did credit the dish once it was deemed inedible.
As we usually do, Emily and I decided to split two dishes. We went with the pappardelle pasta with a garlic shrimp and pepperoncini olive oil based sauce for the pasta and parmigiano pizza (tomato, mozzarella, bacon, Taleggio cheese topped with shaved Parmigiano-Reggiano and basil). Our pasta was far from anything memorable, the quantity of shrimp was a plus, but we had to pay extra to achieve it. The pasta felt a little dry, even with the olive oil based sauce on top. Emily here. I somehow managed to not take a pic of our shrimp pappardelle – d'oh! – but you can see it at Indian Food Freak, from their review of the Delhi location.
The parmigiano pizza was rather pleasant, however. It was served on an ultra thin crust that had a nice crunch to it. Although the toppings weren't anything memorable, that crust definitely deserves its praise. It was really more of a flat-bread than a pizza so don't expect to be supremely full if just ordering that.
The prices on both were fair, around the $9 mark and value-wise, their happy hour that serves $5 pizzas is actually a really good deal. Still, my rule of thumb when visiting lunch spots is usually, does it warrant coming back for dinner? No. I would venture to say the majority of the group we went with would concur.
As much as I enjoyed the bread and crust on the pizza, the pasta and pizza toppings were just meh in the end and the atmosphere doesn't really offer much outside of the location of the restaurant. If you are in the Emory Point area and need a spot to eat for lunch or dinner, hit up General Muir.
Food: 3.0
Vibe: 3.0
La Tagliatella
1540 Avenue Pl
Atlanta, GA 30329
anish
I am a 20-something white-collar worker that enjoys the great food options Atlanta has to offer. I enjoy sharing my dining experiences and opinions to anyone who will listen. I hate being the guy next to your table taking cell phone pics but understand its place as a necessary evil in the food blogging world. I love to research places beforehand (some would say to a fault). The theory is if I am going to spend time and money eating out, it is worth the 10 or so minutes to vet it out beforehand. I have a laundry list of dining places I still want to go to but for every one I check off, four probably get added. For me though, that is probably the biggest perk of living in a big city.