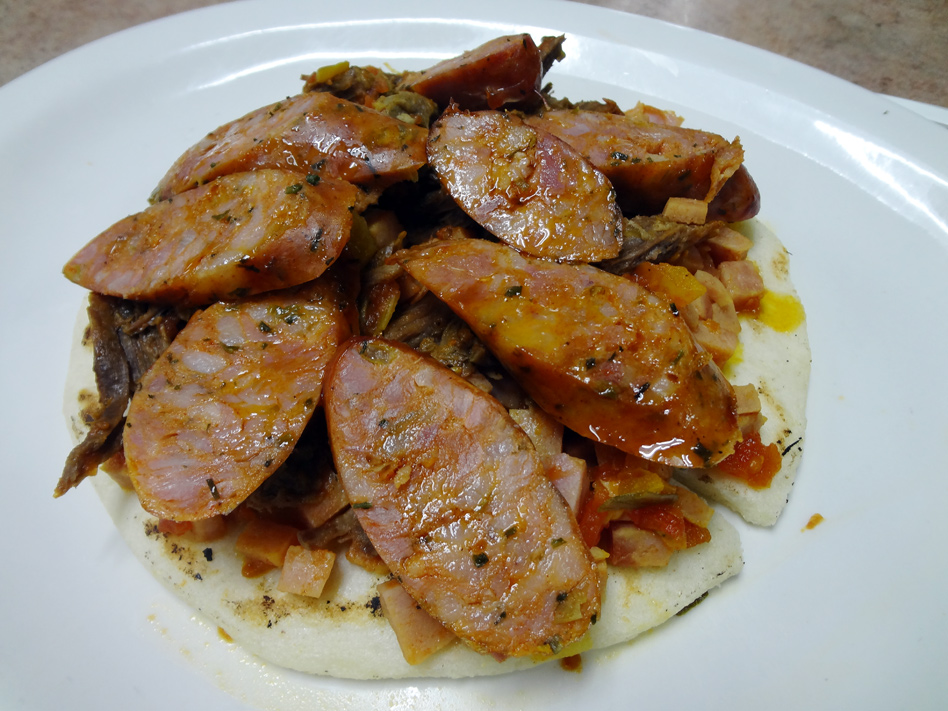 Guess what, readers?! It's our last post before I-285 (Tostone's seems to be closed…?)! This is a major milestone for us – and one we haven't thought much past. If you have any opinions as to how far north you think we should go on Buford Highway, feel free to comment below. Thanks for sharing the journey with us!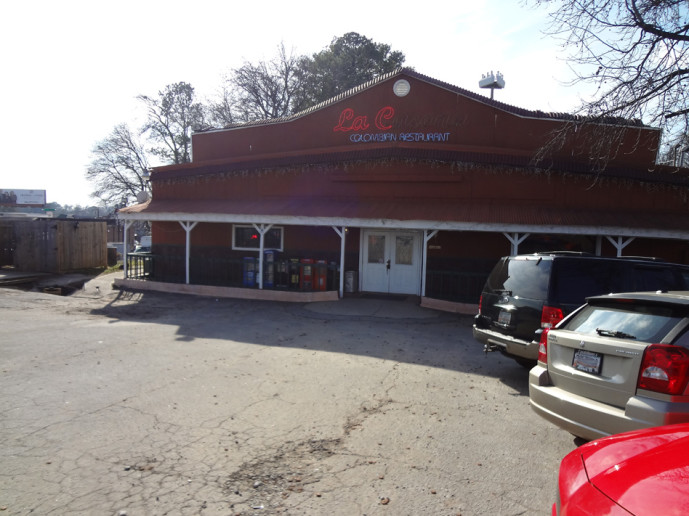 After navigating the somewhat neglected and bumpy Stewart Road up the hill to where La Casona looks out towards I-285, and navigating the equally neglected and bumpy parking lot, Adam and I headed inside to check out La Casona.
We were quickly greeted and seated, and a young lady was our waitress. She was very friendly and sweet, but still we still couldn't but wonder if she was our waitress because she she spoke english so perfectly! Still, this was no loss to us.
There are some architectural elements in the decor, much like what we saw at Casa Vieja, and our table had a little miniature casona (a mansion, or large house… based on what I've seen online, more on the scale of a large plantation house or a manor). It was a pretty darling little piece of artwork. We were told that these are hard to import these days due to their being dismantled at customs, under suspicion of having drugs hidden under the roof tiles or elsewhere.
To start our meal, we ordered a pair of empanadas. They were starchily delicious. They weren't as similiar to the ones from Casa Vieja as expected, so I wonder if they are different due to regional differences or personal preference. By the way, I apologize that there are so many comparisons between La Casona and Cas Vieja, but these two restaurants represent both the breadth and the depth of my colombian cuisine experience. So, comparing these two is pretty much all I can do at the moment!
Speaking of Casa Vieja, I ordered a mini bandeja paisa here as well so as to best compare the two restaurants. I found it to be delicious, but I seem to remember Casa Vieja's more fondly. Perhaps I just liked the meat better. As with Casa Vieja, I was very relieved that I had ordered the "mini" version of the meal, which was gigantic. One day I'll have to order the full size – and I'm sure I'll have leftovers for days!
I split this plate with Adam and shared his arepa as well.
Adam ordered a build-it-yourself arepa and selected carnitas, ham, and chorizo. It was an interesting dish. This is a completely different arepa than the (venezuelan) arepas I sampled at Arepa Mia, which were more like little pockets full of deliciousness. Perhaps we were supposed to eat this like an open-face taco, but I rather think not since the base was stiff and needed to be cut through. It was good, but not entirely pleasing. This is partially due to the meat we chose; the ham was like big box pizza ham. It was also just kind of dry. Everything was had was a little dry compared to other cuisines we are accustomed too, but only in the arepa did we find it to detract from our dining experience.
Adam felt the food was a bit bland, and I tend to agree, compared to my experience at Casa Vieja. But the food was hearty and had an authentic, comfort food kind of feel. I'd love to see how it compares to what is eaten on a daily basis in Colombia.
I think I enjoyed Casa Vieja a bit more, but the slammed parking lot should indicate to you that this La Casona is really doing something right! The place was packed with happy families (which is why I didn't take an interior shots). Good food, good prices, friendly service. 3 stars for La Casona.
La Casona
3820 Stewart Road (overlooking BuHi)
Doraville, GA 30340
emily
Nerd. Foodie. Gamer. Homecook. Perpetual planner. Gardener. Aspiring homesteader. Direct response graphic designer. I use too many damn commas.