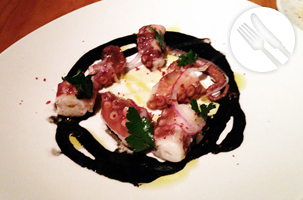 I ate at the KR SteakBar with a colleague recently. The SteakBar has only been open since February, and it was appealing to try another Kevin Rathbun restaurant. We tried a variety of dishes (this being a small plate place), steered clear of alcohol, and still managed a $160 bill. Here's what we had:
The octopus was a daring dish, but ultimately it didn't make it – other places like The Optimist do octopus better.
The pasta dish wasn't bad, but was not memorable (foreshadowing my overall feelings about KR SteakBar).
The coiled lamb sausage did not look very appetizing, but it did taste good.
The hanger steak (not pictured) was the best. The salsa verde on the short ribs was not very flavorful, and while the short ribs were good, they were not as good as the hangar steak.
We also had a mozzarella dish, and two daily special items, including fresh oysters from Virginia. The oysters were not good enough or fresh enough to stand alone, and there was nothing else added to the dish to make it seem worthwhile (at $12 for 3 oysters). The mozzarella was fresh and enjoyable, but not remarkable.
Compared to the other Kevin Rathbun restaurants, KR SteakBar comes in third, behind Rathbun's and Kevin Rathbun's Steak (The Krog Bar is in a different category). It's obvious that he does steak well, and these dishes were certainly the strongest of the ones I tried.
The decor and atmosphere were very nice, in-keeping with the new Atlanta dining scene, with wood-heavy interior design and open layouts.
The food was above average in quality, but ultimately still not worth the prices – average expense for this class of restaurant, but not backed up by equally high-class food.
Ratings:
Food – 3 stars
Vibe – 4 stars
KR SteakBar
349 Peachtree Hills Avenue
Atlanta, Georgia 30305
anish
I am a 20-something white-collar worker that enjoys the great food options Atlanta has to offer. I enjoy sharing my dining experiences and opinions to anyone who will listen. I hate being the guy next to your table taking cell phone pics but understand its place as a necessary evil in the food blogging world. I love to research places beforehand (some would say to a fault). The theory is if I am going to spend time and money eating out, it is worth the 10 or so minutes to vet it out beforehand. I have a laundry list of dining places I still want to go to but for every one I check off, four probably get added. For me though, that is probably the biggest perk of living in a big city.