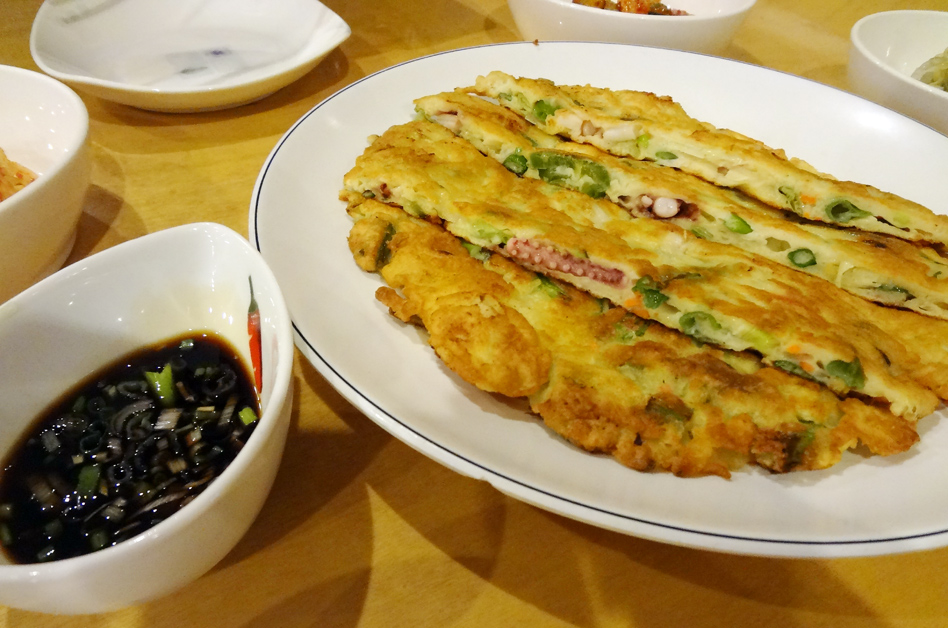 Korea Garden is closed, but both the shirt and the dress live on…
Last week Adam and I dropped by Korea Garden, the next eatery on our trek up Buford Highway. Things have been hectic and stressful lately, so it was nice to get out together and try to relax. Since we happened to be wearing some of our nicer work clothes, it felt a little special, like a date.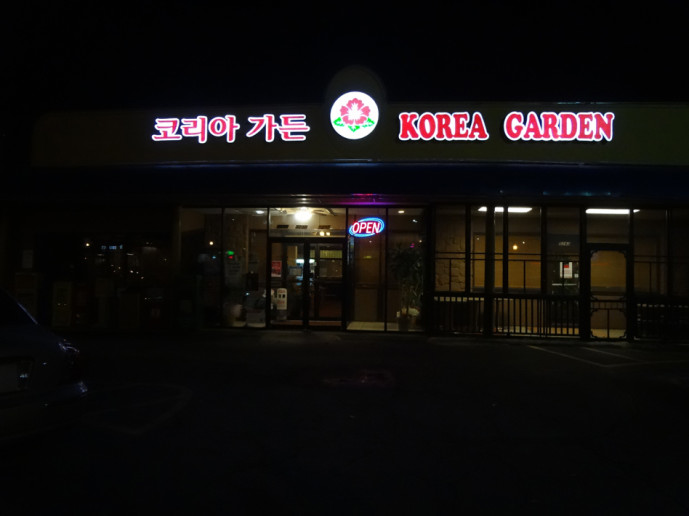 That special feeling continued when we got inside and were sat at a private booth. Often, when a restaurant is not busy, they will try to lump everyone in the same area so the clean up is easier. I thought it was considerate that we were seated off in a more secluded area.
Though there is what look like a large wood bar, there did not seem to be any alcohol available. In lieu of a drink, we started off by ordering the seafood pancake – haemul pajeon – for an appetizer (all the better to compare it to Han il Kwan's version when we get there). It came out with a decent selection of banchan. We were pretty darn hungry, but some of the banchan certainly seemed pretty darn tasty!
The haemul pajeon was pretty good, but a tiny bit soggy in the middle. It didn't knock Han il Kwan's off the pedestal it holds in my mind, but we'll double-check when we officially get there for this food exploration project.
The kimchi soup came out boiling – really boiling. It was that rolling boil where the bubbling liquid is throwing off tiny flecks of fluid… tiny orange flecks of fluid all over the white part of my brand new dress. I used a Tide stick as soon as I could after the meal, but that and a trip through the washer hasn't daunted the kimchi juice. If anyone has any suggestions, I'd love to hear them. Lesson learned: scoot back from bowls of boiling soup until you can gauge how enthusiastically it is boiling!
Just to complete the scene, Adam also managed to get kimchi soup on the sleeve of his dress shirt. Hooray for hapless white folks (백인, as the internet tells me).
The worst thing of it all is that we quickly discovered the kimchi soup wasn't really to either of our tastes. We both like kimchi a lot, but both discovered we like it as banchan and not as an entire course.
The spicy octopus dish did cheer us up some, though. It has a great hearty, spicy sauce. The presentation and style reminded us of the pulpo especial at Mariscos el Veneno, though clearly in a very different spice profile. Very enjoyable!
Unfortunately, I don't recall the name of the dish, but there was only one spicy octopus dish under the traditional section of the menu, so you should be able to locate it if you want to give it a try – and I recommend that you do! (It may be called nakji bokkeum.)
Overall, we enjoyed Korea Garden. The atmosphere and service were both quiet and unobstrusive. Though the kimchi soup wasn't our thing, the banchan and octopus dish demonstrate that it's likely a matter of preference and not quality. We're looking forward to exploring more of the menu – provided I can tear myself away from that octopus long enough to do so! 3.5 stars.
Korea Garden
5295 Buford Highway NE
Doraville, GA 30340
emily
Nerd. Foodie. Gamer. Homecook. Perpetual planner. Gardener. Aspiring homesteader. Direct response graphic designer. I use too many damn commas.