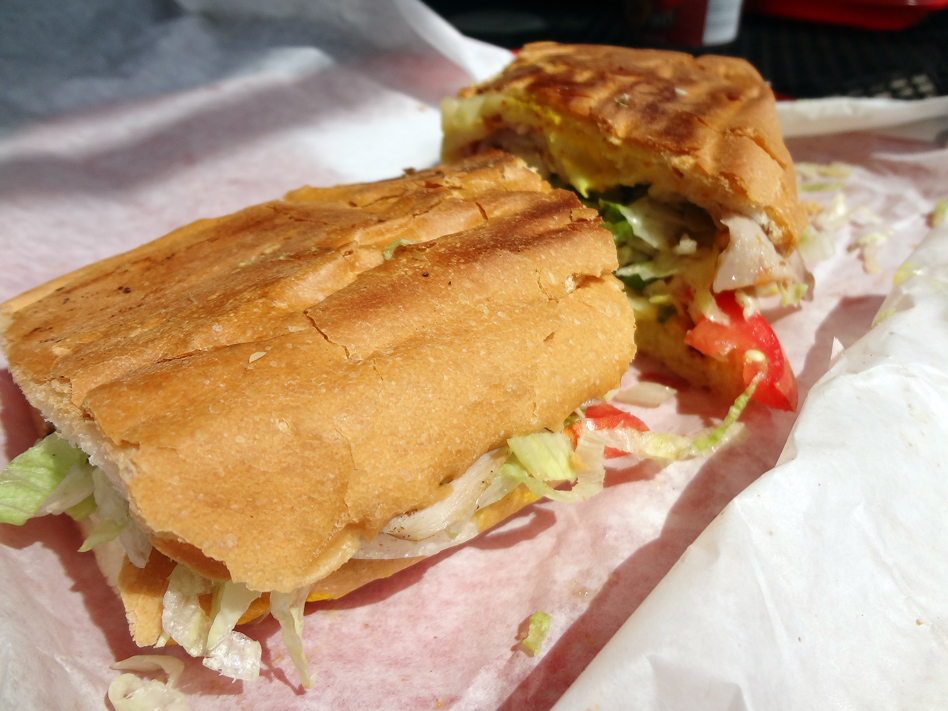 Here's another slice of the storied history of Atlanta's most beloved cuban restaurants. The first one, about Havana Sandwich Shop and its successors Havana and Havana Grill is here.

nce upon a time (AKA 1985), a couple named Ildefonso and Lucia Ramirez opened a cuban sandwich shop on 14th Street in Midtown Atlanta called Kool Korner. It made good food and consequently became well-known and was especially beloved by the nearby Georgia Tech community. It even landed on Garden & Gun's "100 Southern Foods You Must Absolutely, Positively Try Before You Die" list. However, the halcyon days came to an end in 2008 when Kool Korner's landlord sold the building. By then, Lucia had passed away and Ildefonso moved to Birmingham to be near his family in his retirement. However retirement didn't suit him, so in 2009 he re-opened Kool Korner in Vestavia Hills.

In 2010, back in Midtown Aldo Ramirez (no relation to Ildefonso Ramirez) opened Crazy Cuban on 14th street, just a little ways down from the old Kool Korner building. I have heard conflicting rumors about the opening of another cuban joint so close in proximity (and time) to the infamous Kool Korner. It was accepted by the community as the spiritual successor to the great, late Kool Korner and seems to be regarded with only slightly less fervor than the old joint was.

Overwhelmingly, I have read and heard that Aldo Ramirez knew exactly what he was doing and very smartly purposefully set himself up as the spiritual successor to Ildefonso to fill the whole left in the Atlanta food scene by his departure. I have also heard that he had no idea what was going on and was totally clueless about the situation, but happy to receive the good will and business of those missing Kool Korner. I believe the former is true, and it is what the Crazy Cuban website seems to confirm. (The latter would represent poor business acumen, wouldn't it?) At any rate, it's been long enough that it hardly matters anymore. Crazy Cuban would be Kool Korner's spiritual successor by default, whether planned or not, due to the location and the timing.

It so happens that Kool Korner's original location was in the same building as my grandfather's long-time barber and the residence of a friend of my father's, so while I was in the building a number of times in my early youth, I never actually ate there. My Dad ate there a lot though – he would call his friend who lived there as he left work and the friend would get in line for them. The lunchtime lines usually went out the door and around the corner, so by the time Dad would get there, he and his friend would only be 10 or so people back in line. The space itself only sat a half a dozen people at most, though, so this was always a grab-n-go affair. The kitchen was super speedy and operated like a well-oiled machine – the lines were long due to the sheer volume of people, not any inefficiencies behind the counter.

By the time I was "grown up" and blogging about food, Ildefonso Ramirez was already set back up in Birmingham. At the time of the closing, subsequent re-opening and the arrival of Crazy Cuban, I was only dimly aware of these momentous events in the Atlanta food scene. Adam and I kicked around the idea of visiting Kool Korner in its new location these last few years, without any real effort towards following through. However, this year around the time of our anniversary, we were looking for ideas for a day trip, and the idea resurfaced.




Between Atlanta and Birmingham on I-20 lies the Talladega National Forest, and I can tell you from experience that a not-too-long road trip with a kickin' playlist, followed by light brunch picnic and exploring some of the pretty National Forest is a great way to spend the day and work up an appetite before driving the final, shorter leg to Kool Korner for an early dinner. I recommend it.
Kool Korner
Kool Korner is located on the end of a Publix-anchored shopping center in the Vestavia Hills area of Birmingham, and Adam and I quite enjoyed ourselves ogling the pretty homes in the vicinity on our way there.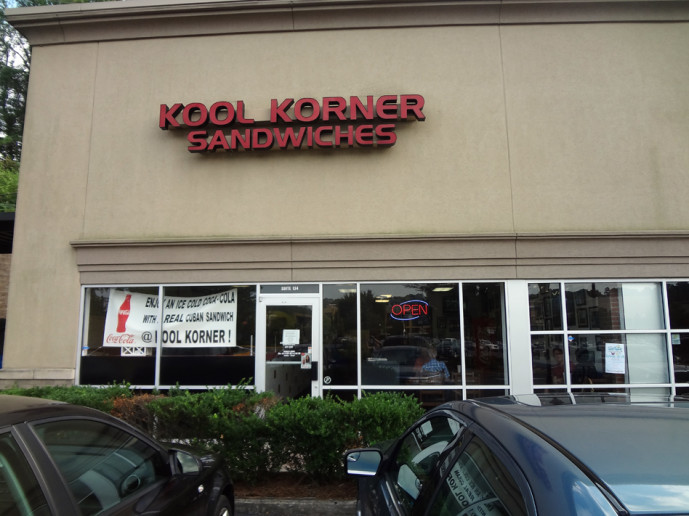 We arrived to a clean and mostly empty restaurant, walls littered with clippings, photos and awards for Kool Korners past and present. There was no line, so we promptly walked up and ordered a whole classic cuban with a Colimbiana kola flavored soda, and a lunch special half-sandwich and soup. For the special, I got a half classic cuban (I mean, we didn't drive all that way to get a roast beef, though I'm sure it's delightful) and Galician soup.

The cubans are classic, no fancy toppings, and firmly pressed. Unlike a lot of cubans you'll get around, these are not dry. There is some sort of sauce or source of moisture on both slices. The bread is wonderfully toasted, not too crispy, and firm enough to hold together. The quintessential cuban, regardless of location. Adam enjoyed his Colombiana soda, I enjoyed my Galician soup, and we split an order of the cuban-style bread pudding ($1.69). The bread pudding was delicious and super-moist, but not in a gross, soupy way. I am not overly into bread pudding as a general rule, but I definitely got a kick out of this one.

As a bonus for us, Ildefonso Ramirez himself was present. It was a treat to see him come out of the kitchen and chat with customers (he's 93 now). His other family members that we interacted with were very nice. I don't know how this new location impacts the clientele he still gets crazy lunch lines that wrap around the corner. We really didn't wait very long to get our food, but I'm sure the turnaround we experienced was not what it once was in Atlanta, based on what I have heard.

While I certainly wish Mr. Ildefonso Ramirez the very best, and understand why he moved his operations to Birmingham, I do so wish that Kool Korner was closer. It's definitely 4 stars.

Kool Korner
790 Montgomery Highway
Vestavia Hills, AL 35216
Pertinent links:
Cuban sandwich shop comes to Vestavia Hills City Center on AL.com
91 years young: Vestavia Hills' Kool Korner deli owner celebrates another big birthday on AL.com
Kool Korner Sandwiches, Birmingham AL on Marie, Let's Eat
Crazy Cuban
Of course, I can't go on and on about Kool Korner and Crazy Cuban and only review one. Due to his proximity Adam had been to Crazy Cuban a few times, but I had never been until recently when I made the time for a Friday long lunch and we went with some friends shortly after our pilgrimage to Kool Korner.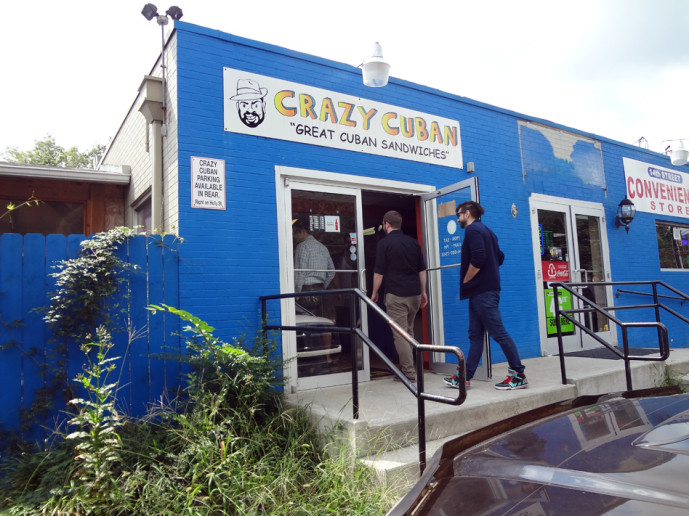 We waited in a relatively short line to order a nice spread to split between us: a full cuban sandwich with chips and drink, and a lunch combo: a half mojo pork sandwich with rice and beans. Then we waited to get our food before luckily snagging a picnic table to sit at out on the back porch.
Both sandwiches were tasty. The cuban here obviously comes with more things on it than the one at Kool Korner does, and I think that's okay because it seems that the quality of the meat is not quite as high as at Kool Korner, so it helps balance things out. Additionally, the sandwiches aren't pressed as firmly.
Overall the food is totally fine, and Adam thinks that they are probably the best in Atlanta that we know of (caveat: we haven't tried the cuban at Papi's yet). I do think they are better than Havana, which I thought was dry, but I have yet to try the cuban at either Papi's or Little Cuba, so I don't feel like I can say anything definitive just yet. A solid choice for quick sandwiches and a cuban cuisine fix, but not quite 4 stars territory. 3.5 stars.
If you have anything to add to the backstories I have tried to cobble together for the history of cuban cuisine in Atlanta, or any hot leads for great cuban sandwiches in Atlanta, please comment and let me know!
Crazy Cuban
290 14th Street
Atlanta, GA 30318
emily
Nerd. Foodie. Gamer. Homecook. Perpetual planner. Gardener. Aspiring homesteader. Direct response graphic designer. I use too many damn commas.