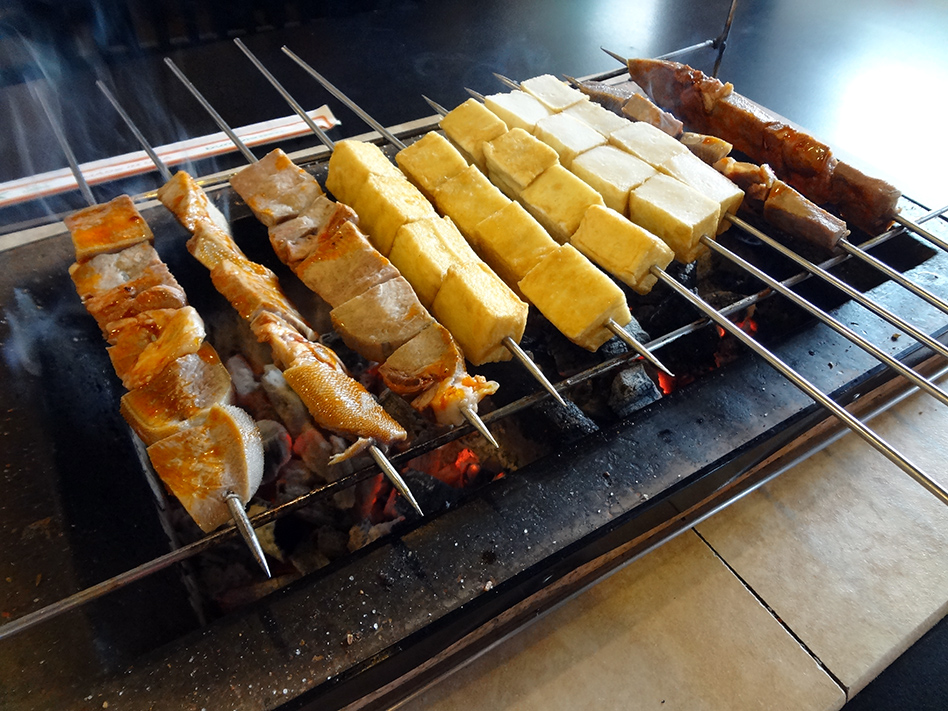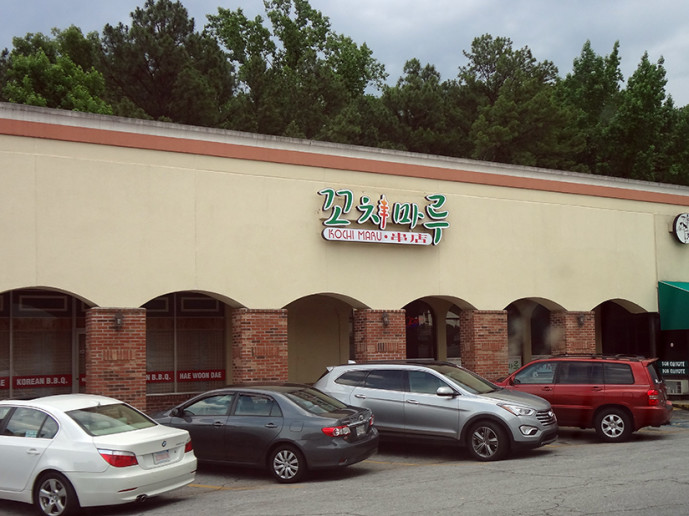 Tucked into a little, semi-hidden shopping center both behind and downhill from a couple of strip clubs, there is a small cluster of eateries – enough to take us straight on to our 100th Buford Highway restaurant, which will be coming up soon! When we visited over the Memorial Day weekend, some of the places were closed for holiday, but Kochi Maru was open, so in we went.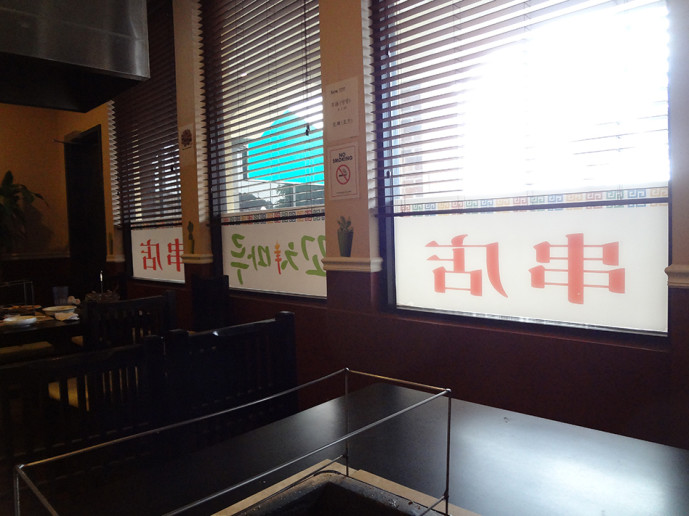 Kochi Maru is a chinese skewers restaurant with some korean influence. We sat at their equivalent of a korean barbecue table – a pit in the middle of the table held hot coals, and a wire rack allows us to set up our raw or semi-raw skewers and rotate them as needed.
The menu was quite interesting including a ton of exotic stuff, from ox penis skewers, to lamb kidneys, from balloon flower root salad to cow's knee bone salad. We tried to order a non-skewer entree from the menu, but our server informed us that that portion of the kitchen was closed for the day, and that we could only get skewers. She also assured us that we would get banchan.
For our selection of skewers, we ordered 5-piece fish cake ($9.99), 5-piece ox tongue ($9.99), 1-piece lamb heart ($2.99), and 10-piece lamb.
Our banchan did come out as promised, Our favorite was the broccoli with a spicy red sauce, though they were all decent – but none were extraordinary. We each received a small dish of spice mix to dip our lamb or what-have-you in. Two thumbs up, both for the mix and for us getting our own dishes of it.
First out were the fishcake skewers and ox tongue skewers. They were brought out and put on the racks for us, and we would rotate them and pull them when they looked ready.
Both the fishcake and ox tongue skewers were good. They were just like the fishcakes you get in hot pots, and while they didn't necessarily need or benefit from the coal firing, they were probably the most enjoyable. The ox tongue was a nice texture and are much like the ox tongue you find in lengua tacos.
The lamb heart skewer was very interesting. It was a bit difficult to get off of the skewer without burning ourselves. It tasted much like you would expect, like offal meat does.
The lamb skewers were solidly delicious – a great choice for the bulk of our skewers. The spice mix on them was quite tasty, and the meat was delicious.
The do-it-yourself aspect of having the fire pit on the table was entertaining. The beer we ordered was stale and warm, but overall the experience was novel and enjoyable.
We had a fun time at Kochi Maru. This is a fun place to take friends for a high-protein adventure, and while we can't really speak to the entree menu based on our experience, it just doesn't seem like the kind of place you'd go every day. The menu is eclectic and there is a decent selection of both "safe" and "adventurous" items to choose from. 3.5 stars.
Kochi Maru
Buford Highway NE
Atlanta, GA 30340
emily
Nerd. Foodie. Gamer. Homecook. Perpetual planner. Gardener. Aspiring homesteader. Direct response graphic designer. I use too many damn commas.