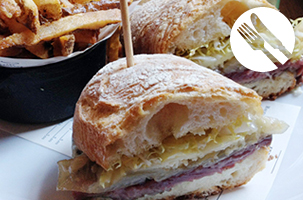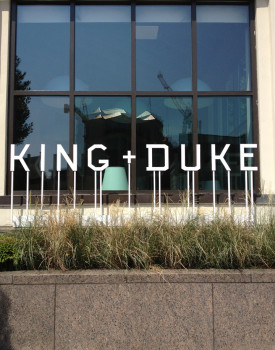 Caveat: This is a lunch review.
King + Duke is a restaurant that recently opened in Buckhead and is part of a group of restaurants that seem to be elevating the overall quality of food in the area. In an area where steakhouses are in abundance, places like this, Seven Lamps, St. Cecilia, and other are refreshing and welcome additions.
If you do not know who Ford Fry is, he is basically running Atlanta's food scene right now. He recently opened King + Duke as well as St. Cecilia in addition to already existing restaurants The Optimist, JCT Kitchen, & 246. I have seen rumors that he is already planning to open another restaurant or two around town as well.
Personally, one of my favorite things to do is visit "fine dining" spots for lunch. Ultimately, it allows me to gauge whether I would return for dinner or not and fork over three times the amount for a meal. It gives me a chance to sample menu items that are similar in concept and get a feel for the overall vibe of the restaurant. Most spots have sandwiches and salads for reasonable rates of around $15 but also offer 3-4 menu options above $20 if you were in the mood to splurge or on a business lunch.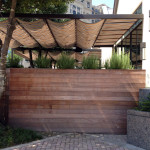 When I first walked into King + Duke, I was impressed with the space as I am with pretty much all of Ford Fry's restaurants. Open, rustic, lots of wood, and a nice sized bar seem like the constants across most of them. There is also a fair amount of outdoor seating available here as well. The concept of this place is there is a 24-foot open hearth which is used for pretty much every dish. Although, I couldn't necessarily see it from where we were seated, the lovely aroma definitely carries throughout the restaurant.
I have made two visits to King + Duke for lunch. The first go around I got the steak sandwich with fries and the second I got the roast pork sandwich with rosemary chips. Both dishes were excellent.
I would say the steak sandwich is probably one of the heartier, filling, and delicious lunch sandwiches you can get around town. It comes with charred onions and gruyere which all mesh well on a hefty piece of ciabatta bread. Since most of us don't have the luxury of eating steaks for lunch, this is the next best thing I can think of if that's what you are craving.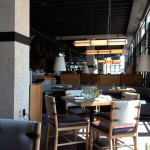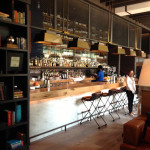 The roast pork was tender and you could definitely taste the smoky wood flavor in it which elevated it in a notch or two. Although I didn't get much of the calabrian chilis that were supposed to be incorporated in the dish, the au jus that was served was welcomed and the bread choice used allowed it to work hand in hand. Others I was with got a few of the same dishes as well as the burger & grilled cheese and everyone seemed satisfied by meals end.
For me, in the Buckhead area, I would say King + Duke, Bistro Niko, & Seven Lamps are probably my three favorite finer dining lunch spots. So to answer the initial question, yes, I would return to King + Duke for dinner based on my lunch experience. At first glance, the dinner menu does seem rather ambitious, $55 for a whole roast chicken and a kilo bone-in ribeye? Nonetheless, I will definitely return sooner than later for dinner.
Lunch Review
Food: 4.5
Vibe: 4.5
King + Duke
3060 Peachtree Road NW
Ste 160
Atlanta, GA 30305
anish
I am a 20-something white-collar worker that enjoys the great food options Atlanta has to offer. I enjoy sharing my dining experiences and opinions to anyone who will listen. I hate being the guy next to your table taking cell phone pics but understand its place as a necessary evil in the food blogging world. I love to research places beforehand (some would say to a fault). The theory is if I am going to spend time and money eating out, it is worth the 10 or so minutes to vet it out beforehand. I have a laundry list of dining places I still want to go to but for every one I check off, four probably get added. For me though, that is probably the biggest perk of living in a big city.