Caveat: This review is for Happy Hour only
I recently hit up Kimball House for a happy hour (M-F 5-7PM). Oysters are easily one of my favorite foods period. I would put oysters and sushi up there as two of my favorites because of the simplicity of each. When served raw, the quality of ingredients are allowed to shine and can't be masked. Each doesn't need to be marinated heavily, sauced up, deep-fried, etc and they are both healthy so I don't feel as guilty over indulging on either. Unfortunately, with the notion of paying premium prices for quality, both aren't cheap if you want the high-end of each. A lot of new restaurants in Atlanta have started to included 4-6 varieties of oysters on their app menus which I obviously have no complaints about. However, if dining with a group of 4 where everyone wants to sample half, you can easily rack up $36 off the bat for 12 oysters that don't do much in terms of filling you up. Most of the time they are worth it but 3 oysters ends up being a tease and just have me craving more.
When it comes to sushi and oysters, part of the reason I also like them so much is because I don't have high quality versions of each as often as I would like, so I make it a point to enjoy them as much as I can when I do have the opportunity to splurge. I have started to treat oysters like I do wine, trying to get a better understanding of the different types, regions, and characteristics that accompany each. One of the first lessons I learned were east coast oysters are usually smaller and brinier with west coast oysters usually being larger and sweeter. Also, the more opaque an oyster looks, the sweeter it will be. I hope to continue to learn a ton more about them and just like wine, the best way to learn is to actually try different types instead of just reading up on them.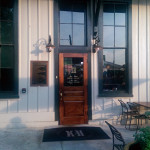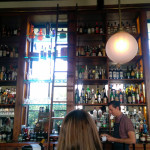 That rant leads into me declaring my love for place for Kimball House which solves a lot of challenges I listed above when it comes to oysters. Anyone into the oyster scene in Atlanta would probably agree that Kimball House currently serves the best selection of oysters you can find around town. On any given night, they have a variety of 25 different types with a wide array of diversity. Now, at normally 3 bucks a pop, getting 3 dozen oysters amongst friends will run you over $100 and that's before drinks and food that will actually fill you up.


That's where the happy hour comes in handy as Kimball House serves their oysters for $1-1.50 a pop. The good thing is it's not a certain part of their menu that are half off but their entire selection is available. You order them similar to a sushi menu where you get the list of 25 and mark the quantity you want next to each. A brief description of the flavor profiles each one resembles are listed out which makes deciding which ones to pick a little easier. Since raw oysters just need to be shucked before they are served, they come out quick, which is a plus. Their oysters are served with a mignonette (minced shallots, cracked pepper, and vinegar) sauce in an apothecary dropper bottle. I usually don't prefer to dress up my oysters but definitely didn't feel like the addition of the sauce detracted from the oysters by any means. The service was great and our server helped us balance out our selection of oysters well.
A couple of friends ended up wanting something with a little more substance and ended up ordering the onion rings, the bread (butter was crack), and the pommes macair (baked then fried potato formed into "sticks"). All three were good but the focus was on the oysters the entire night so they obviously took a backseat to the overall experience.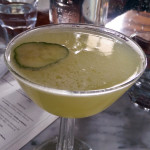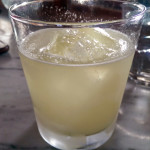 The key to a happy hour in addition to the food is a good drink menu and that is an equally impressive component of Kimball House. Unfortunately, the drinks aren't half off but the they are well thought out and well worth the $10-11 price tag.
Unfortunately, coming from Buckhead, it took close to 45 minutes to get to downtown Decatur with traffic but it ended up being well worth the drive for me. Whether you love oysters or have never tried them, this is a great place for both parties. This was my friend's first time trying oysters and he stated he couldn't tell the difference between a lot of them. It is just like anything else, the more you try them, the more you will learn. I still enjoy learning a ton with each tasting and I noted the important thing is you liked them initially, not that you can tell the difference. All in all, Kimball House is easily my favorite happy hour place in Atlanta and I'll definitely be back sooner than later to see what the dinner menu has to offer.
Food: 4.5
Vibe: 4
Kimball House
303 East Howard Avenue
Decatur, GA 30030
anish
I am a 20-something white-collar worker that enjoys the great food options Atlanta has to offer. I enjoy sharing my dining experiences and opinions to anyone who will listen. I hate being the guy next to your table taking cell phone pics but understand its place as a necessary evil in the food blogging world. I love to research places beforehand (some would say to a fault). The theory is if I am going to spend time and money eating out, it is worth the 10 or so minutes to vet it out beforehand. I have a laundry list of dining places I still want to go to but for every one I check off, four probably get added. For me though, that is probably the biggest perk of living in a big city.