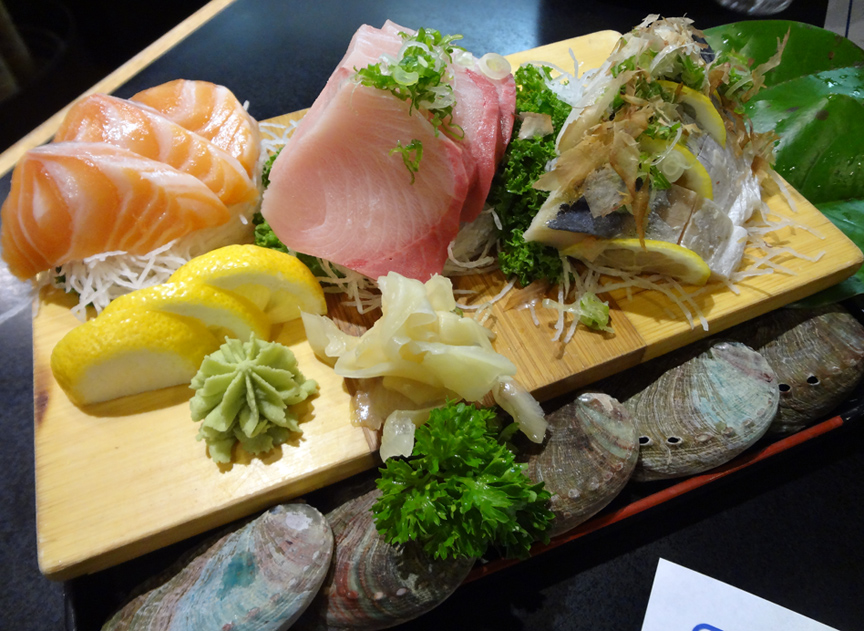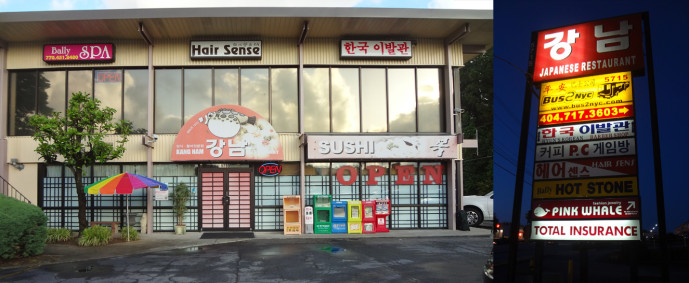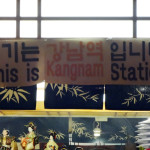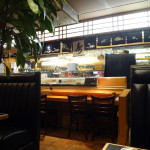 A few weeks back, before life started stomping all over my blogging schedule, Adam and I went to Kang Nam, they next stop on our northerly march up Buford Highway. Just north of Baldino's, and across the street from the shopping center that houses Gu's Bistro, Kang Nam's sign proclaims Japanese Restaurant but also features the korean characters for Kang Nam – also known as Gangnam of recent Gangnam Style fame (Gangnam is a wealthy district in Seoul, South Korea). So, in short, this is a korean-run japanese restaurant with an emphasis on sushi. Yes, please!
The restaurant theme is tourist attractions and landmarks in South Korea, with the main restaurant being Kangnam Station, and some semi-private rooms that have names of other landmarks. (Thanks to Sarah for the research assistance and general South Korean expertise!)
After perusing the menu, we finally settled on how to get everything we wanted without breaking the bank. We were a bit confused about what was going on with the sushi and sashimi combo meal, because it was supposed to be the basic sushi platter and basic sashimi platter combined, but cost a couple bucks more than buying each one separately. It made no sense!
At any rate, we settled on ordering some sashimi al la carte, getting the basic sushi platter, and nakji bokkeum – a spicy octopus dish. We also got a a little kettle of cold Chum-Churum soju to make the evening a little warmer. It was only $10, which was surprisingly cheap.
Our sashimi order came out looking great, though the style of the cuts was quite different than we are accustomed to. The fish tasted extremely fish, though, and were not at all displeased with that, even if it wasn't of the highest quality. The quantity was also good, and the prices were decent.
The sushi platter (~$29) was also very nice looking, and also pretty average.
The najki bokkeum (~$14), which may have gone by a slightly name in the menu, was pretty tasty though the octopus was a bit more cooked than I would have liked. Even though the octopus was also overcooked in the latin equivalent of this dish at Mariscos El Veneno, I prefer that spicy, saucy octopus dish over this one, even though this one is significantly cheaper.
I was definitely amused by the korean-ness of this otherwise japanese restaurant. The korean influence was evident from the sign outside, to the menu items, to the banchan on the table. Quirky, but not in a bad way.
Overall we had a nice $70 date night at Kang Nam. The service and atmosphere were pleasant and relaxing, and though the food was pricier than the average Buford Highway joint, it was a bit nicer than the average fare as well. If you're looking for something nicer and off the beaten path and are okay with paying for it, Kang Nam may just be the nice, quiet spot for you. 3 stars.
Kang Nam
5715 Buford Highway NE
Atlanta, GA 30340
emily
Nerd. Foodie. Gamer. Homecook. Perpetual planner. Gardener. Aspiring homesteader. Direct response graphic designer. I use too many damn commas.