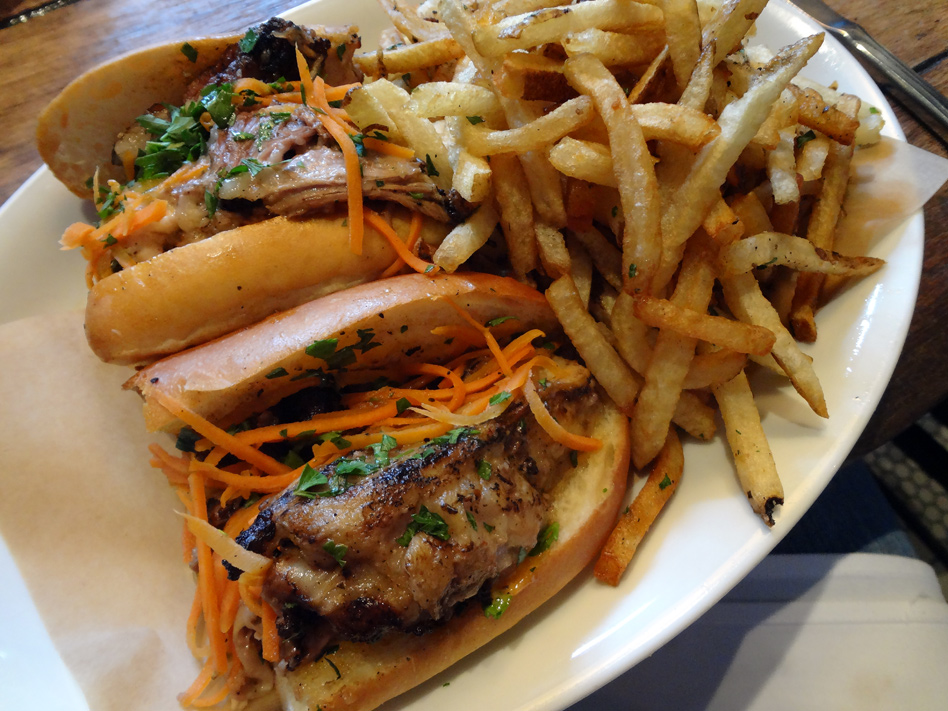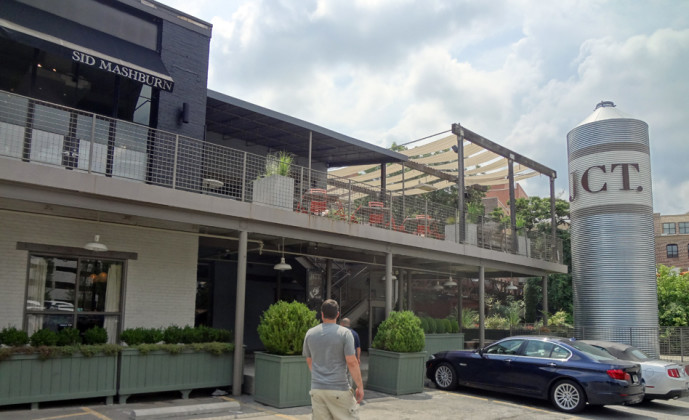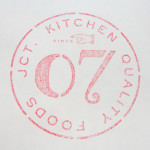 Recently, some present- and ex-coworkers and I got together and went to JCT Kitchen for a Friday lunch. I was very excited, since I hadn't been to JCT in at least seven years, and I remembered that meal only dimly, but very fondly.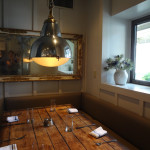 We had to change the time of our reservation at the last-minute and I somehow screwed up the day of the reservation while making that adjustment. So when we got there, they had no valid reservation for us, but the gals at the hostess stand were really nice about it, and stuck us in a funky little table in the corner by the bar. It was an unusual but nice, cozy space that they probably hold open just for screw-ups like me and we actually really liked eating there.
We got started with "angry mussels" – delicious spicy mussels in a wondrous, garlicky butter sauce with bread for dipping. Really a great dish – everyone who tried it enjoyed it.
After doing my very best to not inhale the entire bowl of mussels, and a bit of a wait due to a very bustling lunch rush, it was time for lunch! Anish and I, true to our gluttonous ways split two entrees, the famous JCT fried chicken and a lamb banh mi.
The chicken was great – I can see why it is infamous. The meat was tender and the breading was soft but not mushy and had an excellent spice mix in it. I didn't have much of the chickpea side because I was so full from everything else, but it seemed light and fresh, good for the summer.
The lamb banh mi was a big disappointment to me, I am sad to say. Anish's half of the sandwich seemed just fine, great even. My side was mostly floppy skin and fat. The floppy skin and fat was nicely seasoned, naturally, but I found the texture to be impossible for me. I had probably a finger's worth of decent meat in my entire half.
Anish kindly picked out a piece of nice meat from his half, and while it tasted wonderful, it couldn't make up for my half's inadequacies. I got about a finger's-worth of actual meat. I can say that the fries were delicious and addictive.
Here are some of the things my compadres had to eat:

Everyone really enjoyed their meals. I definitely fared the worst with my lame half-sandwich, but if I hadn't been splitting the sandwich, it wouldn't have been as dramatic a loss. Banh mi aside, the quality of the food I ordered and sampled was high.
While I would guess the quality of JCT Kitchen is typically in line with their 4-star average on Yelp, my fuzzy math gives us a different rating. Plusses for handling our mix-up, everyone else enjoying their meal, and a tiny bit for my previous wonderful meal. A big fat minus for a lack of quality control on the lamb would land us at 3 stars, but I'm willing to assume it was an isolated event. So, that lands us at a reluctant 3.5 stars until Adam and I can give JCT another shot to redeem itself.
PS: No problem here with using my Dinner & A Cause card, no problem at all.
JCT Kitchen
1198 Howell Mill Road NW
Atlanta, GA 30318
emily
Nerd. Foodie. Gamer. Homecook. Perpetual planner. Gardener. Aspiring homesteader. Direct response graphic designer. I use too many damn commas.