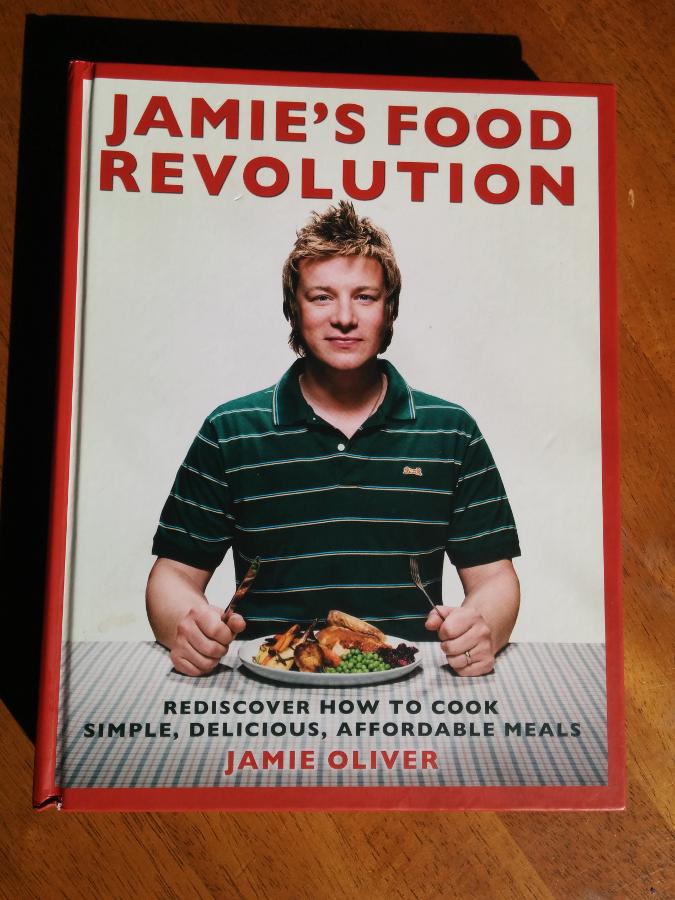 Greetings, and happiest of new years to you all! Welcome to a new year at Spatialdrift, one I'm very glad to be a part of. I've been out of town for a few months for work (sorry about that), and it's nice to be back and preparing for a year of baking, cooking, and blogging.
Getting back to a regular blogging schedule is one of my goals this year (you'll notice I'm dodging the all-too-tired discussion on the validity of New Year's Resolutions), but to jump-start regular blogging, I really needed to get back into regular cooking and baking as well. Getting into the habit of cooking as opposed to eating out is a goal you hear from people all the time, but finding the right place to start can be difficult. Sure, there's plenty of recipes and advice to be had all over the internet, but if you're looking for an all-encompassing solid reference for daily cooking and simple, tasty meals, let me give you a good place to start – Jamie's Food Revolution.
Jamie Oliver is a chef who has starred in several of his own cooking shows, written a multitude of cookbooks, and is generally a charming gent devoted to food and health. He endeared himself to me especially when, a few years ago, he made it a personal goal to take bad health and the rise of obesity to task by teaching people not only a single recipe to use whenever company comes over for dinner, but rather to cook a multitude of recipes, to understand health, and to pass that understanding on to friends and family. Indeed, he wanted to start a food revolution where people took a "pass it on pledge" – learn one recipe from each chapter of his book and then pass those recipes on to others.
I've spent the end of December and all of January informally working my way through this cookbook, and it's been a surprising delight. At the time I didn't choose Food Revolution for any particular reason other than the fact that it was on the top of a pile and that I recalled it containing straight-forward recipes, but I'm glad that I did.
Over the past month I've made tikka masala, pan-fried trout, and ground beef wellington, just to name a few recipes. The tikka I love so much I've actually made it several times, and each time I've tweaked it a bit for my own preferences – and it's always delicious. Plus, I've actually made and posted Food Revolution's recipe for self-rising dumplings (side note: the stew from that post was also from Food Rev. All of that to say, from first-hand experience I can definitely give these recipes a ringing endorsement.
"But Mary", I'm sure you're asking, "that's great, but what makes this cookbook good for
me
, the regular Joe just struggling to make easy meals every day??" And I would tell you, "that's a great question." After I'd made a few recipes back to back, I started noticing something about them: they all take startlingly simple and easily reusable ingredients, especially the spices. It's a rare recipe that requires more than salt and pepper to taste, or a sprig of rosemary, or just some butter to flavor the meat and vegetables. As someone watching my budget while also cooking on a regular basis, it's refreshing to have a huge stock of recipes with ingredients I can easily pull from my shelf or refrigerator. Nobody wants to have to make a grocery store run every time you want to cook something new.
Food Revolution
fully accounts for that.
On top of that, Jamie makes everything sound easy – and it is. The book begins with basics – stocking your kitchen with both basic tools and implements – and then is broken into a chapter apiece on different food types – pastas, curries, salads, stews, and the like. Regarding preparation, each recipe is simple and requires limited-to-no finesse. Can you chop vegetables and cook ground beef? Can you slice onions and sauté them with chicken? We're talking basic cooking fundamentals and straight-forward ingredients. Plus, he includes a handful of suggestions on both ingredients and techniques in each recipe. Truly, a learning-cook's delight.
So if you're kicking off your new year hoping to become a better chef, I highly recommend grabbing Jamie's Food Revolution. The recipes are delicious and basic; there's no better way, in my opinion, to become a regular cook than having a stockpile of tasty recipes with interchangeable ingredients. You'll never be bored with your food, and you'll always be happy with the outcome.
Consider this me fulfilling my pass-it-on pledge! Happy New Year!
For interested parties, here's a list of recipes I've personally made from this book (an asterisk* for ones I've made multiple times):
Chicken Tikka Masala*
Basic Stew*
Best Ever French Beans*
Ground Beef Wellington*
Boiled Eggs
Simple Pan-Fried Trout
Crunchy Garlic Chicken
British Beef and Onion Pie
A Cracking Burger
Mary Gezo
Formerly of both n00bcakes and !Blog, the two magically become one on Spatialdrift; expect some lazy baking and serious nerditude. Also, I love semicolons.