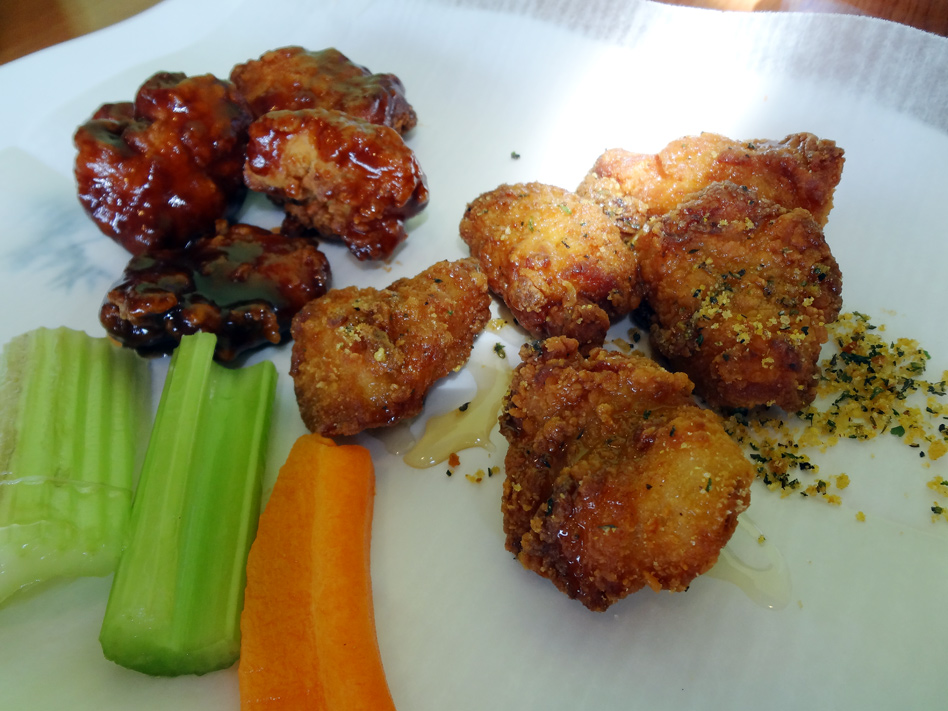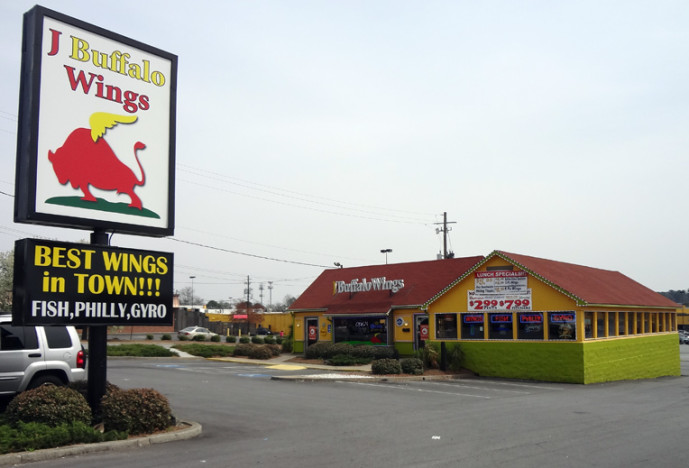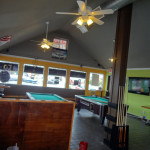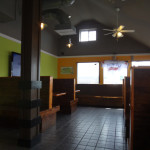 Started by Chung Man Ji in 1996 at this very location on Buford Highway, along the street side of Northeast Plaza, J Buffalo Wings has been growing ever since and now 16 locations. I believe that this location became something else for a while, and has only recently returned to being a J Buffalo Wings.
Adam and I, along with Ashley and Stephen, dropped in on a Saturday afternoon to try out J Buffalo Wings in all its vibrancy. We ordered first and sat down in the side room that features a number of booths, billiard tables, a couple TVs, and a large electronic jukebox. While waiting for our food to come out we sipped on our drinks and watched a song-and-dance version of an exorcism on a telenovela.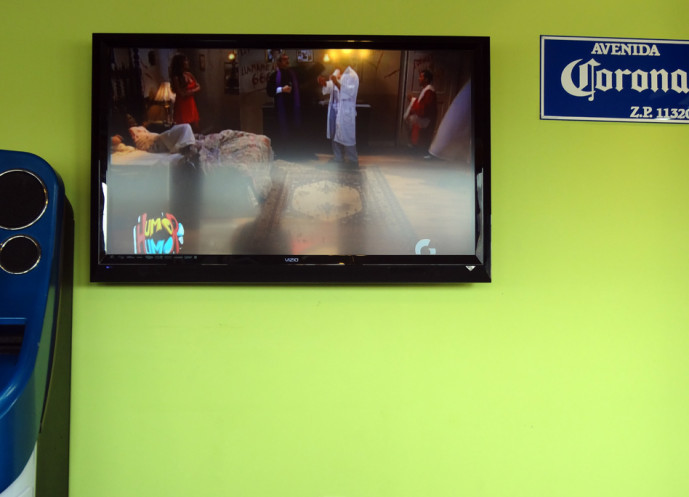 Then the jukebox turned on, and started blasting incredibly loud hip hop of some variety. Blisteringly loud. We investigated the machine, but found no way to turn the volume down. An employee came in to bus the table next to ours, and we asked her if it could be turned down. She said they have no control over the machine, so we decamped to the farthest corner of the room. Fortunately, it just seems to turn on intermittently, play a single song to entice people to feed it money to request the songs they want to hear. So, after the initial song was over, we were able to hear each other once again.
Shortly afterward, our food came out. We ordered family-style: a 10-piece classic wings plate with five medium-hot lemon pepper wings and five got wings, a 10-piece boneless wings late with five honey garlic pieces and five honey barbecue pieces, a side of hushpuppies, and a side of fried okra.
The menu here was very interesting. First, it has cultural crossover items, which I love. The guy who founded the chain is of asian decent so I suppose that makes sense, but still it was really cool to see wings and chicken tenders, tacos and quesadillas, and lo mein and bulgogi all intermixed on the menu and with the obligatory gyro at a wing joint, too. It's like a miniature Buford Highway, and it makes me a little misty-eyed and proud. But moving along…
Secondly, we were pleasantly surprised that booze was available. Next, we were impressed that one could order one's lemon pepper wings in mind, medium, or hot; typically you only see lemon-pepper in mild form. Lastly, I was pleased to read on the menu that the boneless "wings" are 100% chicken breast, and not trash pieces of who-knows-what.
The honey garlic wings were very tasty, and they were the favorite flavor for Ashley and I. The honey barbecue was pretty good. The medium hot lemon pepper wings were actually just lemon pepper wings that were then covered in enough hot sauce to make them classify as medium hot, as opposed to having a spicier than average lemon pepper mix, which is what I must have been expecting, since I was surprised to see what we got. They were good, however, and they were Adam's all-around favorite. The hot wings were just like you'd expect: those red, saucy hot wings with decent kick.
The hushpuppies may have been the biggest surprise of the meal – they had a really incredible flavor and texture. The subtle flavor puts me in mind of creamed corn, and the texture is remarkably light and crumbly if you're used to the tiny gut bombs version of hushpuppies you'll often get around town. We all like and recommend these!
The fried okra was good and reminded me of Nick's Food To Go – and just like I said at Nick's, they were fine, but I've had better and I've made better at home.
Steves thoughts: "The prices were good and the variety is fantastic. The hush puppies were very tasty, and they are well worth stopping by for every now and then. However, their buffalo style wings seemed a little bit lacking. The atmosphere is pretty good, except for the loud jukebox which, depending on your mood and the song, can really make our break the atmosphere for you. As someone who really wants good buffalo wings whenever I go out for wings, I'd have to give them a score of 3."
Ashley's thoughts: "They had flavors that are uncommon (honey garlic, medium and hot lemon pepper), which was a nice change. I love that they had fried okra. I wouldn't have expected to find something like that here. The hush puppies really were super tasty and nice and cheap. I liked that the boneless wings were bite-sized like the normal wings. I would go back there if I felt the need for wings and to try their other random asian infusions, and I will definitely stop in for hushpuppies. Normal laid-back atmosphere, though the occasional jukebox interruption could be startling. Pool tables add a nice touch. For a wing place, I give it 3.5."
All in all, we had a decent time at J Buffalo Wings, surprisingly! If you know us, then you know we dread the mom and pop fast food shops – fast food in general. Normally, I'd be inclined to give J Buffalo Wings 3 stars, but if we think back to Family Hot Wings & Philly as an example of an average wing shop, then I think J Buffalo deserves a little boost for the decent variety of flavors, freshly made items (no shriveled up heat lamp nastiness here), and interesting menu items. And amazing hushpuppies. And booze. 3.5 stars.
J Buffalo Wings
3373 Buford Highway NE
Atlanta, GA 30319
emily
Nerd. Foodie. Gamer. Homecook. Perpetual planner. Gardener. Aspiring homesteader. Direct response graphic designer. I use too many damn commas.