Closed January of 2016.
Recently, we were cordially invited to tag along with consummate barbecue expert Grant of Marie, Let's Eat! to check out Hottie Hawgs Smokin' BBQ. You may have seen them around town, as they have been racking up the awards. You also may have seen them on Catering Wars on Lifetime television. I'd not seen or heard of them at all, but the press was great, so I was more than happy to be invited out by Johnnie Sanchez!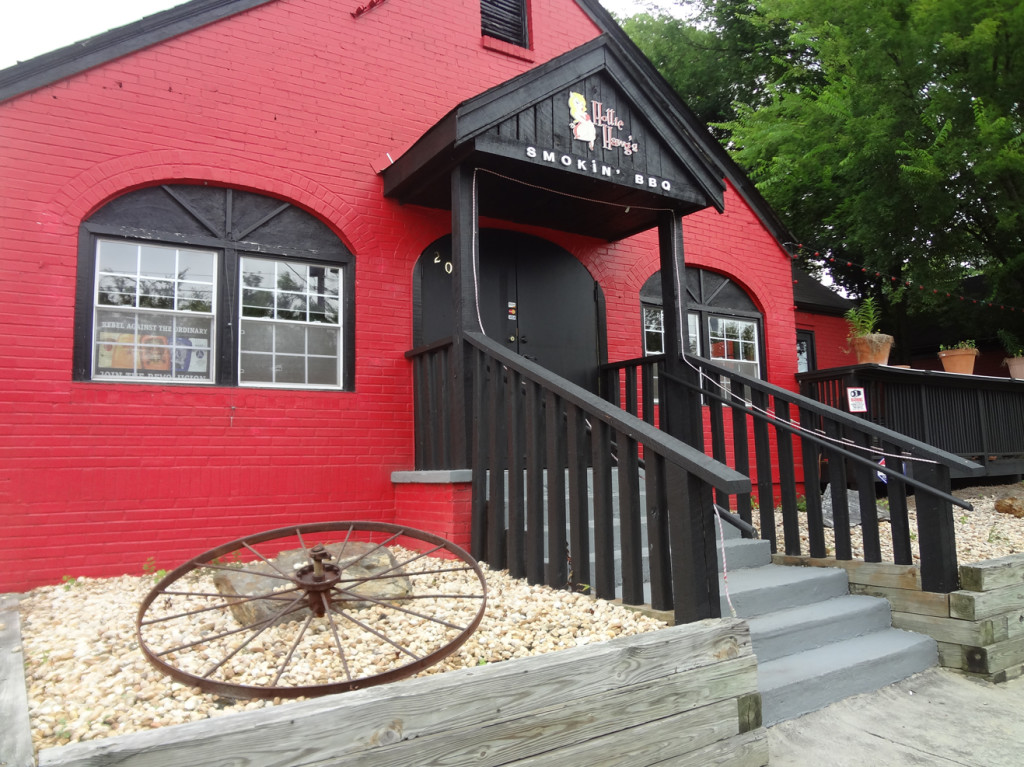 We got there a bit early, so we ponied up to the bar. The bartender was friendly and fun, pouring us Monday Night Brewing's Double IPA and chatting with us about Decatur.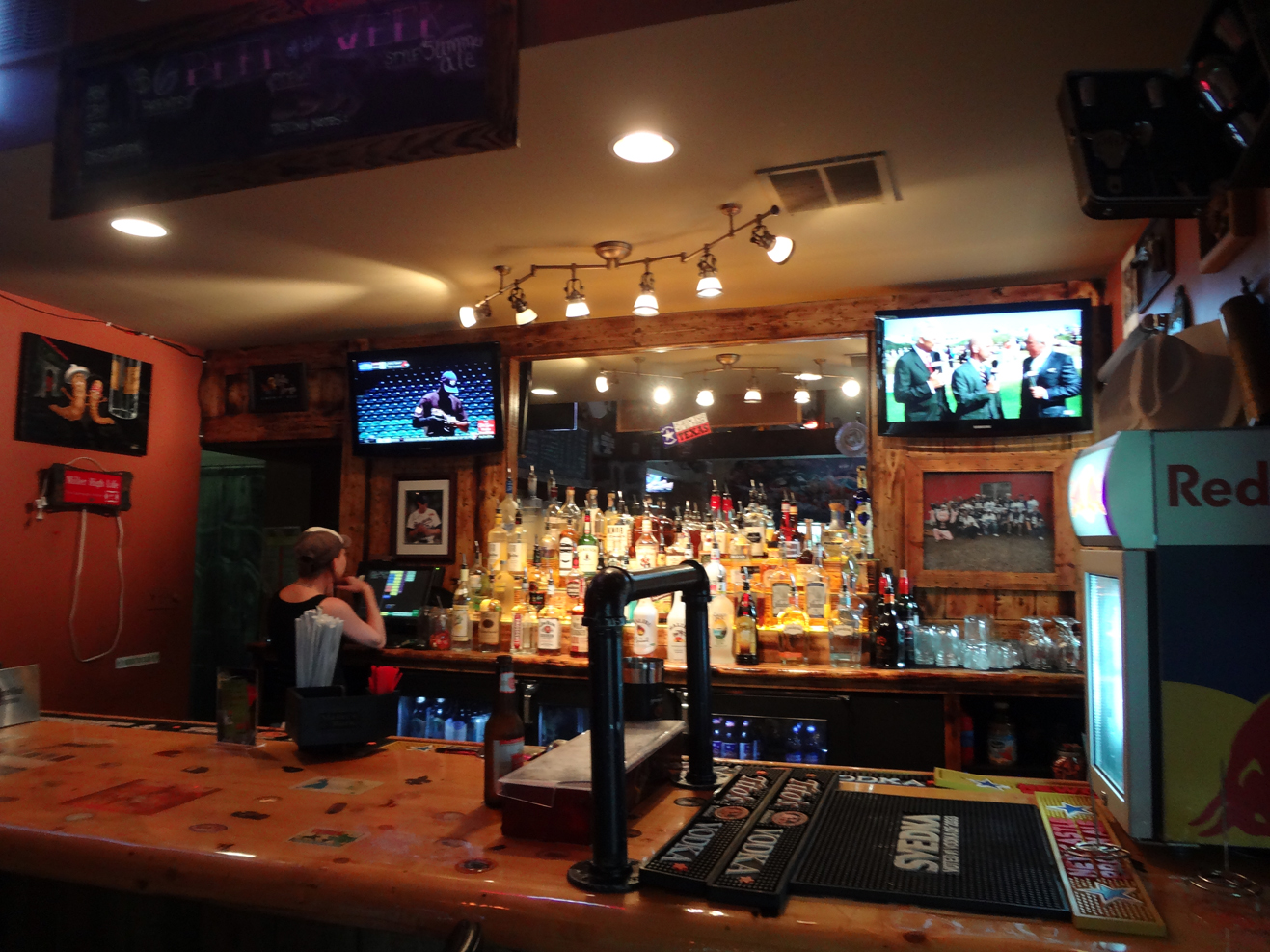 The interior of Hottie Hawgs is very "man cave," with a lot of sports memorabilia, big TVs, and Texas-related tchotchkes.
Once settled, we attempted to order a two-meat combo plate with ribs, only to discover that 1/4 rack ribs are not available (the size you would get with a combo). Ribs must be bought independently and in half or full racks, which is a pretty reasonable request when you think about it.
So instead, we got two two-meat plates to swap. We got burnt ends and char-smoked chicken with Brunswick stew and onion hay, and chopped brisket and pulled pork with fried okra and fried mac 'n' cheese.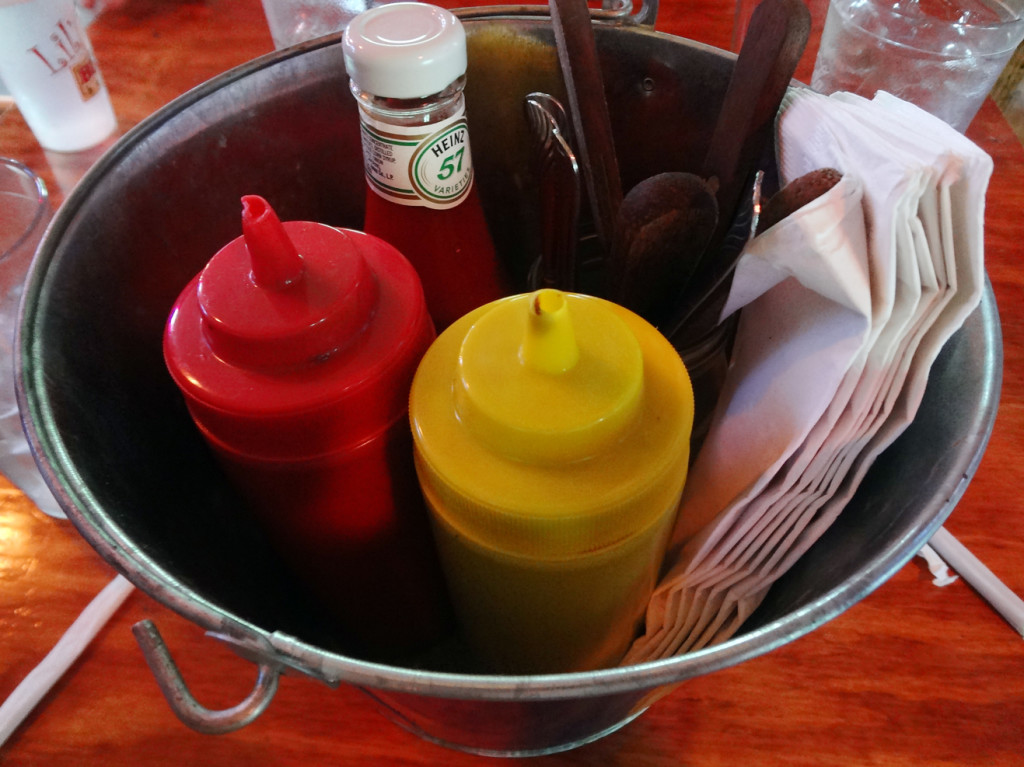 Our condiment caddy came with two types of barbecue sauce, a sweet and tangy tomato-based one, and a vinegar and mustard-based one (South Carolina style). The general consensus at the table was a preference for the South Carolina style sauce.
The burnt ends were tasty, but you definitely have to be one of those people, like me, who appreciates burned things. The chicken and the Brunswick stew were good, and had nice spices. The onion hay was interesting and cooked perfectly; I think Adam and I just naturally prefer honest-to-goodness onion rings over the hay.
The chopped brisket was recommended to us by another foodie, and she was absolutely correct. I enjoyed it a lot. I thought the pulled pork was dry, but not being an expert on the various styles of barbecue, I'm not sure if this is a stylistic thing or not. The fried okra, on the other hand, was out of this world. Had I known then what I know now, we would have gotten a double order. Just fantastic.
We were told to ask for the fried mac 'n' cheese – an off-menu item – and while we did request it, I am not entirely sure if that is what we received, since we seemed to just get regular mac 'n' cheese in cups. It did seem a bit roasted on the top, so I am just not sure.
Speaking of requests, seeing as how Grant is a barbecue expert, he prefers to order his ribs dry whenever possible and add sauce to taste. So, he asked to get the rack of ribs dry, but they came out pre-sauced. Oh well. The menfolk at the table loved the ribs anyway, though at the risk of really showing how little I know about barbecue, I did not enjoy them as much as everyone else. Perhaps it was because I was nearing capacity – things do taste better when you're hungry, and less so when you are getting full.
I don't watch TV, and I especially abhor reality shows, so I can't speak to a single thing that has happened in Catering Wars, but it seems to have helped gain Hottie Hawg's some notoriety, which is a good thing because their prices are competitive and their food is quite good.
Maybe the more famous they get for their food, the less their marketing will have to lean on sex appeal, emphasizing cute little brunettes dancing on the bar and serving your food. I saw no cute little brunettes dancing on the bar while I was at Hottie Hawg's, but I did see a ton of families come in with their kids. In fact, I'd say the atmosphere was overwhelmingly family-oriented, and aside from folks associated with running Hottie Hawg's, it's possible that Adam and I were the only non-parents in the joint.
But to get off my marketing soapbox and bring it back to the food, Hottie Hawg's operates within a sweet spot of great value for great food, coming in cheaper than Bone Lick BBQ, and similar to Fat Matt's Rib Shack. I say 3 stars, Adam says 4 stars, so Hottie Hawg's Smokin' BBQ garners 3.5 stars. Check it out!
Hottie Hawg's Smokin' BBQ
2057 Main St NW
Atlanta, GA 30318
emily
Nerd. Foodie. Gamer. Homecook. Perpetual planner. Gardener. Aspiring homesteader. Direct response graphic designer. I use too many damn commas.