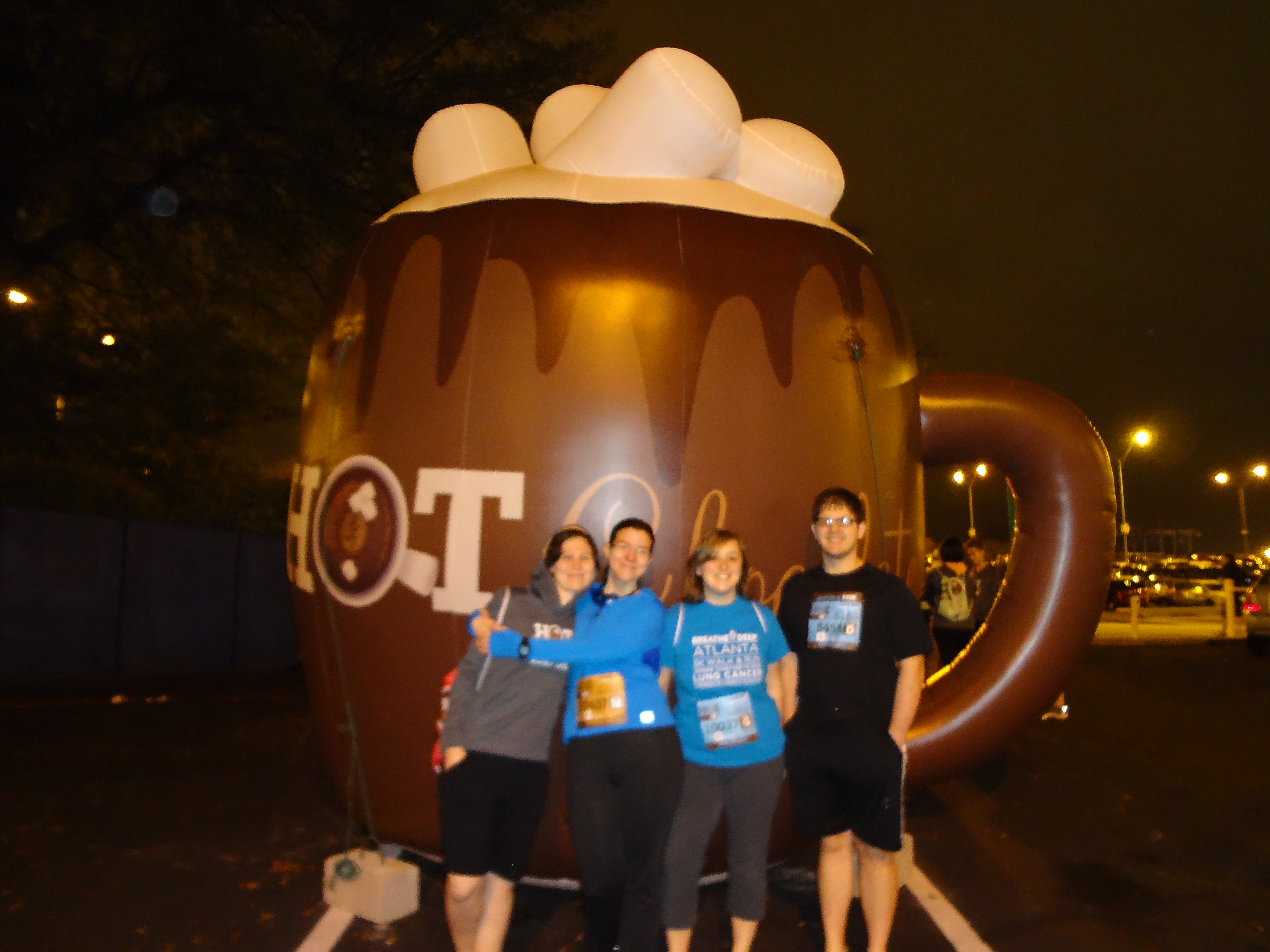 This weekend, we caught the Hot Chocolate Run. It's a 5k/15k timed race that benefits the Ronald McDonald House. The Ronald McDonald House program "provides a 'home-away-from-home' for families so they can stay close by their hospitalized child at little or no cost." Approximately 20,000 people signed up for the two races, which took place at 7:45am and 8:30am, respectively.
I have to say, right off the bat, that this race was incredibly organized! i was really blown away. Between this high level of planning and organization, combined with the large venue really made it hard to tell there were nearly 20,000 people there.
When you signed up, you set your minute/mile pace and were assigned to a corral based on that. For the 5k, there were seven corrals that started in 3-minute intervals. Since the racing bibs had B-tags in them, each person still got their own personal time, regardless of when they actually started.
The bibs also had a pull-off tag with your number on it to check a bag – something that was very convenient and that we could really have used at previous races. It also had a second pull-off tag to claim your mug of chocolately goodness at the end of the race.
While we were waiting in our corrals, they blasted high-energy music and encouraged people to get excited, stretch, etc. It was fun. The race itself was uneventful. The only thing i can really think to say about it is that it was cool to run under the Olympic rings on Capitol Avenue – very athletic and pretentious, haha. Ashley did mention that the 15k route did wander into less shiny parts of the A.
Unfortunately, my time slipped since I was not very consistent with my running during the holidays… 37 minutes 32 seconds. Oh well. I suppose I can't complain since I wasn't training. Hopefully I'll learn my lesson. Adam on the other hand, had a personal best at 29 minutes 56 seconds. Ashley shamed us all by doing the 15k and finishing in an impressive 1 hour 51 minutes 21 seconds!
After we regrouped and picked up our gear, we headed over to get our finishers mug, a large divided mug with a cup of hot chocolate in the middle, chocolate fondue on the side, and in the large section, pretzels, a wafer, a rice krispie treat, marshmallow, chocolate bar, and banana to dip in the melted chocolate. Nom.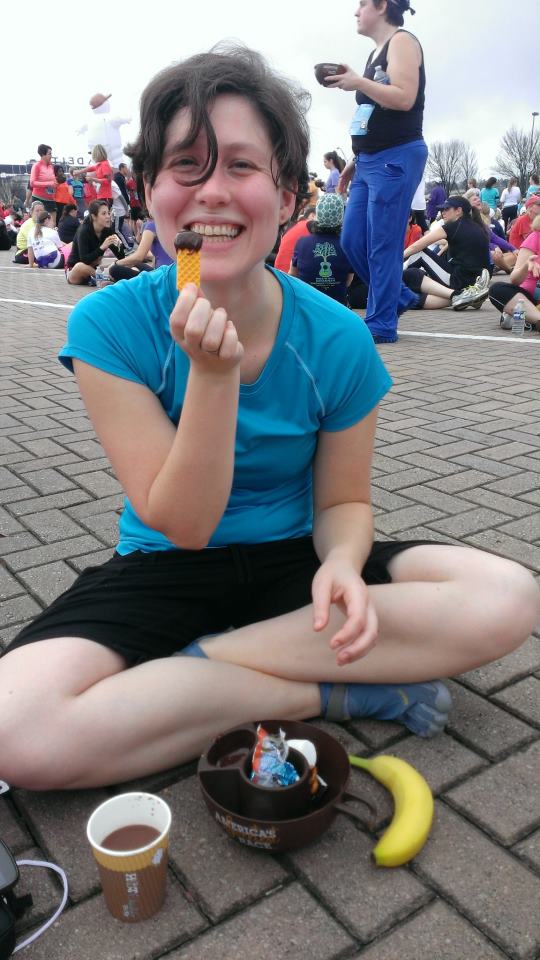 This whole time, there is bouncy music blasting, people singing, yelling and dancing, and generally having a good time. It was a fun atmosphere.
The chocolate was nice and all, but the best bit of swag to come out of this race is unquestionably the wicking hoodie we all received for signing up. After switching to wicking clothes during the summer, the oppressiveness nature of regular clothes for the winter quickly became apparent. It's a uniquely uncomfortable state to be very cold and very damp and clammy at the same time. Ironically, it was nearly 70 degrees today, so we didn't really need the hoodies, but I have no doubt they will greatly improve the quality of our wintertime runs, and the hoodie alone was worth the entry fee for this race!
Again, the amazing organization makes this race a breeze for being so large. While the hot chocolate idea is cute, I feel pretty positive that I ate more calories than I burned, which is actually slightly depressing. Still, this was a fun race that I would recommend to people looking for a fun theme race to do in the wintertime – especially with kids, since they love chocolate. But I think unless I can find a decent coupon next year, I'll probably be searching out a smaller, quirky, and hopefully cheaper racing experience (I mean, I have the hoodie now, and that's what it was really all about, haha).
emily
Nerd. Foodie. Gamer. Homecook. Perpetual planner. Gardener. Aspiring homesteader. Direct response graphic designer. I use too many damn commas.