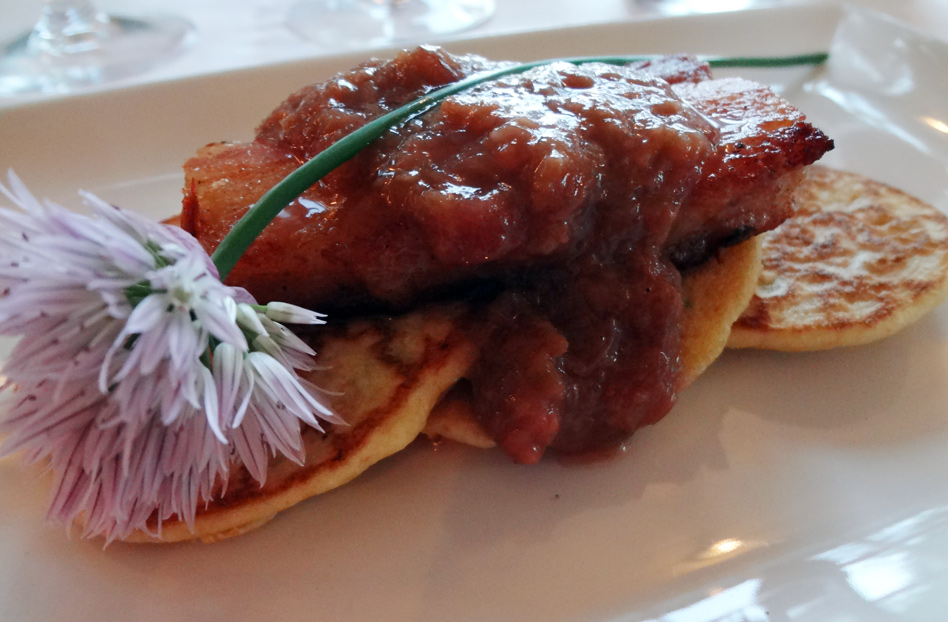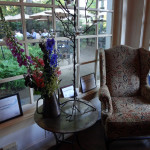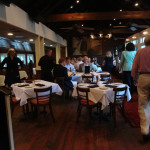 Emily, Adam, and I recently visited Horseradish Grill as part of an Atlanta Food Bloggers Society event. The restaurant is located right near Chastain Park in Atlanta. This was the first time each of us had visited Horseradish Grill, and the word I would use to describe it is quaint.
What I love about this location is that it isn't in a strip of trendy restaurants or in a hip part of town, it's tucked back in a corner off of Powers Ferry and I think that definitely helps add to its charm. When you first get seated, the atmosphere makes you feel like you are dining in someone's home and the service matches that vibe.
Hey, this Emily jumping in to share Adam and my thoughts on Horseradish Grill, since we were along that evening as well. First impressions: a pleasant atmosphere and layout with a nice full bar, and tons of southern cottage garden charm. I agree that the room we were in and the patio outside both felt extremely homey.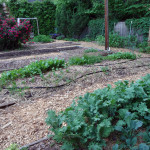 We started out with a cocktail when we first arrived dubbed "Buckhead Bowtie" – Horseradish Grill's contribution to the What Would Rhett Drink Today? contest. On first sip, I was hooked. It was the perfect start to a warm spring evening. It was super refreshing and had a surprising blend of ingredients that ranged from Jack Daniels Honey and Tuaca to chocolate mint grown in their garden out back.
The Buckhead Bowtie was very tasty! Honey-style whiskeys can be overly sweet, but the drink was well-balanced and extremely quaffable. Perhaps even a little addictive!
Speaking of the garden out back, we got a delightful tour of Horseradish Grill's ample garden. What a lovely space, and how nice is it to know that you're eating hyper-local, lovingly grown food? It's absolutely charming, especially for a gardening nerd like myself.
The first course we had was a southern sampler that included a pimento cheese fritter, fish fry and garlic chips, and a fried green tomato. The flavor of the pimento cheese in the fritter was great but I felt like it came out a little mushy texture wise and made the fritter seem a bit hollow. The garlic chips and Alabama white sauce that were served with the fish fry were definitely great additions. I thought the components on top of the fried green tomato that included goat cheese, pecans, and remoulade meshed well but the tomato was a little too ripe, which was highlighted by the thick cut that was fried.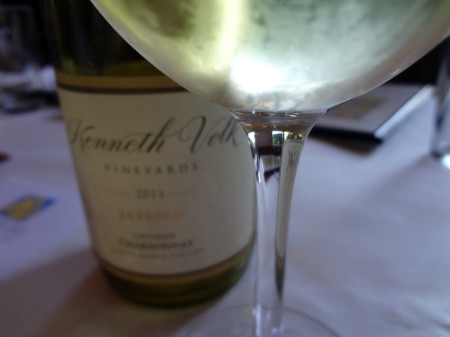 What a trio to start off with! And with a nice glass of wine to boot.
Adam and I both really enjoyed the pimento fritter, though I might classify it as more of a pimiento hushpuppy, because it was soft. But it was a texture I really enjoyed.
The fish fry was fine, but the real star of that affair was the Alabama sauce. It was extremely tasty, and I was tempted to hang on to the ramekin in hopes of slathering the sauce on other things… not that that would have been necessary – as you'll read shortly, nearly every dish was perfectly balanced and tasted wonderful as-is. The garlic chips had the proper amount of garlic to them – not too overpowering, but not wimpy either.
The fried green tomato was my least favorite of the trio, as I would have preferred lighter breading and a thinner cut. Adam is generally not a fan of fried green tomatoes, but he felt that the batter balanced out the otherwise stereotypical tartness of the tomato to make a nice dish that he liked more than he expected to.
The shrimp and grits were by far the best thing I had on this particular night and it was funny how quiet everyone at the table got as soon as the first bites were taken. Fried chicken and shrimp & grits are the two staples you can probably find at most restaurants in Atlanta and this rendition of the latter was solid. It was classic yet sophisticated with additions such as the spiced cream sherry sauce which helped aid the velvety and fluffy grits.
Adam feels that shrimp and grits is a bit of a fad right now, and therefore is pretty skeptical about it. He particularly liked the texture and creaminess of the grits, and the quality and taste of the shrimp, but he still doesn't feel like he fully gets the dish.
I can relate a bit about the fad-i-ness (totally a word) of the pairing, though in truth, it has been nearly 30 years now), but I am totally down with the occasional bowl of shrimp and grits. This one in particular was phenomenal because of the sautéed onions and peppers in the sherry sauce. This really added something special to the dish without over-complicating things. One more ingredient might have been too much, but as it was this was incredible. And as Anish noted, an awed hush fell over the group as we ate this course.
The braised pork belly and red onion jam were great additions to our fourth dish, but the pancakes underneath were lacking. There were a bit dry and the portion size of pancake relative to everything else on the dish was off. Nonetheless, I could eat a couple of servings of the pork belly, rhubarb, and jam.
I'll second that. I thought both the quality and the treatment of the pork belly were exceptional, and the jam was a surprising but pleasant addition. But, for me, the pancakes completely fell flat. Bland can be good, especially when it is tempering strong or spicy tastes, but it didn't seem necessary. I feel almost like Chef was purposefully avoiding having another dish over grits or middlings, but I think either of those would have been more preferable to me. They were just nondescript and a little dry.
Adam: "The pork belly was great; I feel like they cooked it perfectly. It had a little bit of crispiness on the outside, but was moist and tender on the inside. The pancakes? Meh. It seemed like somewhat of an odd pairing, and the pancakes were just kind of… there."
The fourth course was a scallop covered in rice, cabbage, scallions, a barbecue vinaigrette and black eyed "peanuts". I thought the scallop was perfectly cooked but may have been drowned out by the plethora of ingredients on top. However, I did enjoy the black eyed peanuts as they added a nice crunch to the dish.
Adam's favorite part about dish dish (besides the amazing scallop) was the crispy cabbage, and he felt like the rice was forgettable. I enjoyed most everything, though I felt that there may have been an ingredient too many. I think I could have lived without the "peanuts," but also really enjoyed the cabbage. The scallop itself was divine. Just wonderful.
Next was the Horseradish Grill rubbed ribeye. The ribeye was nicely cooked and seasoned well. I particularly liked the smoked garlic corn sauce that accompanied it and thought it was one of the best single components I had throughout the night.
Adam: "Oh, that thing! I really liked the fries. The ribeye was properly cooked with a nice sear on the outside and a nice pink inside. That's really all I care for in the cooking of beef: truly medium or medium-rare. And this accomplished that."
I don't have a whole lot to add about this dish. Right around this point in the evening I was experiencing some palate fatigue, but I still enjoyed this dish. I'm sure if it had been the first thing we'd tried, I'd have loved it every bit as much as I did the pimento cheese fritter. I would love to come back and try this with refreshed tastebuds.

For dessert, we sampled an oatmeal spice cake, chocolate cake, pecan pie, and sweet potato creme brûlée. As you can imagine, I was already stuffed by the time these arrived yet I still proceeded to stuff my face with as much as I could. My favorite of the bunch was definitely the oatmeal spice cake but you couldn't go wrong with any of them.
This sampling of rich desserts was just about the death of me after all that delicious food. But I made serious headway before our charming server saved me from myself by offering to wrap it up to go for me.
My favorites were the moist, rich chocolate cake and the sweet potato creme brûlée. I am a serious sucker for creme brûlée and the subtle sweet potato twist was very nice.
From Adam: "Oh, that chocolate-chocolate cake. So moist, such wow. Everything else paled in comparison, though I did like the oatmeal spice cake. Honest to God, though, I still like Emily's pecan pie better."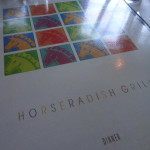 Overall, Horseradish Grill was a great experience where they truly make you feel comfortable and at home. I think their website sums it up best: "Today, the Grill continues to offer fine dining in a rustic, yet sophisticated atmosphere, with cozy tables and the sounds of swing and jazz in the background." I have heard great things about their brunch as well and will likely be back sooner rather than later to give it a try.
Food: 3.5
Vibe: 4.0
Major kudos to the kitchen. Everything was very cooked excellently! Adam and I had a blast, and we've already been scheming and dreaming about a return trip. Here are some of Adam's thoughts: "It's nice dining. I feel that there is a big gap between any old Olive Garden and true fine dining. It is hard to find a place that is nice to go to, with food better than big chains, that doesn't completely break the bank. Horseradish Grill provides a nice middle ground with expertly-made traditional foods in a fine atmosphere at fair prices. 4 stars." Well-stated. Horseradish Grill gets 4 stars from me as well!

Since this was a media event, we did not pay for what we ate and drank. But the thoughts and words shared in this post are our own!
Horseradish Grill
4320 Powers Ferry Road NW
Atlanta, GA 30342
anish
I am a 20-something white-collar worker that enjoys the great food options Atlanta has to offer. I enjoy sharing my dining experiences and opinions to anyone who will listen. I hate being the guy next to your table taking cell phone pics but understand its place as a necessary evil in the food blogging world. I love to research places beforehand (some would say to a fault). The theory is if I am going to spend time and money eating out, it is worth the 10 or so minutes to vet it out beforehand. I have a laundry list of dining places I still want to go to but for every one I check off, four probably get added. For me though, that is probably the biggest perk of living in a big city.