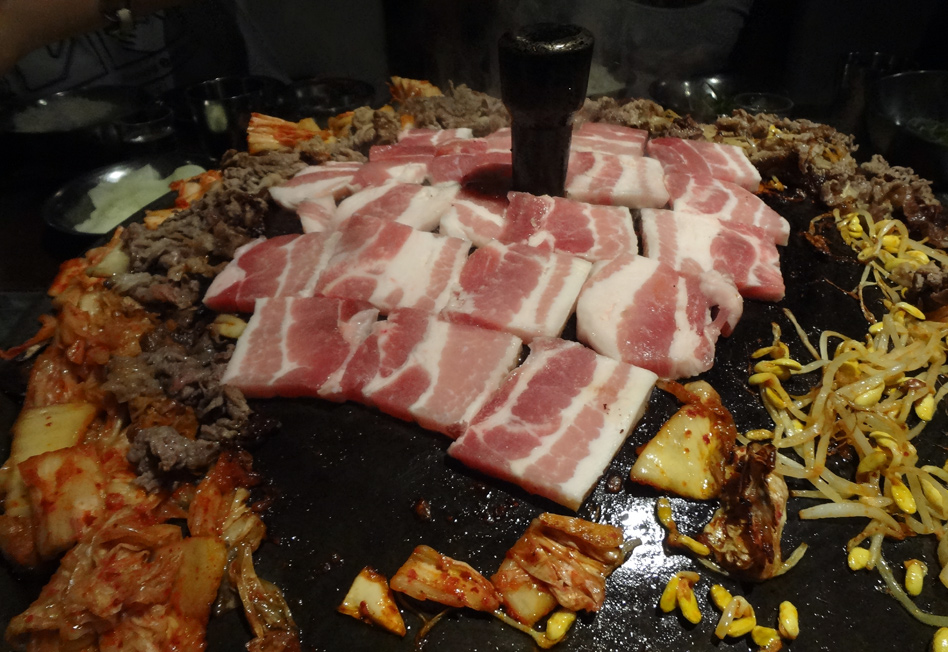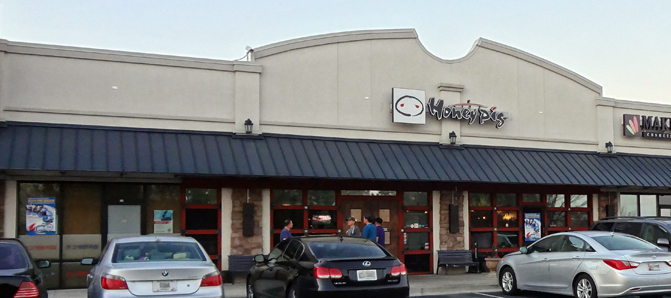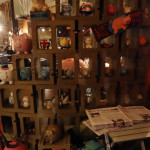 A few weeks back, Adam and I met several of my coworkers and friends, including Anish at Honey Pig in Duluth, for a night of all-you-can-eat korean barbecue – and plenty of soju.
Honey Pig is a small chain, with about a dozen locations from coast to coast (as far as I can tell, I couldn't find a corporate site). Aside from Honey Pig's kinda-cute, kinda-nasty pig nose logo, they also have a pretty cute display of piggies in cinder blocks near the front door of the Duluth location. The rest of the interior decor is pretty subdued and even a bit industrial. Check out the Unique Eats spot on this location:
While I have had korean barbecue in a variety of places, including Hong Kong (as close to korean food in Korea as I have managed to get so far), Honey Pig was my first AYCE korean barbecue joint. For about $25 apiece, we had all we could have of three kinds of pork belly, beef brisket, intestine, and spicy squid.
Firstly – and throughout the meal – tons of kimchi and bean sprouts were piles on the barbecue grills. While it was nice to finally see a place that grills your kimchi (that is an authentic thing to do according to our korean friend Joseph), I can recognize filler food when I see it. Eventually, much of it languished crispily at the sides of the grills and went to waste.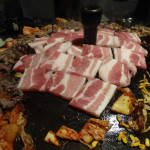 A lot of nice banchan was brought out though, including nice little wraps that I have not seen elsewhere so far. Also filler food, but it was nice to make little wraps with the banchan… though leaf lettuce for wraps like they serve at Han Il Kwan are just as good, if not preferable. Still, overall I thought the banchan was fine enough, though I would have liked to see some japchae.
Service was a little absent, but they managed to help keep the soju flowing, so we were happy enough while the various meats came and went. The samgyupsal (pork belly) came regular, wine-marinated, and spicy. The meats didn't seem to come out in any particular order, so our resident korean helped steer us towards some of the better things, like the squid.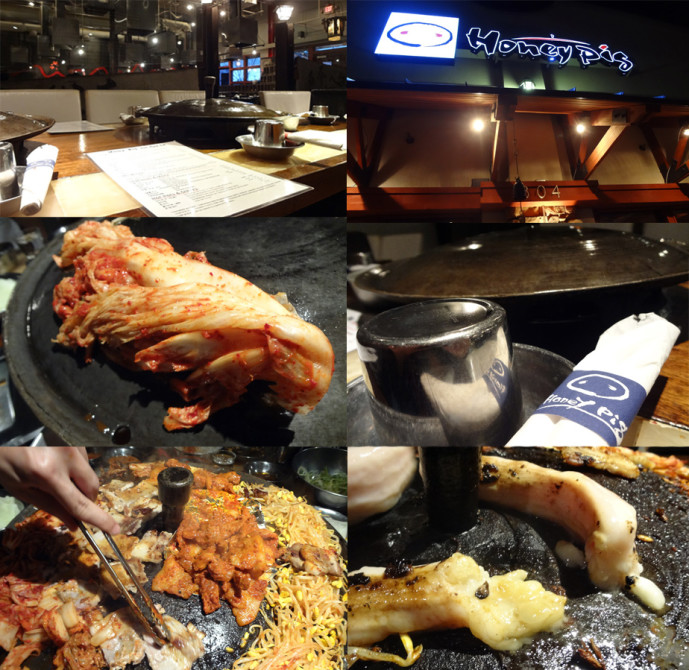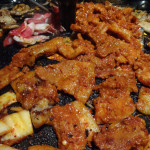 You can definitely tell the difference between the cuts of meat we received for AYCE at Honey Pig compared to nicer cuts that you buy individually elsewhere. This was most evident with the beef and the pork belly, though the spicy marinated pork belly was super tasty – the marinade helped make up for the lack of quality.
The lower quality helps keep it cheaper though, and we definitely made it out the door for less money than we typically spend at Han Il Kwan. Still I am not sure the money was right for the quality. Despite having a good time with friends, I would probably not choose Honey Pig over Han Il Kwan in the future.
3 stars overall, though we definitely need to try some other places like 678 and Iron Age before we can say for sure.
Honey Pig
3473 Old Norcross Road NW
Duluth, GA 30096
emily
Nerd. Foodie. Gamer. Homecook. Perpetual planner. Gardener. Aspiring homesteader. Direct response graphic designer. I use too many damn commas.