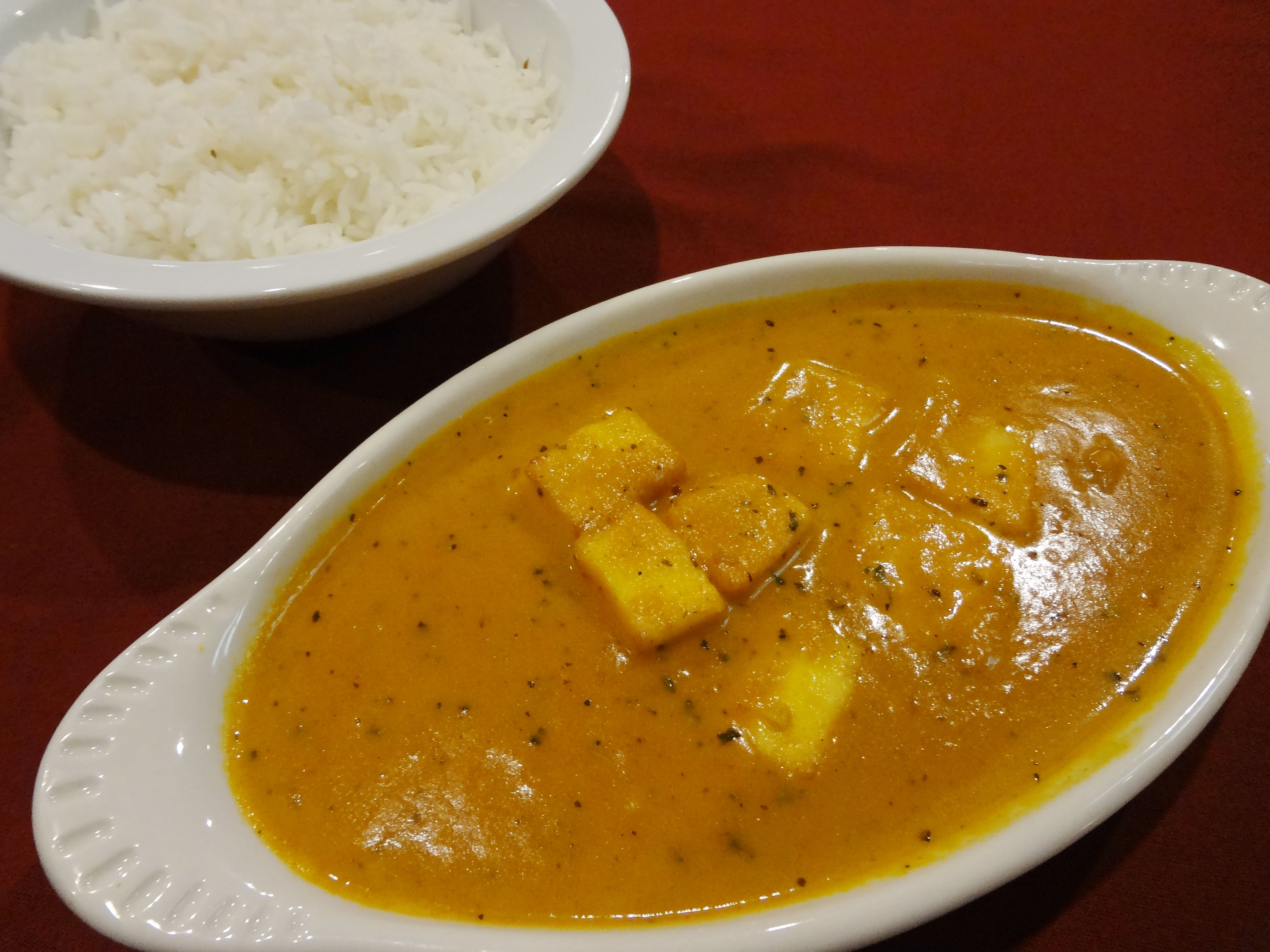 Recently, a nepalese/himalayan and indian restaurant opened up at Clairmont and Briarcliff, right in the center of the North Druid Hills ethiopian food scene, where a chinese buffet used to be. I believe the grand opening was sometime in early December. We've gone to Panahar, a bangladeshi and indian restaurant, but neither the hubs nor I have ever had nepalsese food, so we knew we had to go, even though it's not on BuHi.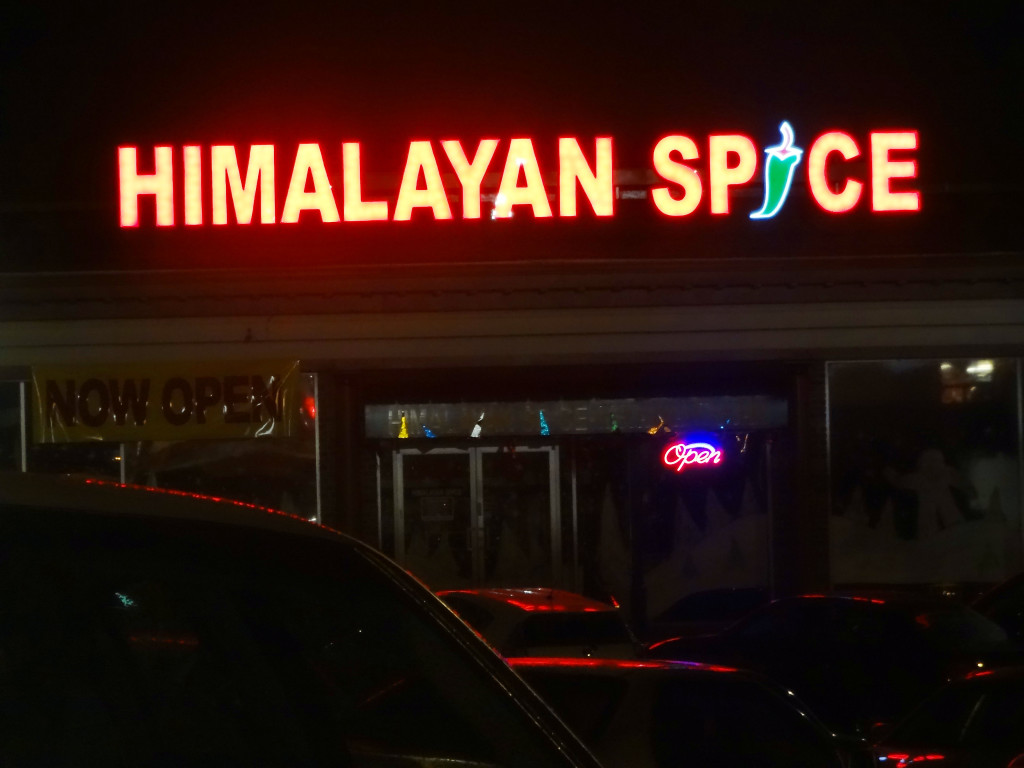 First off, this space is simply massive. All the square footage that was presumably a dozen buffet tables and the space to navigate them has turned into space for booths, tables, couches, cafe tables, and a full far with stools and flatscreen TVs.
Everything seemed new, clean and tastefully appointed. The tables all have battery-operated flickering "candles" – cute. There were also some photos, paintings and backlight large-format photos a la chinese buffets. (Maybe they inherited them from the previous tenants?)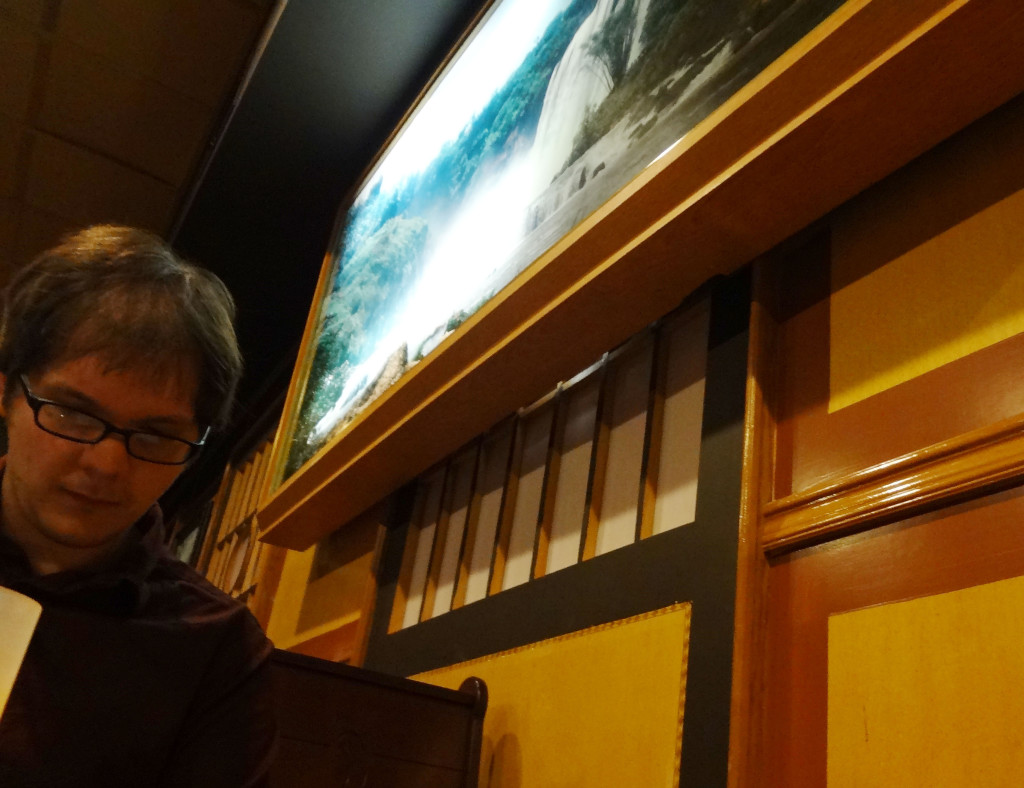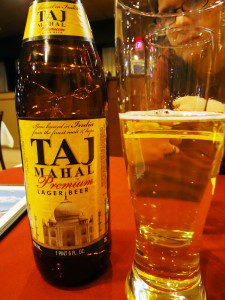 The menu was divided, with the nepalese food first and the indian food afterward. We started with the nepalaese appetizer kathe mo:mo (chicken dumplings) for $5.50. They were quite tasty and we particularly enjoyed the dipping sauce. Spicy-flavorful, with only a hint of spicy-hot. We scarfed them down without capturing a pic. We did snap a pic of the epic 22 oz. Taj Mahal beer, though!
In case you were wondering, apparently the use of the colon is an artistic license, since the dumplings in that region are called momo, according to Wikipedia.
Adam ordered the himalayan goat thali (a stew). According to the menu, it comes with rice, lentil soup, pickle of the day, tama alu, vegetable, papad, and a choice of dessert – rice pudding in our case. I say "according to the menu" because no explanation of the contents of the small containers was offered, though we managed to figure it out (no pickle).
The goat had bones – as goat meat is wont to do – but was otherwise savory and enjoyable. The lentil soup was pretty darn tasty… very flavorful. I wouldn't mind getting my hands on a recipe for that! The rest of it was tasty, but not particularly noteworthy, just nice fare.
I ordered paneer masala, one of my favorite dishes and indian buffets. While did I enjoy it here at Himalayan Spice, I feel that I have had better at Cafe Bombay, Saravana Bhavan and Panahar. In that order, just to be clear on my Atlanta-area paneer masala opinions.
The service was not attentive, not organized, and pretty slow. The mo:mo appetizer was brought without an opportunity to order the main meal. Even though we had our menu neatly folded and the edge of the table, we eventually had to tell our waiter that we wished to order our main course.
All in all, we thought it was good, but we feel like can find better food at better prices. Though I understand that nepalese and bangladeshi food are not the same, I feel like I would sooner visit Panahar if I were in the mood for indian and south asian food, though Himalayan Spice would probably be the better choice if you wanted a bar, or had a very large party. Three stars.
Himalayan Spice
2773 Clairmont Rd.
Atlanta, GA 30329
emily
Nerd. Foodie. Gamer. Homecook. Perpetual planner. Gardener. Aspiring homesteader. Direct response graphic designer. I use too many damn commas.