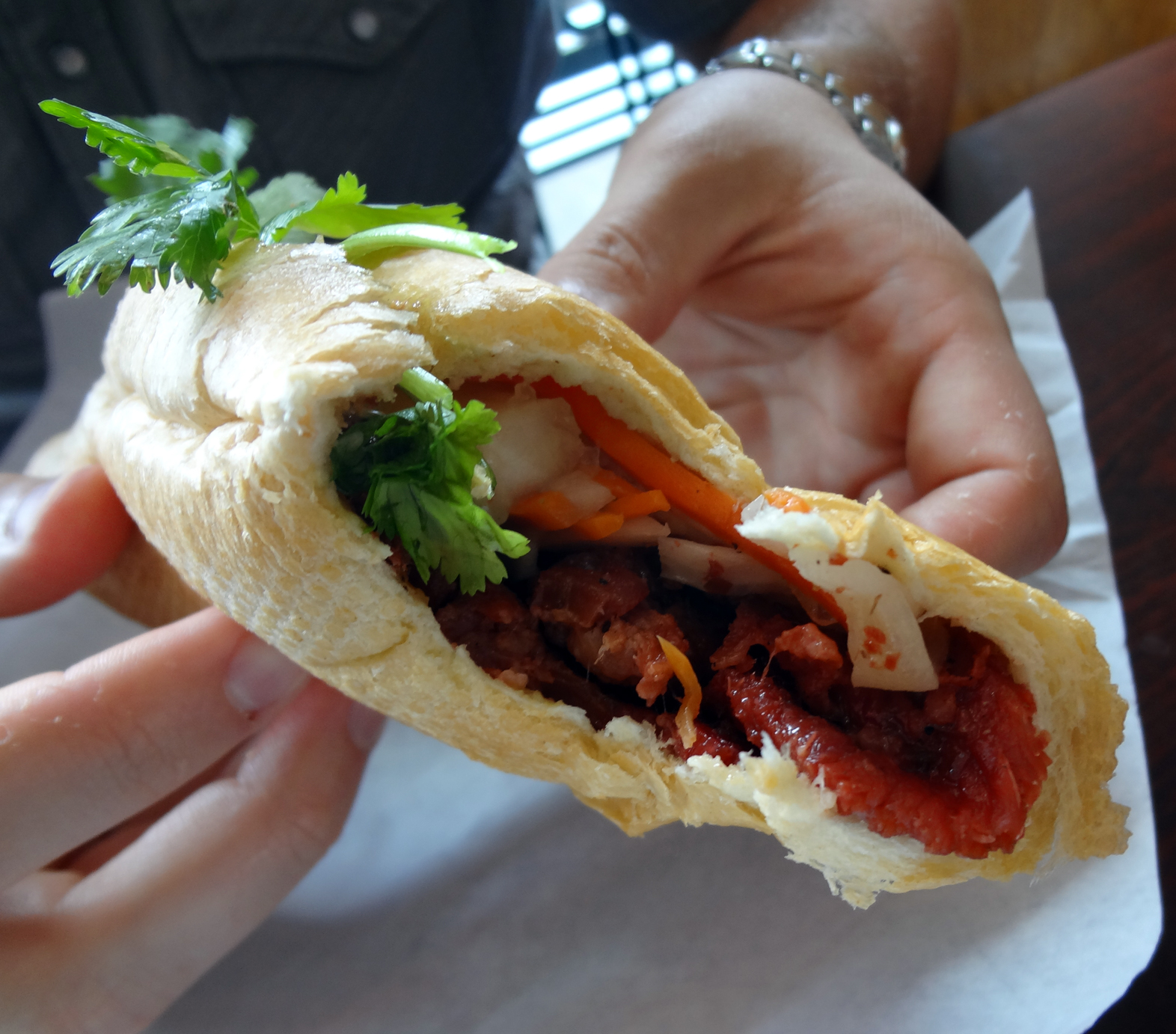 Hello Dau Hu is no more, the space having been absorbed into Sweet Hut Bakery & Cafe. It is presumed closed, rather than moved. If you have any information about a relocation, please drop me a line in comments below!
Oh no, we thought. This place looks just like Viet Tofu. Oh no.
Hello Dau Hu, in the Asian Square shopping center Viet Tofu's slightly smaller long-lost twin. Long tables with no heating or refrigeration are piled with delicious-looking but entirely questionable vietnamese cuisine. There is also a hot bar and a cold case.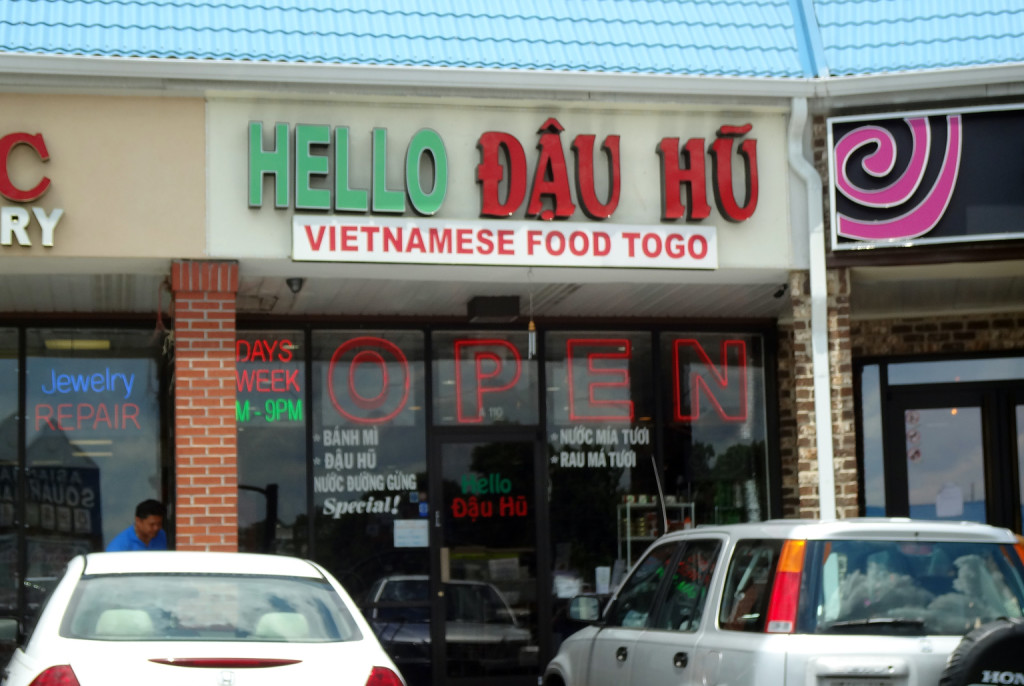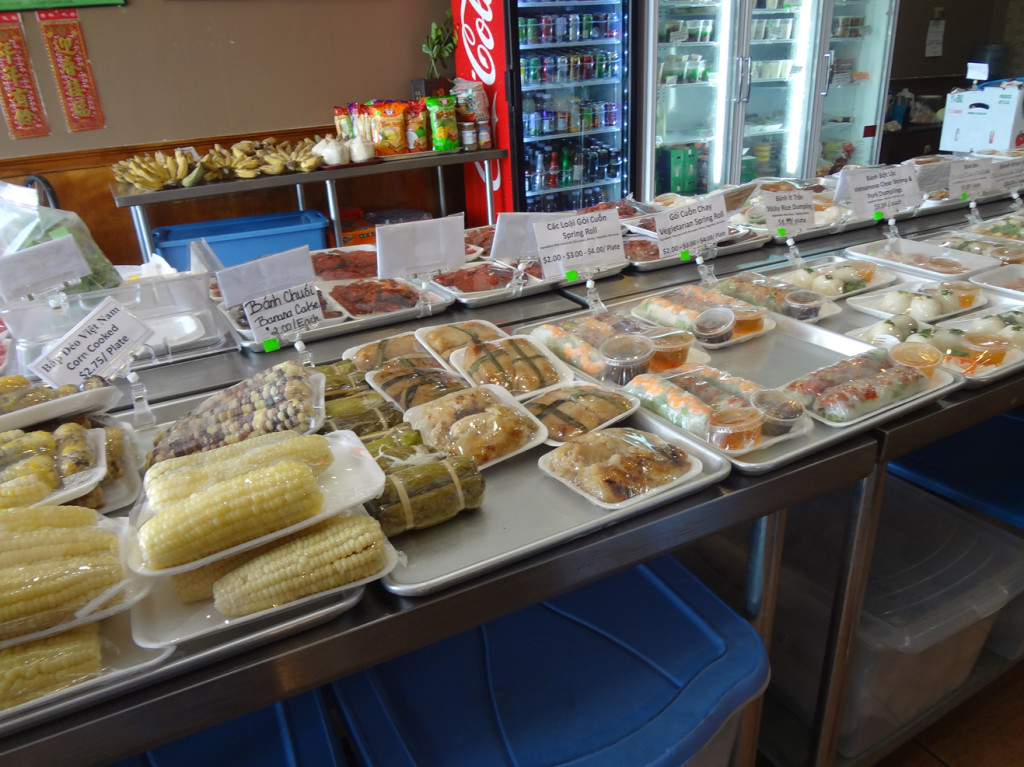 Recalling that a coworker of mine had advised us to just stick to the hot bar and cold case at Viet Tofu (and having flashbacks to our unhappy digestive systems), we decided to employ that strategy at Hello.
However, I noticed that the heat lamps above the hot bar looked like normal light bulbs. I touched the metal pans holding the food – they were room temperature. The hot bar is a lie. It's just another room temperature breeding ground for bacteria. Oh goody.
However, as you may have learned already, we don't back down from a challenge, so we got a square of lemongrass and chili tofu (~$.50), and egg roll ($.50), a deep-fried banana cake ($1.50), and a banh mi (~$2.50).
The banh mi was assembled in front of us with meat being put in a microwave. If that's how it's done everywhere (and I suspect it's not) then I don't want to know. Watching it certainly made me feel like I could have done this myself at home.
We ate hastily at a table near the door, ready to be done with Hello Dau Hu. Which is a bit of a shame, considering that the place is reasonably nice looking and seems organized and all, but it just gave us the heebie-jeebies.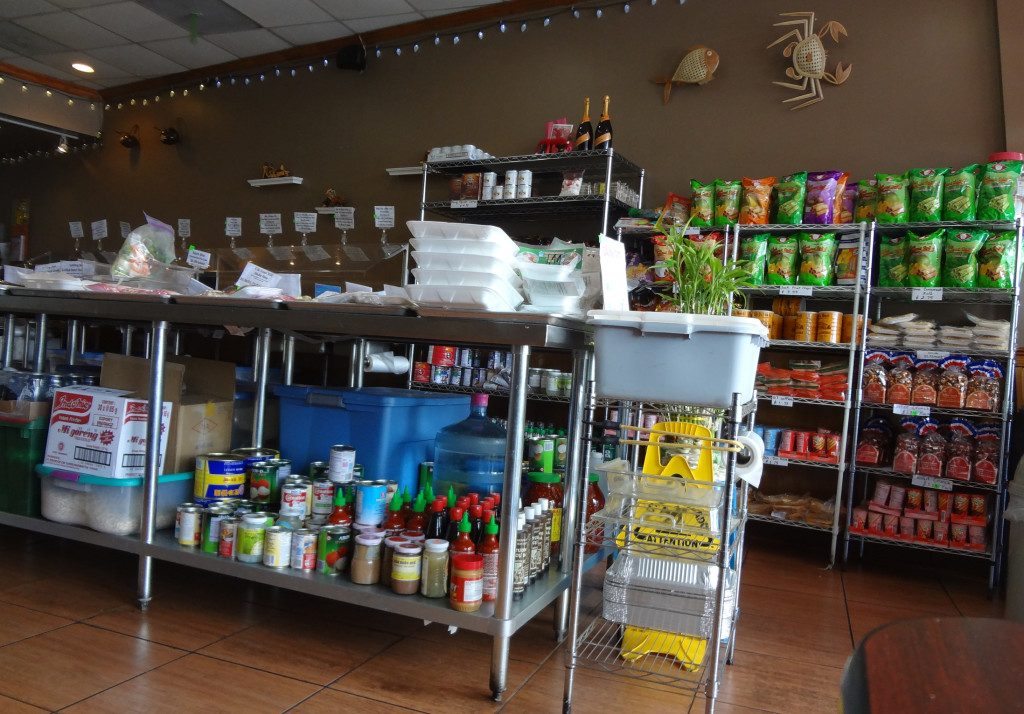 Amazingly, the food did not make us ill! Either that or Quoc Huong has penicillin in it, haha.
It turns out that our heebie-jeebies were well-justified. In researching this post, I located this article from the AJC, describing a 15 health score that Hello Dau Hu received in December of 2012. If had to guess based on what I saw, no lasting changes came out of that experience.
The egg roll, tofu, and the banh mi were all quite unremarkable. The fried banana cake was novel and surprisingly good, but with Sweet Hut right next door I can't imagine ever popping in to get a fried banana cake that is likely to make me ill. 1.5 stars.
Hello Dau Hu
5150 Buford Highway
Suite A 110
Doraville, GA 30341
emily
Nerd. Foodie. Gamer. Homecook. Perpetual planner. Gardener. Aspiring homesteader. Direct response graphic designer. I use too many damn commas.