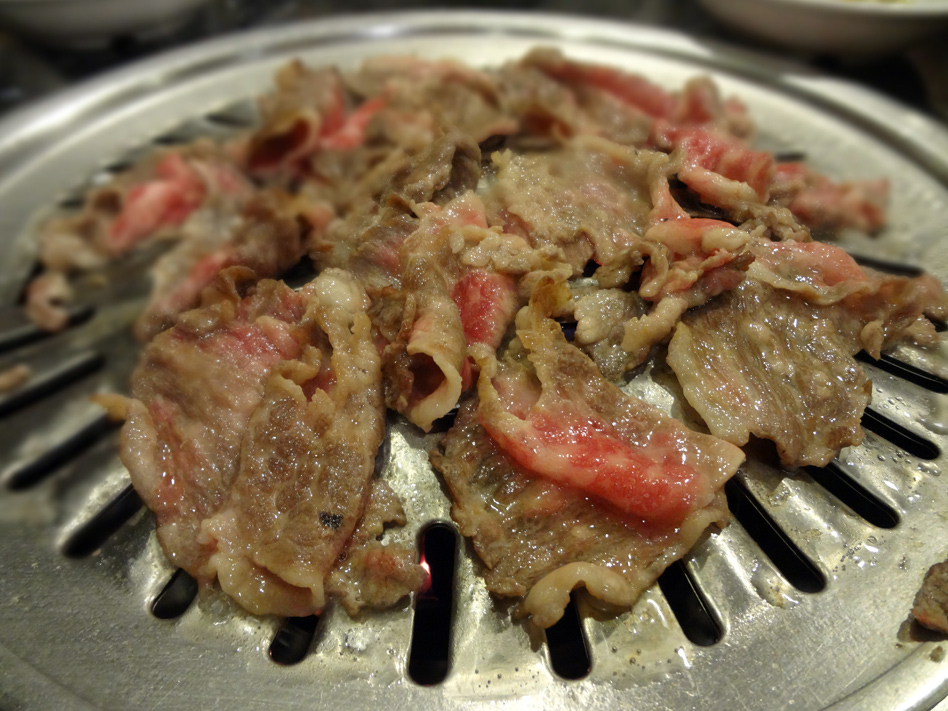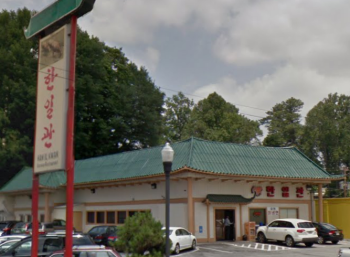 Last week, Adam and I finally went to Han Il Kwan for this lil' ole blog of mine.
We have been to Han Il Kwan several times before, most often with Adam's boss and his korean wife, who helps us have a better experience through minimizing communication issues. This time, we with Adam's boss and a coworker, Joseph, who also happens to be/speak korean. As is usually the case, having a native speaker with us helped immensely.
(I forgot to take a photo of the outside, so please accept this crappy screenshot of the Han Il Kwan streetview. Credit: Google Maps. If I can get it together and swap out the photo at some point, then I will.)
I have been to Han Il Kwan without the benefit of a native speaker before, with coworkers, and we sat in the front part of the restaurant, which does not have the grilling tables like you see in the photo above. More on that visit later.
This time, though, we did sit at the korean barbecue tables to get the full experience, replete with Bek Se Ju. After getting a head start on our banchan and se ju, it was time to order.
The way the barbecue experience works starts with the table. A server brings a basket of live coals to put down into the grill, and replaces the grill grate. Then the onslaught of previously marinated, frozen raw meats begins.
Pro-tip from Joseph: Even if you know you'll order three dishes, don't order them all at once, or you'll wind up feeling harried as the meat cooks so quickly and the server will start piling it on your plate to prevent it from burning, leaving you scrambling to keep up and not enjoying your experience.
The servers place the raw meat on the grill, and as the meat cooks they will check in on it to flip it, cut it into bite-sized pieces, and put it on your plate if more grill space is needed or the piece is in danger of burning.
Once the meat is on your plate, you can eat it plain, in the salt dipping sauce, or mix 'n' match with the various banchan. Rice and lettuce for wraps are also provided.
I'll let Joseph explain what we ate to you, since I don't really know what I am talking about:
"We started with the thinly sliced beef (chadolbaegi), then the pork belly (samgyeopsal, which literally translates to 'three layers of meat/fat'), and finally the marinated beef ribs (galbi). I believe each order of meat is around $15-$25.

There was also the soup. It's called doenjang jjigae (doenjang is a fermented soybean paste, and jjigae means soup). It's kind of like Korea's version of Miso soup. And of course, we had Baeksaeju (ginseng wine) literally 'one-hundred years wine.'"
The chadolbaegi is a perennial favorite of ours, and we order it every time we're doing barbecue. I just love it dipped in the salty dip provided – what a great pairing.
This time, I didn't enjoy the samgyeopsal nearly as much as the chadolbeagi. The fat didn't really cook to a consistency that I could appreciate, and that was basically half of each slice. Still tasty, just not as mind-blowing.
I was too busy snarfing down my galbi to take an after shot. It does bear mentioning that this galbi is not nearly as beautiful as what you'll see when you do a google search for galbi. I don't know if that's a product of doing it on the special table (this is what I suspect, based on the photos I see), or if it's a stylistic or financial decision on the part of Han Il Kwan. At any rate, it's still very tasty, but by this point I was so stuffed I could hardly appreciate the galbi as much as I did the chadolbaegi.
The meal finished up with the doenjang jjigae, as Joseph mentioned. It was fine enough, but not really my cup of tea, especially when I was so full.
The korean barbecue experience at Han Il Kwan is great and we always have a good time, though it's due more to the good food and good company than particularly warm service, though as longtime readers will know, I don't mind frosty service – as long as it's polite. Different cultures have different standards, and we're all here to eat good food anyway, I say.
I do want to take a moment to share some of the other Han Il Kwan dishes I've had, because I enjoyed the dishes at my "regular" dining experience just as much as the barbecue experiences. The portion sizes are simply huge!
I think if I was going to go binge out at Han Il Kwan by myself, I would sit at the barbecue table and have the chadolbaegi and a seafood pancake. The seafood pancake I had here absolutely blew my mind (Korea Garden could not keep up in the category).
I also enjoyed the japchae, a sweet potato noodle dish that you often get in a small quantity as banchan, but the full dish was very robust and I loved every bite.
I also enjoyed the bulgogi, but I think
So Kong Dong
's is better. I also had the bibimbap, which was pretty darn tasty!
While we often have a bit of sticker shock at Han Il Kwan, we do always leaved stuffed and satisfied.
Han Il Kwan, if you haven't guessed by now, is our favorite korean spot, especially where korean barbecue is concerned. It's also out first korean barbecue restaurant (and of most of our korean friends), and while we'll be trying other spots in the near future, we suspect this will remain in the pantheon even after the competition has been explored. 4 stars!
Han Il Kwan
5458 Buford Highway NE
Doraville, GA 30340
emily
Nerd. Foodie. Gamer. Homecook. Perpetual planner. Gardener. Aspiring homesteader. Direct response graphic designer. I use too many damn commas.