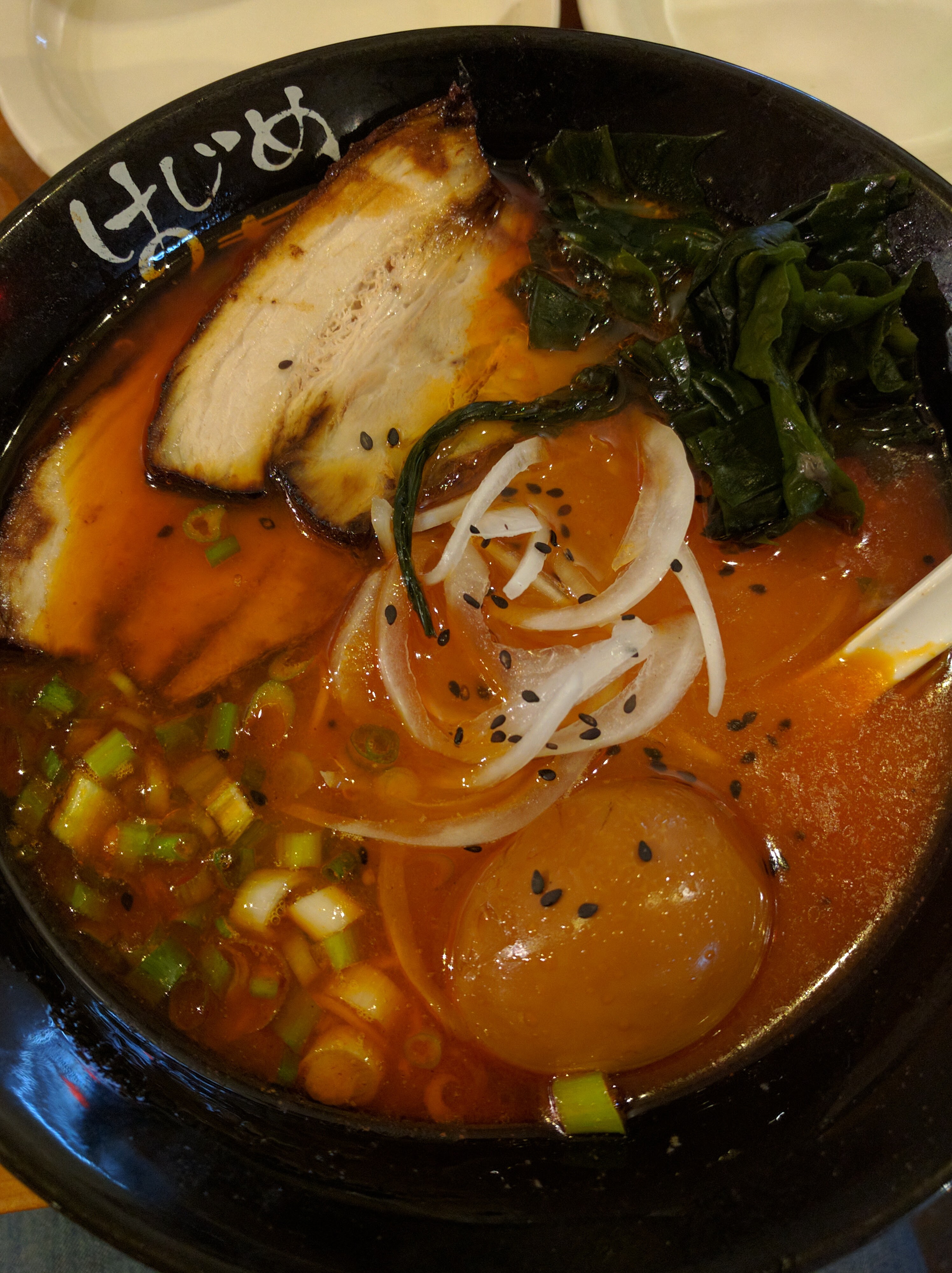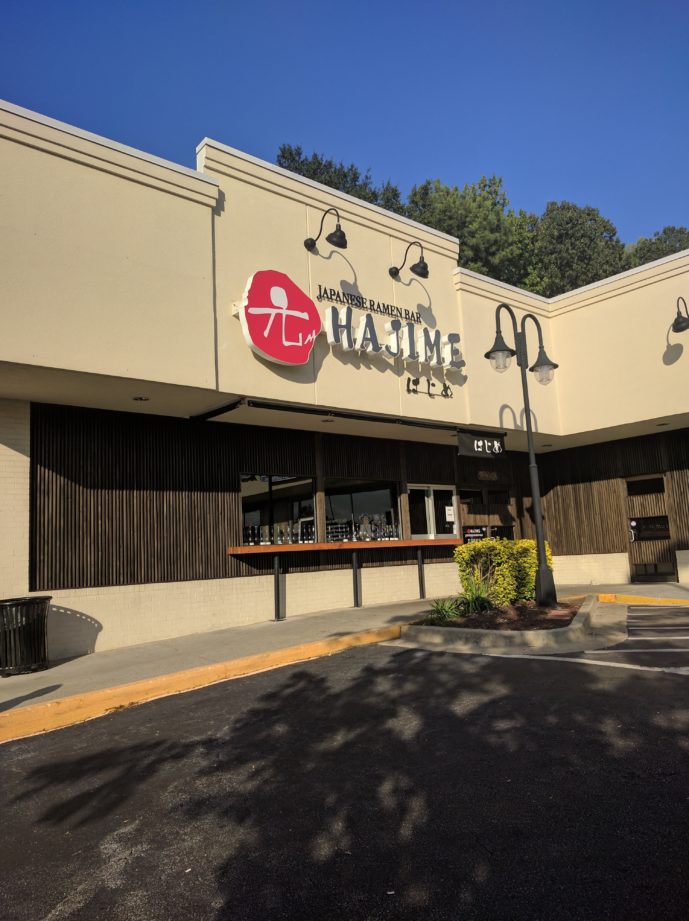 Once upon a time, I would have to drag my lazy butt 45+ minutes out to Suwanee to get good ramen at Umaido – but no more! Now, there is Hajime on Cheshire Bridge in the Cheshire Square shopping center. Using the same wonderful noodles, and practically the same menu all around, Hajime is a much more convenient tonkatsu fix for the ITP crowd than its older sister restaurant.
As of the time of this writing I've been to Hajime 3 or so times, so here are some of the various dishes I have tried.
Jalapeno twist on the takoyaki I loved from Umaido. The most recent time I went to Umaido, I had ordered this takoyaki again and it wasn't as good as I remembered it from years back. Here at Hajime, the quality was comparable to that more recent trip. I am not sure if it was my taste buds or the recipe itself that changed. Still good, though and would order again.
At Umaido, I had always taken the Ultra Spicy Ramen menu listing at face value and not given it much thought as it listed the spice levels as 1, 2, 3, ?. Turns out the levels go up to 50 and beyond, though apparently at that high level, the soup becomes mostly paste due to the sheer volume of spices in it. So, here I tried the ultra spicy (with the yellow noodles subbed in place of the spicy noodles, whose texture I don't enjoy as much) at level 12. It was definitely spicy, but it didn't quite blow my face off. However, I doubt I would push it any farther because I enjoy actually tasting my food, haha.
I remembered that I wasn't a huge fan of the honey miso ramen, so when I felt ready to try something other than the ultra spicy ramen, I went for the classic tonkatsu with rich broth. This is a plain, comfort food kind of dish that is yummy and very rich (well, especially with the rich broth upgrade). Mild flavor and than fatty broth sheen.
A surprise delight was the wasabi shoya ramen dish. This subtly wonderful dish has a seafood broth and pork slices. I paid for a spicy cod roe upgrade, but because the roe is so small, it immediately got totally lost in the soup, so I am not sure I would recommend that exact upsell. The broth itself is mildly seafood-y and has a wonderful wasabi flavor that you will not miss but that also does not overwhelm. Very harmonious balance of tastes – two thumbs up on this one.
As with Umaido, one can get extra noodles for a small price, using your remaining broth and toppings as the foundation for your second helping.
Overall, I approve of Hajime and am sure it will be part of our regular rotation due to the convenient intown location. By the by, the restaurant is tucked in a back corner, kind of behind Rain.
When I inquired why the restaurant is called Hajime, I was told that it is because this restaurant concept is different from Umaido, but it doesn't really seem all that different to me. I consider it just as good and worlds more convenient than the original. If you haven't been yet, I highly recommend it! 4 solid stars.
Hajime
2345 Cheshire Bridge Road NE #101
Atlanta, GA 30324
emily
Nerd. Foodie. Gamer. Homecook. Perpetual planner. Gardener. Aspiring homesteader. Direct response graphic designer. I use too many damn commas.