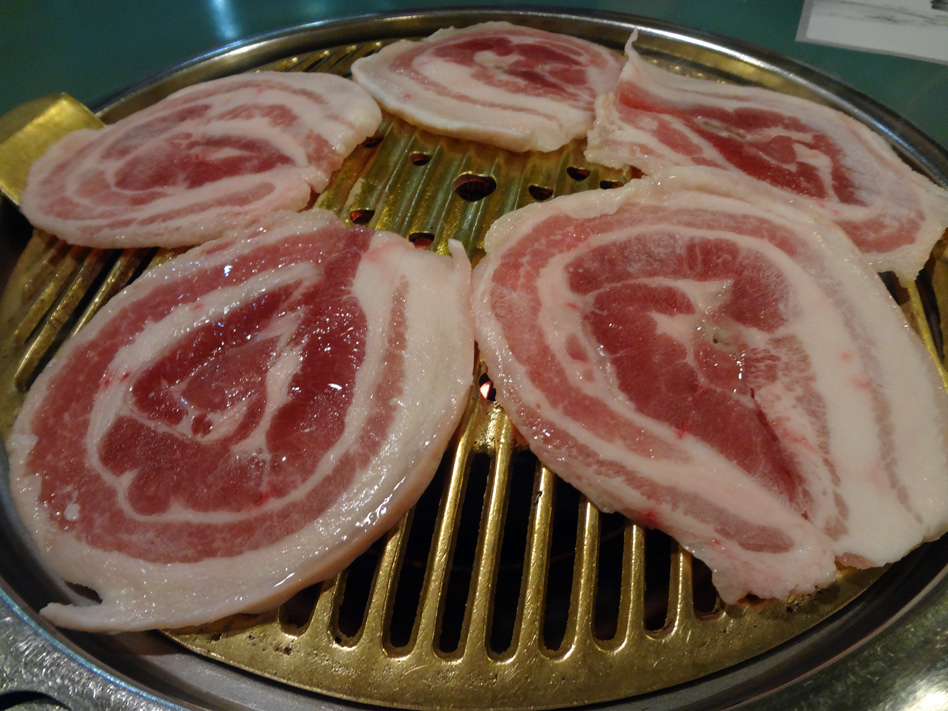 First and foremost, let me take a moment to say that Hae Woon Dae is our 100th Buford Highway Food Expedition dining experience! Wow! It's been a long time since I used the project's full name, Buford Highway Food Expedition, but this project of exploration and cultural education is at the core of the food posts that I do here on this site. It all started in 2012 and has been going mostly continuously ever since. Though I do this for my own edification and record-keeping, I have been extremely grateful to the readership that has developed over the past two years, which has really helped motivate me to keep going and get back on the horse after high-stress periods have knocked me off my regular posting schedule. So thanks, everyone – y'all are the reason we've made it to 100 BuHi posts!
There has been an uptick in readership over the past few weeks, so to all new readers I say hello and welcome! I am just a regular working stiff, bumbling my way through this experience and learning and ideating as I go. If you have any comments, suggestions, or criticisms to share, please feel free to reach out! Thanks for reading!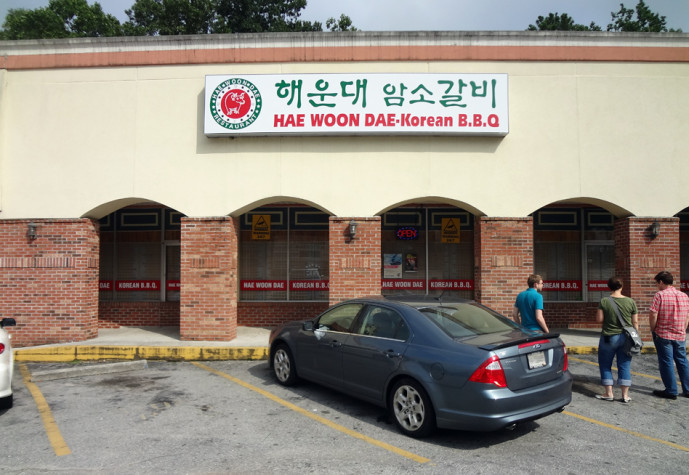 For our 100th Buford Highway spot, we brought our fine old friends and frequent BuHi dining companions Ashley and Stephen along to Hae Woon Dae, located in the creepily named (given some of the other businesses present) Treasure Village shopping center, just north of McElroy Road's intersection with Buford Highway. Hae Woon Dae is just next door to Kochi Maru.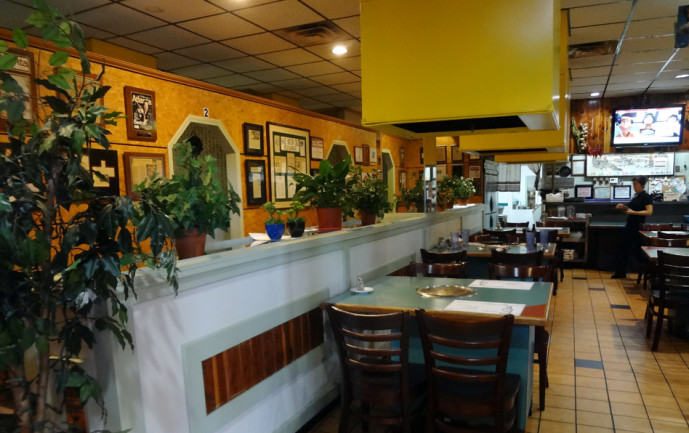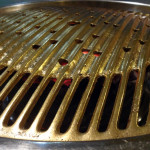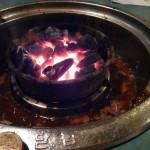 The sign outside let us know that this is a korean barbecue joint, so we had a pretty good idea of what we were in for based on previous experience (Han Il Kwan, Honey Pig, etc.).
When we first entered, I was a little put off by the smell – it was a smokiness that reminded me more of cigarette smoke that coal- or wood-smoke. But I quickly got used to it, so it was no big deal. The place was deserted, but this was no surprise since we were getting a jumpstart on dinner around 5:00pm.
We've learned from our experiences to not order everything we intend to at the start of our korean barbecue experience, lest we be rushed through the process and have delicious meats swiftly cooling off on our plate as we struggle to keep up with the pace, and unable to have a relaxed conversation. So, we started off by ordering two of our standards, samgyupsal and chadol baegi. Our server very quickly brought out our fixin's and the uncooked pork belly, but there was no banchan to be seen, and we were starting to get a little concerned that there wouldn't be any.
Just when we'd given up hope, a larger-than-expected selection of banchan hit the table. The selection was as diverse as what we get at Han Il Kwan, and more than we get at non-barbecue korean joints.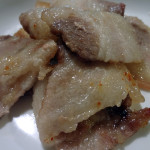 After tearing into the banchan, the samgyupsal finished cooking and our server cut it into pieces. Something I enjoyed about Hae Woon Dae, is that after the first few pieces were put on our plate, the rest was divided and placed on two platters, one for each couple. This is in comparison to Han Il Kwan, where the server will just start piling the pieces on your small plate while you are trying to scarf things down, or Honey Pig, where you more or less serve yourself, and the excess food just crisps and burns on the grill. It was nice to have it divided for fairness' sake and to clear up the grill, but to not have the food being shoved right in my face.
Next, the chadol baegi came out.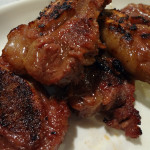 After scarfing these two items down and fairly destroying all the banchan, toppings, and lettuce wraps, we topped up on our toppings and ordered two more items. For the grill, we ordered the L.A. kalbi, which is not a term we were familiar with at the time. Kalbi, or galbi, is beef (or pork) shortribs, typically marinated in a ganjang-based sauce. It turns out that L.A. kalbi means that the beef is slice thinly across the bones so that it will cook faster and be easier to handle with chopsticks.
While our kalbi was cooking, our coals were switched out for fresh ones to speed up the process, which was nice, since we know we were the ones that extended the process a bit by not ordering all at once. For the prices that korean barbecue joints typically charge, I'd like to think that a few more pieces of charcoal isn't a big deal!
As a non-grill item, we ordered our korean standby, the haemul pajun (or haemlul pajeon). You may remember this from Don Quixote, Han Il Kwan, and Korea Garden. This was your standard, tasty seafood and green onion korean pancake and we thoroughly enjoyed it. It's important to note that Hae Woon Dae provided options for which pancake to choose, including a kimchi pancake and a vegetable pancake. This is the first time we've seen options, so that was cool. We didn't take advantage of that because seafood, but still, it's nice to have options.
Here are Ashley's thoughts on Hae Woon Dae:
"Seeing as I've only been to one other Korean bbq place, I can only really talk about it in terms of my experience at Iron Age. The selection of meats was far more expansive than I had seen, so it's nice to know there is a lot to choose from. Granted, several of those options are spicy, which is unfortunately something I know I am unable to tolerate and therefore unable to appreciate. I'm sure it's well worth it for others.

The prices seem right in line with what I expect, though it isn't all you can eat like it is at Iron Age. This isn't a big deal for me since I can't really down an entire cow myself, but I'm sure others would weigh it in with their estimations. The service improved throughout the evening. I believe our early arrival for dinner may have thrown off their groove.

All in all, I appreciate the greater sense of authenticity and selection, though I wouldn't be surprised if there is better out there for basically the same price: 3.5."
As Ashley alluded to, we'd had a somewhat brusque server for most of our meal, but a friendlier one brought out our seafood pancake and kalbi, and after that, the brusque one seemed to be nicer to us as well. So, service probably averages out here, and we just surprised them by coming at 5pm.
Overall, the quality of the food was pretty much on par with Han Il Kwan, which says a lot, but it was a little bit more expensive, while being a little less nice of a space/atmosphere. We had a good time. 3.5 stars.
Hae Woon Dae
5805 Buford Highway NE
Doraville, GA 30340
emily
Nerd. Foodie. Gamer. Homecook. Perpetual planner. Gardener. Aspiring homesteader. Direct response graphic designer. I use too many damn commas.